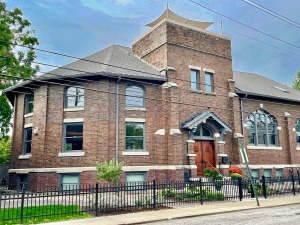 The three couples who would eventually buy the former Phoenix Theatre building in the Chatham Arch neighborhood downtown met because their kids played sports together in Brownsburg.
But even after those kids grew up, the parents were still hanging out, even vacationing together. And when one of the couples—Bob and Christine Carr—started talking about moving downtown, they all cooked up a plan to do it together.
They formed Phoenix Redevelopment Partners LLC and, in 2016, paid $850,000 for the building at 749 N. Park Ave., one block west of the intersection of Massachusetts and College avenues. The 8,400-square-foot building was constructed in 1907 to house a church, but the Phoenix had been staging plays there for more than 35 years.
For a year or so, the couples leased the building back to the Phoenix, while it completed work on its new building at the northeast corner of Illinois and Walnut streets.
Then, they spent just more than a year renovating the space into three luxury condos—complete with rooftop decks, exposed brick and large windows.
In 2019, they moved in, with Randy and Shelly Swinford finishing their 3,400-square-foot condo last.
The Swinfords had opted to take the space at the back of the building—a segmented, circular shape that had been used for the theater's stage. "It had some character to it, and it had lots of windows," Randy Swinford said.
And he liked that those windows were clear. "I love the look of stained glass, but I wanted to be able to see outside," he said.
The Carrs and the Reillys—Liz and Tony—divided the front of the building that enters off Park Avenue. They worked with Indianapolis-based architectural firm Lancer + Beebe on the design.
The Swinfords gutted their three-story space, from the basement up 38 feet to the arched ceiling. They saved the original brick walls, most of the windows and a beam here and there. But much of the original structure was removed and salvaged for furnishings, shelves and even to build garages next to the building.
They added heavy wood and steel beams, steel staircases fabricated by JL Walter & Associates and a custom, wood front door to match the original profile. They added two fireplaces as well.
"Those brick walls average from 14 inches to 18 inches thick, so the thermal dynamics of the building are really good," Randy Swinford said. "I was afraid moving in that, once that brick got cold, it was going to transfer through to the inside. And it doesn't. We can turn on the two fireplaces and it heats up the entire place."
The condo's overall look is industrial but still warm and cozy.
"It's probably not everybody's taste," said Swinford, who has worked in construction more than 30 years. "But I just think it's cool. I think between me doing the construction and my wife doing the decorating, I think it's turned out to be a cool, modern-industrial look."
The main floor is mostly open. A vestibule includes a half bath and leads into a large room with living space, a dining area and a kitchen with a huge island that seats nine.
Dark steel beams, exposed ducting and stainless industrial-style appliances are warmed up by worn leather furniture and soft area rugs.
A wine room with refrigerated storage, smoky mirrors on the ceiling and a wet bar finish off the first floor.
In the original plans, that space was a pantry and storage. But the Swinfords kept tinkering until they sketched out the wine space, which is now one of their favorite rooms in the house.
"When you walk in and see that wine [storage], it reflects off the ceiling. It looks like that wine rack goes up maybe 20 feet, but it doesn't," Randy Swinford said. "It's an illusion, and people have to walk almost all the way up to figure out it's a reflection. I would like to say we planned it that way, but we really didn't."
The entire second floor is a master bedroom suite, with a huge seating area, walk-in closet and bathroom. The ceilings in that space are arched, with beams leading up to a point.
In the basement is another seating area, two more bedrooms and two baths.
And then there's one of Swinford's favorite spots—the rooftop deck.
It's accessible from a steel staircase in the master bedroom that is topped with a motorized hatch. It will seat six to eight people, with 360-degree views of the city.
"It's just a really, really nice place to hang out," he said. "Being able to go up there when it's nice out is probably my favorite thing about the house."
But Swinford said he's bored easily, and he's ready for a new project. So the condo is on the market for $1.825 million, listed by Joyce and Rob Campbell of RE/MAX Advanced Realty.
"My wife doesn't want to move," he said. "But I would like to take what we make on this and buy another old building and do it again. I love restoring old buildings."•
Please enable JavaScript to view this content.