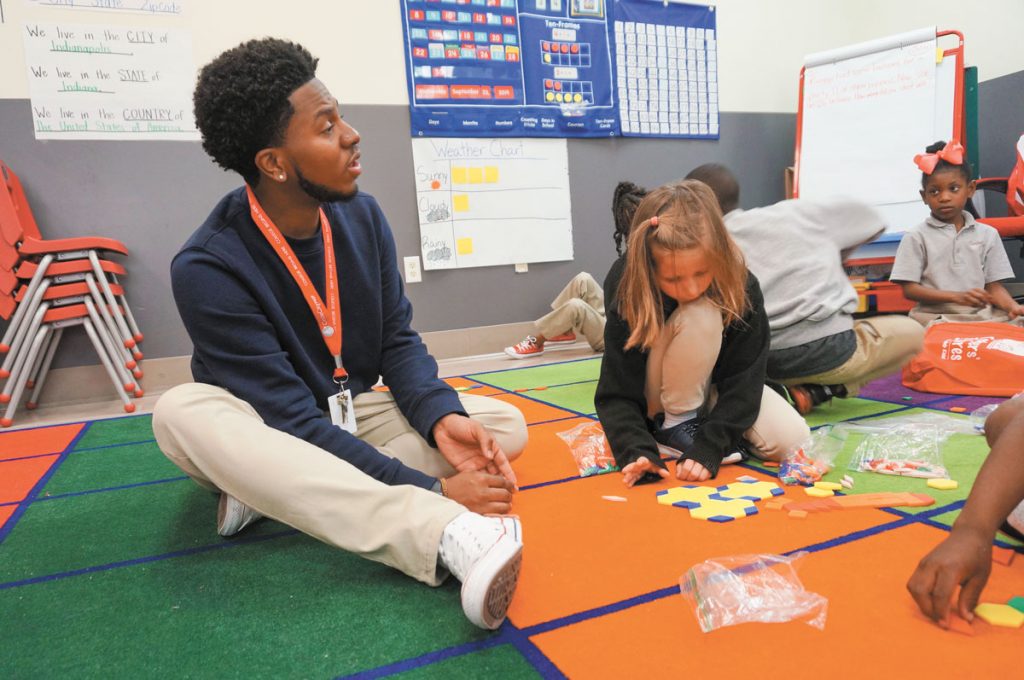 Sitting in the center of a semi-circle of desks, Martha Ellis asks her students to put their pencils in baskets before joining her at the carpet for a lesson on the month and day. "I need all eyes on me, please," Ellis says as she looks around the room, focusing on students who aren't paying attention.
Then she interrupts herself. "Can I pause? Sorry. How am I going to do this because we're sitting on the carpet and we don't have desks?" Ellis asks.
The students in her class are not children. They are new teachers playing the role of kindergartners during a recent practice lesson. At Ellis' question, other teachers offer up ideas for how they keep students on task when they are on the carpet. One said that she asks students to put their hands up, "take one clap," and then put them in their lap. Another said he brings a student to the front to lead a song at times when he needs to talk to a child who is being disruptive. Ellis then returns to her demonstration.
These practice lessons are at the core of the teacher residency program of Relay Graduate School of Education, which opened a campus in Indianapolis this year. The school is training its first class of 10 students, with plans to expand locally in the coming years. Based in New York, Relay has locations in more than a dozen cities, and it aims to upend the traditional approach to teacher training by emphasizing practice and focusing less than many traditional teacher-training programs on educational theory.
"We are one of the only professions where the first day you go in and you are in the deep end. And you don't necessarily have the skills to be in the deep end," said Carlotta Cooprider, the founding dean of the Indianapolis residency program. "I would say that the residency gives you those skills."
In addition to regular classes at the Relay campus, located inside the KIPP Indy Legacy High School in Martindale Brightwood, those enrolled in the program also work as teaching assistants in schools around the city.
Although it has not faced significant resistance in Indianapolis, not everyone favors Relay's approach. Some critics argue its focus on practice neglects the theory behind education in favor of shallow, prescriptive methods of teaching. The program is also contentious because Relay was founded by the leaders of three charter school networks, including KIPP. Most of the Indianapolis teaching fellows are working at charter schools.
But amid a statewide teaching shortage, there's hope that residencies can help. Marian University, for example, began its own teacher residency program in 2017, and lawmakers created a pilot program to fund school-based residencies earlier this year.
Those who enroll at Relay eventually earn masters' degrees in education. Tuition for the two-year program is about $7,000 total, and residents are paid by the schools where they work, Cooprider said. After a year as classroom aides, they become full-fledged teachers during the program's second year. It's a gradual approach that has them going from assisting to teaching lessons to leading their own classes.
It was the in-classroom practice and support that drew Javonte' Williams, a recent Indiana State University graduate, to Relay. As a student at Arlington High School, he was inspired by teachers who came through Teach for America. But he chose Relay because of the time students spend going through scripts, drafting lesson plans and doing other prep work.
"Teaching was not something I majored in in college. So I didn't feel prepared at the beginning," Williams said. "I definitely didn't want to be rushed."
The program also aims to bring diverse teachers to Indianapolis. Of the 10 residents, seven are people of color, which tracks with national trends for Relay, Cooprider said. And Relay looks for teachers with ties to the community, like Williams, who returned to teach on the city's east side, where he went to high school.
Relay came to Indianapolis with significant funding from The Mind Trust, a local not-for-profit that supports charter schools and has helped recruit other national education organizations, such as Teach for America and Stand for Children, to Indianapolis. The organization raised more than $4 million to support the launch and growth of the local Relay Teaching Residency, according to a spokeswoman.
That money has helped the small school hire three staffers: a dean, a director of operations and an instructional fellow. They teach classes to the would-be teachers, visit them on-site at their schools, and help them through any issues that arise.•
Please enable JavaScript to view this content.