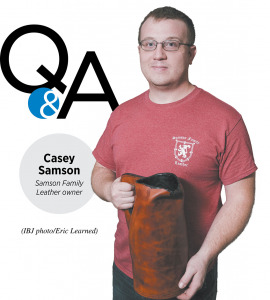 Casey Samson, 28, is the third-generation owner of Lebanon-based Samson Family Leather. He and his wife, Abbie, 26, took over the business nine years ago and have diversified from repairing shoes and making leather mugs to reproducing Colonial-era apparel and accessories.
They also publish Reliving History Magazine, a publication about the life and material culture of the 18th century.
How did the business start?
In the late '70s, my grandfather started doing leather work and it quickly became more than a hobby. He established a business in 1982 called Jack's Jacks. It's a play on words. My grandfather's name was Jack, and the leather mugs we make are referred to as leather jacks.
It changed when my father took it over in the '90s to the Gentle Craftsman, and in 2011, I took it over and we established it as Samson Family Leather.
Why did you decide to refocus the business on Colonial goods?
We wanted to continue the family legacy of making the mugs. … We used to line our mugs with beeswax, so we started selling beeswax candles. Then, we slowly started making additional items in the 18th century community for reenactors. We realized that there was a need in the reenacting and the living history industries for another supplier. There are a handful in the country, a lot of merchants that do bespoke items, or made-to-order. We wanted to have a store that provided our customers with the goods ready to go, but we didn't want to decrease the quality of a reproduction to attain that goal.
What does it take to be authentic?
We're not just going off something that looks old-timey. We are potentially buying those original pieces, studying them, studying how they were made, the materials that went into them, the techniques. That is something that takes a lot of time, effort and skill. We were able to go to Colonial Williamsburg in Virginia and put our hands on vessels that were 300 and 400 years old to see how we could make our craft better.
What's something you make that might surprise people?
One of the things we started making with our blacksmith here in Indiana is a pipe kiln. When you're smoking a clay tobacco pipe, it gets a black residue on it. When you put them into the kiln and you put that iron kiln into a bed of coals, it'll actually turn those pipes back to pure white.
Are there a lot of people in the industry under 30?
When we started, we were some of the youngest reenactors aside from the children of the other reenactors. It was difficult to have people take us seriously. … We'd say we found something on the internet and people would discount that.
But so much has changed in the digital age. I can bring up practically any painting or printed material in a museum in such high-def detail that I can count the stitches of a buttonhole. That's something people 20, 30 years older than us could not do because the technology wasn't there.•
Please enable JavaScript to view this content.