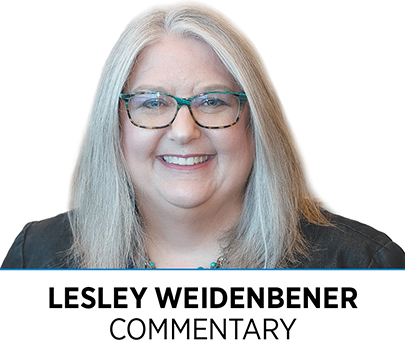 IBJ opened nominations this week for two 2023 awards programs: Forty Under 40 and Health Care Heroes. The move is a startling reminder of how quickly this year has flown by and how soon I'll be making new year's resolutions I won't keep.
Still on the calendar this year is IBJ's CFO of the Year awards event, which is scheduled for Dec. 9 at the Indianapolis Marriott. Our honorees have been chosen, and IBJ's special publications editor, Samm Quinn, is finishing their profiles for a special section that will publish the same day as the event.
But even as we're wrapping up 2022, our team is forging ahead for 2023, with dates set for most of our events and planning underway for those in the first half of the year.
In all, IBJ Media will host more than two dozen events next year, which will include a dozen that are IBJ newsroom-led. Those are awards events and Power Breakfasts, which feature panel discussions led by IBJ reporters about opportunities and challenges in specific industries.
In addition to IBJ-specific events, we'll host an Indiana 250 reception for the second time, an event that recognizes the most influential people in Indiana, a group chosen by leaders and staff of all three IBJ Media brands: Indiana Lawyer, Inside INdiana Business and Indianapolis Business Journal.
From the outside, the selection process for IBJ's awards can seem a bit mysterious. But the process is fairly straightforward.
Once we have closed the nominations (the deadline is Dec. 16 for Health Care Heroes and Jan. 13 for Forty Under 40), we will provide access to the nominations to a group of judges. Samm and I are usually on the panel. In most cases, IBJ Publisher Nate Feltman participates, as does IBJ Media's events director, Stephanie Cassell. Depending on the type of award, we might bring in other IBJ staff. And we nearly always add outside judges, usually someone who has won the award previously and who provides some expertise or diversity to our group.
The panel reviews the nominations and gives the nominees a preliminary score. Then the panel gets together for several hours to compare notes—which is where the process gets interesting. There's a lot of debate, some additional research and plenty of back and forth. Names go up on the board and then come back down. There's almost always a long "maybe" list as we whittle down to a final group of honorees. Along the way, we're keeping track of the diversity of the group, from many angles: diversity in race and culture, diversity in gender and age, and diversity of industry and background.
Once honorees are selected, Samm goes to work writing profiles about each one or hiring a freelancer to do so. And our photographer, Eric Learned, begins scheduling photos. Meanwhile, our sales and events teams are selling tickets and tables, securing sponsorships and working to make sure the event experience is top-notch.
It's a huge team effort, but the events are among our favorites.
What I didn't address here was how to go about writing a great nomination. I receive dozens of requests each year for meetings in which nominators hope I can give them the secret recipe to ensure their nominee is chosen. There is no secret sauce. Really. But I do have some general suggestions for making sure a nomination does a good job of reflecting the work of the person who is being nominated.
I'll be back with those tips later this month.•
__________
Weidenbener is editor of IBJ. You can reach her at lweidenbener@ibj.com.
Please enable JavaScript to view this content.