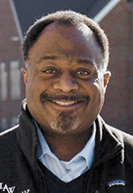 After several months of speculation and consideration, political commentator Abdul-Hakim Shabazz on Thursday morning announced plans to run as a Republican for Indianapolis mayor.
Shabazz said on WIBC-FM 93.1's "Kendall & Casey Show" that he planned to file paperwork with the Marion County Clerk's Office later in the morning to make his candidacy official. Shabazz's filing will set the stage for a Republican primary that includes the Rev. James W. Jackson and John L. Couch. 
His goal is to unseat Mayor Joe Hogsett, who is running for a third term.
"The city needs direction," he said. "I feel like we been wandering, aimlessly drifting. … Indy doesn't feel like it's on track. Whether it's the crime situation. Whether it's the roads. Whether it's just the attitude in general. And part of that leadership comes from the 25th floor (mayor's office), and I feel like after eight years, eight is enough."
Shabazz hosts a weekly radio show on WIBC called "Abdul At Large," which will be put on hiatus once his run is official, station leaders told IBJ on Jan. 20. He is also an attorney, a longtime political pundit and editor of IndyPolitics.org. He also writes commentary and has frequently contributed to IBJ's opinion publications. 
His potential candidacy has already meant the end of his guest appearance gigs.
Rumblings of a potential run for the radio host began in September. Shabazz took another step in December when he said he would create an exploratory committee.
Since then, Shabazz has received pushback from the state chapter of the Society of Professional Journalists, who say he can't ethically cover the Indiana Statehouse while exploring a run for office himself. 
Indianapolis has never had a non-white, non-male mayor. Now, the race would have at least five Black candidates vying for the position as the city's first African American mayor: Shabazz, Jackson, State Rep. Robin Shackleford, Gregory Meriweather and Larry Vaughn.
Through Shabazz's various media pursuits, he has been a frequent critic of incumbent Mayor Joe Hogsett. Now the two could face off in the general election in November.
In Democratic primary, Hogsett will face Shackleford, Meriweather, community activist Clif Marsiglio and perennial candidates Bob Kern and Vaughn. These candidates will face the uphill battle of overcoming incumbent Mayor Joe Hogsett's $3.6 million campaign war chest.
Several of the recently-announced candidates were not required to file campaign finance reports for 2022. Meriweather reported $0 in his campaign coffers, while Shackleford loaned her mayoral campaign $25,000 with an additional $10,000 from her Statehouse campaign. She ended the year with $40,300 cash on hand.
On the Republican side, Jackson was the only candidate required to file a campaign finance report. He ended 2022 with $1,920.
The filing deadline for candidates is Feb. 3 at noon. The primary election is May 2.
Please enable JavaScript to view this content.