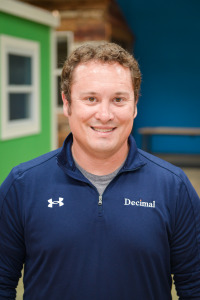 Fast-growing accounting-tech firm Decimal LLC has secured a $9.2 million investment—the first outside funding the company has taken since its launch more than two years ago.
The Indianapolis-based business said it believes the funding is the second-largest seed investment ever secured by an Indiana tech company. Online collaboration platform MetaCX Inc., which was cofounded by local technology executive Scott McCorkle, landed $14 million in seed funding in 2018.
Decimal, which originally did business as Somerset Cloud, was established in 2019 by local accounting firm Somerset CPAs and Advisors. In 2020, Somerset execs Matt Tait and Jacob Cloran acquired Somerset Cloud and changed its name to Decimal. Tait is CEO of the firm and Cloran is chief product officer.
Decimal is a software-as-a-service firm that helps customers automate and outsource accounting tasks such as bookkeeping, payroll and bill-paying. The company has enjoyed rapid growth, tripling its annual recurring revenue last year with the expectation that the company will again triple this number by the end of next year.
Annual recurring revenue, a key metric in the software-as-a-service industry, is the amount of money a company earns from its customers in software subscriptions. Decimal's customers pay a flat monthly fee to access the company's platform. Those fees average out to $18,500 per customer per year, Tait said.
The remote-only company had 60 employees at the end of last month, up from 30 in February, and customers in 24 states. Tait said he expects the company to grow to 87 employees by year's end. Fewer than 10 of the company's current employees live in the Indianapolis area, with the rest scattered around the United States.
Decimal's growth comes in part because it offers something that every company needs—accounting services.
"It's super boring," Tait said, "but you have to do it to survive as a company."
Tait said the company's early success, and its history of profitable operations, made the fundraising process smooth.
"We were able to go into the raise and say, 'Hey, we don't need you but we'd like to grow faster.'"
Decimal began fundraising in February and talked with 42 potential investment funds within three weeks, Tait said. Decimal had originally hoped to raise $4 million but found so much investor interest that it ended up raising $9.2 million.
Minneapolis-based Arthur Ventures was the lead investor, with participation from Colorado-based Service Provider Capital and several individual angel investors. Service Provider Capital has invested in numerous other local tech startups, including Qualifi, Market Wagon, The Juice, Pillar, and Canopy (later acquired by Outreach.io). Arthur Ventures' other local investments include 250ok (later acquired by Validity) and Terminus.
Please enable JavaScript to view this content.