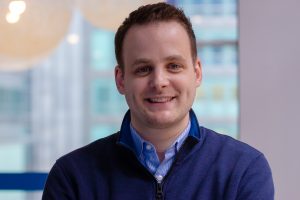 ActiveCampaign, a Chicago-based marketing technology company, hasn't realized the type of employment growth it projected in Indianapolis when it opened its local office two years ago. Company officials, however, emphasized this week that they still have big plans for the Indy office, and are in better position to achieve them after the business secured a major new round of growth capital.
The company on Wednesday announced it has closed on a $240 million Series C round of investment capital. The capital raise is the largest so far this year for a tech company with an Indiana presence.
The round, which brought total financing raised to date by ActiveCampaign to $360 million, was led by new investor New York-based Tiger Global and included new participation by San Francisco-based Dragoneer Investment Group, as well as by existing investors Pennsylvania-based Susquehanna Growth Equity and Boston-based Silversmith Capital Partners.
Plans for the latest round include further investment in product development, ongoing global expansion and acceleration of partnership initiatives, company officials said.
A month after opening an office on Monument Circle in 2019, ActiveCampaign announced a deal with the Indiana Economic Development Corp. to add 200 local employees by the end of 2022 in exchange for up to $6.2 million in performance-based tax credits. At the time, the company envisioned hiring 10 engineers per month.
More than two years later, ActiveCampaign has more than 40 employees in Indiana across its product, people, development and design teams, far below the hiring pace it predicted in 2019. It still hopes add another 40 employees over the next 18 months, far short of the workforce count it needs to qualify for the full state incentive package.
ActiveCampaign has been growing companywide. It added more than 300 employees in 2020 despite the pandemic and it plans to grow from its current 850 employees to more than 1,000 by the end of 2021. That growth has been spread between its hubs in Chicago, Indianapolis, Dublin and Sydney.
"We want to make clear that we plan to continue to invest in [Indianapolis]," Jennifer Amin, ActiveCampaign spokeswoman, told IBJ in an email. "While the pandemic has not slowed our growth, we are seeing a more dispersed workforce."
ActiveCampaign moved to a bigger office at 55 Monument Circle in early 2020 after outgrowing its initial space. Company officials told IBJ they are currently looking for a larger office space—at least 10,000 square feet—in downtown Indianapolis that will serve as a hub for its employees and broader community activities when the pandemic subsides.
"All of our U.S.-based jobs are open to Indiana residents, and we expect to double headcount [in Indiana] within the next 18 months," Amin said. "What I think is most interesting about the growth is that a lot of our product team is based in Indy, including our [chief technology officer]. There's that misconception that you have to go to Silicon Valley to get the top tech talent, but our growth and product innovation proves that Indiana has just as good—or better—talent. It's a best-kept secret. The talent pool is why we're investing [in Indianapolis]."
Amin said employee teams from other parts of the country will visit the Indianapolis hub to learn about product developments.
"More important to us than the [employee] count itself is that this hub will be a destination for our teams as the vaccine allows us to come together in person again," she said. "What we may not host in office will be a gain for travel and meeting services for the city."
Since its 2020 $100 million Series B funding round, ActiveCampaign has surpassed $165 million annual recurring revenue, less than a year after reaching the $100 million ARR milestone, company officials said. The company, which offers software for email marketing, marketing automation, sales automation and other business categories, has grown its customer base by about 50% in the last year, to more than 145,000 in 170 countries.
ActiveCampaign, founded in 2003, grew steadily but slowly over its first decade. In 2016, it had only 15 employees before it's customer experience automation platform took off. The company surpassed $60 million in annual recurring revenue in 2018, with revenue growth of 700% from 2015 to 2018.
"We're proud to be active members of the rapidly expanding Indiana tech community," Jason VandeBoom, founder and CEO of ActiveCampaign, told IBJ in an email. "I wanted to have a hub here, led by [Chief Technology Officer] Tony Newcome, because of the incredible local tech talent. Our Indy team has been instrumental in the company's growth since opening our first hub in 2019, and it will continue to be a core part of our success going forward."
Please enable JavaScript to view this content.