ActiveCampaign, a Chicago-based marketing technology company that recently opened an Indianapolis office, announced this week it landed $100 million in Series B funding.
The investment windfall will trigger big growth at the Indianapolis office, ActiveCampaign officials said.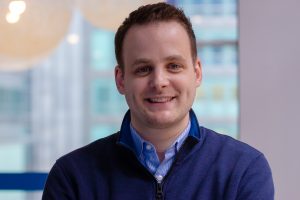 The company announced in February that it would spend $10 million to open an Indianapolis office and hire 200 people by the end of 2022. It said last year its initial office on Monument Circle would be temporary.
ActiveCampaign CEO Jason VandeBoom told IBJ this week the company is still working out of an office at 55 Monument Circle, but recently moved to bigger space on the 11th floor.
"This space is a good stepping stone for us here," VandeBoom said. "We do have some space to grow at our current location, but if we continue to grow as I expect we're going to need to look at different or more space." He said that could happen in the next year or two.
ActiveCampaign currently has 30 employees—mostly production engineers—in Indianapolis, but VandeBoom said that number is about to take off. He said the company is still on target to add at least 170 employees by late 2022.
The Indiana Economic Development Corp. offered the firm—a provider of sales and marketing automation for businesses of various sizes—up to $6.2 million in tax credits based on its job-creation plans. The tax credits are performance-based, meaning the company can't claim them until workers are hired.
"Indianapolis is contributing a large portion to our future growth," VandeBoom said. "It's a critical part for us. And we know that we're going to be able to find the talent we need to grow [in Indianapolis]."
ActiveCampaign has spent the last 11 months "building out its leadership team in Indianapolis," VandeBoom said. "Now that we have that in place, I think things there will accelerate."
ActiveCampaign plans to use its recent cash infusion to expand internationally as well as "double down on research and development and product engineering and continue to build out the team," VandeBoom said.
In Indianapolis, VandeBoom said ActiveCampaign is looking to add front-end and back-end product developers and engineers, design and marketing positions.
The firm, founded in 2003, has been on a growth tear. It has surpassed $60 million in annual recurring revenue in 2018, with revenue growth of 700 percent from 2015 to 2018. Last year the company added 300 employees—to a total of 550—and grew revenue to $90 million. And, VandeBoom said, the company is profitable.
In addition to Chicago and Indianapolis, ActiveCampaign has offices in Australia, Ireland and Brazil.
"Despite the fact that we just took on capital, we still have a mentality of a bootstrapper," VandeBoom said. "And that won't change."
The firm's most recent funding round was led by Philadelphia-based Susquehanna Growth Equity with participation by Boston-based Silversmith Capital Partners, which was the sole investor in ActiveCampaign's $20 million Series A in 2016.
"ActiveCampaign is blazing a trail in the customer experience market while running a rapidly growing and sustainable business," said Martin Angert, partner at Susquehanna Growth Equity who will join ActiveCampaign's board. "It already has the talent, experience and international footprint to be the leader in customer experience automation."
Please enable JavaScript to view this content.