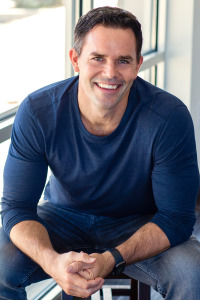 Scott Jarred didn't have big expectations for his first book, "FutureHack! How To Reach Your Full Financial Potential," which he self-published this year.
The CEO of Indianapolis-based financial planning firm Invst LLC (formerly JarredBunch Consulting) said he was "shocked" when the 182-page book hit the top of The Wall Street Journal's e-book non-fiction best-seller list and the top 10 on several other charts.
A Ball State University graduate who was born in Greenwood, Jarred started his firm in 2003. The company has about 30 employees working in Indiana and another 20 in offices in New Jersey and Florida.
Jarred, 44, said he was initially inspired to write "FutureHack" after he compiled a reading list of 20 books for a client who was seeking more financial information. He thought it would be far more effective to have the key advice available in a single source using a 10-step road-map approach.
There are a ton of financial-help books on the market. What made you believe that you could publish one that could distinguish itself from the others?
I would say most books are very narrowly focused on a specific area. Ours looks at things from a more comprehensive standpoint. And it starts with your mind first instead of your money, and really understanding what it is you truly want from your money and how you can literally get what you want in your life. So, it's not just about finance.
Your firm typically works with high-net-worth individuals. Is the book primarily aimed at those folks or can people of average means benefit from the advice in the book?
The good thing is, the advice in the book works for everybody. The rules still apply to whatever level of wealth you are on.
What is an abundance mindset?
We believe there are two kinds of people. One group of people will believe they live in a world of scarcity, where resources aren't available, and where people you help won't be there to help you, and where you need to hoard and keep things to yourself.
The abundance mindset is when you think that all resources are plentiful and available, and if I help others, that will make me better in the long run. It's thinking that we all rise together and we can really achieve anything we want.
If we can get people thinking in that framework, anything is possible. The most successful people in the world will have moments of that scarcity mindset, but the ones who are more successful are the ones who realize they are in that mindset and get out of it quicker.
If there's one piece of advice you could share from the book that would benefit just about anybody who is looking for help managing their money, what would that be?
The first thing you have to start with is your "why for money"—it's more important than money itself. Why do you work? Why do you do what you do? Because, you have got to program your mind to do what you want it to do. But if you haven't identified clearly what you want in your life, it's really hard to make your money do that for you. You have to have that worked out before you start getting the data organized, or understanding how to weigh decisions, or understanding financial strategies. You can't get somewhere if you don't know where you're going.
Any plans to write more books?
Yeah. Each chapter in this book is very broad. And I think each one of those chapters could be a book in itself.•
Please enable JavaScript to view this content.