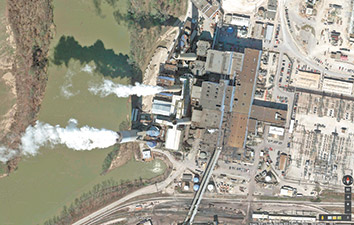 For years, environmentalists and public officials have urged AES Indiana to stop burning coal at its largest and dirtiest power plant, the Petersburg Generating Station in southwest Indiana.
Now, it appears that the Indianapolis-based utility is getting ready to do just that.
AES Indiana said it wants to convert the two remaining coal-fired units at Petersburg to natural gas by 2025, and add up to 1,300 megawatts of wind, solar and storage by 2027, according to a lengthy slideshow the utility posted Monday evening on its website in advance of an Oct. 31 public meeting.
The slideshow calls the plan its "preferred resource portfolio," a strong message that it plans to move in that direction. But AES Indiana, formerly known as Indianapolis Power & Light Co., stopped short of making a firm announcement in advance of presenting the information to the public next week and filing a plan with state regulators on Dec. 1.
AES Indiana has already held four public meetings on the issue to get comments from customers, public interest groups and public officials.
"We have posted the materials a week ahead of the meeting as required by regulation," AES Indiana spokeswoman Kelly Young told IBJ in an email on Tuesday. "This allows stakeholders to review the materials before the meeting and allows for stakeholder input. Following our 5th Public Advisory Meeting, and with final stakeholder input into the process, we will select our short-term action plan and preferred resource portfolio."
Petersburg is the largest generating station in IPL's fleet, with generating capacity of 1,700 megawatts–enough to light up factories, homes and shopping centers across central Indiana.
Indiana utilities are required to file so-called "integrated resource plans" every three years. The plans outline the utilities' strategy for generating power for the next 20 years. The plans are not firm commitments, and utilities sometimes change their minds about when to retire old generating capacity and when and how they will replace it.
AES Indiana was not scheduled to retire Petersburg's last two coal-fired until 2042. Just last month, the utility said it had made no decision about the future of the plant. It retired one of the plant's four coal-fired units last year and had said it would retire a second unit by 2023.
Now, it looks as if AES Indiana wants to discontinue using coal altogether at Petersburg within three years. In its place, the utility wants to install 1,052 megawatts of natural gas at the plant, according to the slideshow. It also wants to install or buy 500 to 900 megawatts of new wind power by 2027 and 450 megawatts of new battery storage by 2034.
It also wants to add 1,450 megawatts of solar power and 300 megawatts of wind power by 2034.
Some observers praised AES Indiana for preparing to retire Petersburg's coal-fired units ahead of schedule but criticized it for replacing it with natural gas, another fossil fuel.
"We are extremely disappointed to see the company move from one fossil fuel to another," Kerwin Olson, executive director of Citizens Action Coalition of Indiana, a utility watchdog group, told IBJ in an email. "Gas is not exempt from contributing to climate change, environmental issues, and public health complications. Additionally, consumers remain heavily exposed to the cost pressures and volatility of fossil fuels as AES-IN merely adds more fossil resources to their portfolio. And it's incredibly disheartening to see the company decide not to add any new solar to their portfolio until 2030."
Some pro-coal activists, on the other hand, said they were disappointed in AES Indiana's plans to shut the plant's coal-fired units. Matt Bell, CEO of Reliable Energy Inc., an Indiana trade association, said coal supports the jobs of about 1,800 Hoosiers who work in mines and production facilities.
"By choosing to abandon coal-fired generators that are fed by coal that mined in Indiana, AES will have to rely on natural gas imported from an out-of-state source," he told IBJ. "Rather than assuring the reliability of Indiana's energy grid by leaning into Indiana's coal industry, AES is choosing to depend on buying natural gas capacity on the open market, even while that capacity grows scarcer and scarcer by the day."
He said Hoosier ratepayers will be "forced to pay all of the costs" of AES Indiana's transition to natural gas, rather than maintaining the coal plants until their end of their natural lives.
But AES Indiana said it estimates the costs to customers from the preferred portfolio to be approximately $240 million lower than the status quo portfolio. It said it was premature to estimate how much the conversion would impact customers' monthly bills.
The utility added that a conversion to natural gas would reduce carbon emissions by 68%, compared to 2018 levels.
AES Indiana has stopped using coal in recent years at two other generating plants—Harding Street in Indianapolis and Eagle Valley in Martinsville.
The Petersburg plant has been called a "super polluter" by environmental groups and even by the Indianapolis City-County Council, which passed a resolution in 2017 calling for AES Indiana to cut back on coal and the resulting carbon emissions.
In June, the Indiana Department of Environmental Management notified AES Indiana that the Petersburg plant exceeded its water discharge limits in recent months for mercury, boron and iron and for violating its air-emissions permit.
Last year, the Petersburg plant also suffered a slew of maintenance problems, from tube leaks to grounded generators, causing the units to go offline repeatedly during the summer.
The Petersburg plant is in Pike County, about 120 miles southwest of Indianapolis.
AES serves about 500,000 customers in central Indiana. It is a unit of Arlington, Virginia-based AES Corp.
Please enable JavaScript to view this content.