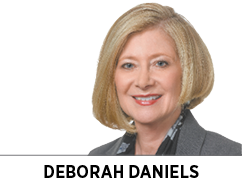 Our beloved Indianapolis is in a state of crisis.
The unconscionable death of George Floyd in Minneapolis in the custody of a now-former police officer has served as the last straw that has sent thousands of people in Indianapolis, as in other cities around the country, to the streets.
The vast majority of those people are engaged in peaceful protest; but an unfortunate minority has chosen to take advantage of the situation to commit acts of destruction, looting and worse. A tour of downtown Indianapolis is nothing short of heartbreaking, with block after block of businesses boarded up and broken windows and graphic graffiti everywhere.
A liquor store at Ohio and Pennsylvania streets, though boarded in anticipation of problems, was looted in full view of a reporter's camera that recorded the break-in. A men's clothing store on Washington Street owned by a young African American couple was severely damaged, and all its merchandise stolen. Downtown stores finally released from pandemic-related restrictions have suffered a further setback, potentially foreclosing job opportunities for those most in need.
Worse yet: Innocents have lost their lives, including Chris Beaty, an entrepreneur and former local football standout known to his many friends as "Mr. Indianapolis." Beaty was shot multiple times at Talbott and Vermont streets and died on the scene. A poignant story appeared in The Indianapolis Star about a good citizen who set out to clean the blood from the sidewalk, only then discovering that he knew the victim.
This unforgivable violence is hurting the cause of those with legitimate protests, drowning out their voices. The most significant theft that has occurred is not that of liquor or merchandise; the looters, by their actions, are stealing the credibility of the good people peacefully protesting a lengthy history of opportunity denied to people of color and those without means.
It is a terrible irony in the United States that a legacy of unfair treatment of people of color discourages them from joining police forces, making it more difficult to diversify the ranks, increase equitable treatment of all, and build more trusting relationships with the communities the police serve. Doing this is essential to enhancing the safety of all residents.
The pandemic has underscored the inequities of the health care system. Those of limited means, disproportionately people of color, are more vulnerable to the coronavirus than those of us who have the benefit of good insurance and easy access to health care. The environments in which they live, fostering asthma and other diseases, contribute to that vulnerability.
We clearly have serious problems to confront.
However, setting aside the inexcusable criminal activity, I am beginning to see a tremendous positive impact coming out of the protests.
First, look at the makeup of the crowds. People of all colors, creeds, ethnicity and economic status are marching together. That means the message has gotten through even to those not personally affected by racism or prejudice. The significance of this breakthrough cannot be overestimated.
Second, community leaders throughout the country are expressing their open disgust with what some police officers have done and are joining with their communities to work for reform. In Indiana, everyone from the governor on down has expressed support for the protests.
That might sound like just talk, if some other things were not also occurring.
Even on Saturday night, when destruction and looting were at their peak, police officers showed admirable restraint. On Monday evening, after some tense moments, police and protesters actually walked together for a block right near the Governor's residence. In many other settings, police and protesters have acted cooperatively.
But the most telling sign that things are different is that everyone in our community's private-sector leadership is stepping up. A realization has occurred that positive, substantive change cannot wait any longer. Groups including the Central Indiana Corporate Partnership, the Greater Indianapolis Progress Committee, the Central Indiana Community Foundation, United Way of Central Indiana, and other organizations are stepping up to work actively for change. The CEOs of Cummins, Eli Lilly and Co. and other corporate giants are meeting with members of the aggrieved community to learn what must be done.
We are at a critical juncture in our history. Much is happening that should instill a realistic hope in us all. We cannot allow ourselves to lose the urgency of this moment.•
__________
Daniels is a partner at Krieg DeVault.
Please enable JavaScript to view this content.