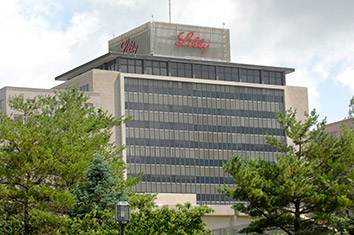 Nothing is ever easy or smooth when it comes to Alzheimer's disease.
Even as some drugmakers, including Indianapolis-based Eli Lilly and Co., are pushing to get experimental drugs approved, federal regulators are still dealing with a huge blowback over the controversial way they reviewed a new Alzheimer's drug by rival Biogen.
Now, two Congressional committees are investigating the Food and Drug Administration's handling of Biogen's drug, called Aduhelm, and the FDA is even asking for an independent investigation over whether the process was rushed or tainted.
Will Lilly wait until the air clears before pushing on? The answer seems to be a loud "no."
Lilly announced on July 15 it had entered a strategic research collaboration with Banner Alzheimer's Institute, an Arizona-based not-for-profit known for early detection and study of the disease.
The two will team up as Lilly begins a late-stage study evaluating whether its experimental drug, donanemab, can slow clinical progression of Alzheimer's disease in patients. Banner will help with enrollment of trial participants through its Alzheimer's Prevention Registry's GeneMatch program
"Lilly and Banner are committed to using the screening and treatment data as a shared scientific resource," the two organizations said in a joint statement. "Lilly remains the sole sponsor of the clinical trial and plans to begin enrollment later this year."
The announcement indicates that Lilly is not hitting the brakes with donanemab, even as Biogen's new Alzheimer's drug comes under fire for its questionable benefits and the strange way it was reviewed.
The FDA approved Biogen's drug on June 7 on an accelerated basis, despite warnings from the agency's independent advisers that it hasn't been shown to help slow the brain-destroying disease.
It marked the first time the FDA had cleared an Alzheimer's drug, following decades of research failures by numerous companies. Lilly spent three decades and more than $3 billion trying to find a way to treat Alzheimer's disease, only to notch up one expensive failure after another, including three large-scale defeats since 2010.
But the FDA's decision to give a green light to Biogen immediately caused an uproar.
Three scientists resigned from the independent committee that advised the agency, saying there was no evidence the drug worked.
"This might be the worst approval decision that the FDA has made that I can remember," Dr. Aaron Kesselheim, a professor of medicine at Harvard Medical School and Brigham and Women's Hospital, told The New York Times.
But the FDA didn't show any signs it would slow the process for future Alzheimer drugs. On June 24,  Lilly announced that the FDA had designated its Alzheimer's disease drug for the agency's accelerated approval process.
But just a day later, June 25, two committees of the U.S. House of Representatives announced they would examine the approval and pricing of the Biogen drug, which costs more than $50,000 a year.
"We have serious concerns about the steep price of Biogen's new Alzheimer's drug Aduhelm and the process that led to its approval despite questions about the drug's clinical benefit," the committees said in a joint statement.
In the face of growing criticism, the FDA quickly backpedaled. On July 8, it limited the recommended use of the drug to patients with mild cognitive impairment or early dementia from the disease—a major change from the original label that included everyone with the illness. 
The narrower label means the drug might be offered to 1 million or 2 million Alzheimer's patients, rather than the more than 6 million people with Alzheimer's in the United States, Michael Yee, a biotech analyst for the financial services company Jefferies, said in a note to investors.
One day later, on July 9, the FDA's interim commissioner, Dr. Janet Woodcock, asked the Office of Inspector General conduct an independent investigation into the agency's decision to approve the drug.
But if Lilly is concerned that the approval process for its Alzheimer's drugs might suddenly hit the skids, it's keeping that thought to itself.
In its July 15 announcement, Lilly said it is fully committed to its experimental drug and will push forward in trials together with Banner.
"This collaboration combines Lilly's more than 30 years of dedication to Alzheimer's research with Banner's unique expertise, and showcases our collective commitment to partner within the health care community to find potential treatments to end this devastating disease," Dr. Mark Mintun, Lilly vice president of pain and neurodegeneration, said in written remarks.
He added: "While these types of trials are challenging to enroll and conduct, Lilly, together with Banner, is proud to undertake the opportunity to bring about this new study in an area of high unmet medical need."
Please enable JavaScript to view this content.