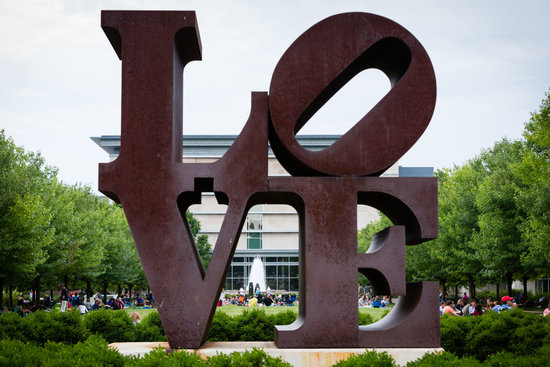 A New York-based copyright holder that sued the late artist Robert Indiana a day before his death has reached a settlement with his estate and the foundation set up to transform the artist's home into museum.
The settlement agreement brings the legal wrangling over the estate of the artist who grew up in Indianapolis and is known for his iconic "LOVE" series closer to an end.
Details were not released, but the agreement "should fully resolve all claims" stemming from Morgan Art Foundation's lawsuit that accused Indiana and his caretaker of violating a licensing agreement, according to a letter that was filed Wednesday in federal the court in New York City. The agreement would become effective in May upon settling of "one condition" that must be completed, wrote Luke Nikas, Morgan's attorney.
The lawsuit by the Morgan Art Foundation was filed in New York the day before Indiana's death on May 19, 2018, at age 89 on Vinalhaven Island, 15 miles off Rockland, Maine.
It accused Indiana's caretaker and a New York-based art publisher of taking advantage of Indiana.
The lawsuit contends they violated its agreement with Indiana by illegally producing other art. The art publisher, Michael McKenzie, is not included in the proposed settlement and is in arbitration.
A foundation intends to turn his island home into a museum to display his art once the litigation is resolved.
Millions of dollars have been spent on legal fees since Indiana's death, and the state attorney general's office is demanding an accounting of the estate's spending.
Born in 1928 in New Castle, Indiana was adopted by Earl and Carmen Clark, who lived in Indianapolis. He attended Arsenal Technical High School, helping to support his family by delivering telegrams and working in the advertising department at The Indianapolis Star. He also took drawing classes at the Herron Art Institute and graduated valedictorian of his class at Tech, where he served as photo editor of the yearbook, wrote for the newspaper, and received medals in English and Latin.
In 1965, Indiana first published a version of his most famous work for a Museum of Modern Art Christmas card. It featured the word love, with the letters L and O atop V and E, and the letter O tilted. A version was viewed by John Lennon, who said, "All you need is love," soon a Beatles anthem. "LOVE" also became a wildly popular U.S. postage stamp, first issued in 1973.
In 1970, Indiana exhibited the first of his LOVE sculptures, a 12-foot-tall version still at the Indianapolis Museum of Art. It was made of weathered steel that takes on a purplish-brown hue as it oxidizes. Its message has been translated into Chinese, Hebrew, Italian, and Spanish, and versions can be found in many U.S. cities and around the world.
Please enable JavaScript to view this content.