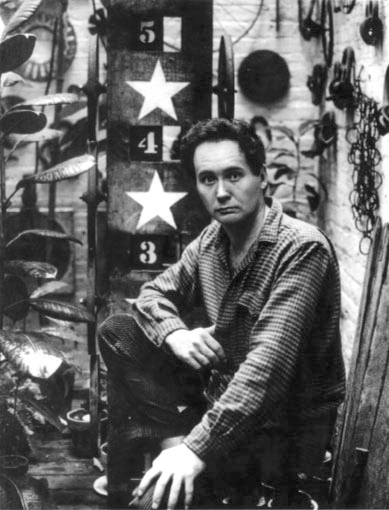 Born in 1928 in New Castle, the infant who would grow up to become known as Robert Indiana and create one of the 20th century's most recognizable works of art was adopted by Earl and Carmen Clark, who lived in Indianapolis. His mother's "wanderlust" led the family to move frequently. While a seventh-grader, he won first prize in a Marion County contest for his essay "A Covered Bridge."
He attended Arsenal Technical High School, helping to support his family by delivering telegrams and working in the advertising department at The Indianapolis Star. He also took drawing classes at the Herron Art Institute and graduated valedictorian of his class at Tech, where he served as photo editor of the yearbook, wrote for the newspaper, and received medals in English and Latin.
He then enlisted in the U.S. Air Force and was stationed in Alaska, where he edited the base newspaper. After discharge, he entered the Art Institute of Chicago, where he studied painting and graphics. Winning a traveling fellowship, he studied in Maine and Edinburgh, Scotland, before receiving his bachelor of fine arts degree in 1954 while still in Europe.
Returning to the states, he landed in New York, where he settled in with a group of artists and changed his name from Clark to Indiana, which he called his "nom de brush." In 1960, he began to paint three- and four-letter words in bright colors. He also created paintings that included lines from American writers such as Herman Melville and Walt Whitman.
In 1963, he collaborated with Andy Warhol on a 35-minute film called "Eat," which shows Indiana eating a single mushroom. Because the film's segments were out of order, it seemed the mushroom was magically renewed at intervals. The next year, he displayed a 20-foot electric sign at the New York World's Fair titled "EAT." Attendees assumed it was a restaurant, so the sign was turned off.
In 1965, Indiana first published a version of his most famous work for a Museum of Modern Art Christmas card. It featured the word love, with the letters L and O atop V and E, and the letter O tilted. A version was viewed by John Lennon, who said, "All you need is love," soon a Beatles anthem. "LOVE" also became a wildly popular U.S. postage stamp, first issued in 1973.
In 1970, Indiana exhibited the first of his LOVE sculptures, a 12-foot-tall version still at the Indianapolis Museum of Art. It was made of weathered steel that takes on a purplish-brown hue as it oxidizes. Its message has been translated into Chinese, Hebrew, Italian, and Spanish, and versions can be found in many U.S. cities and around the world.
Indiana later explained that the work's origin lay not in romantic love but his religious roots. Raised a Christian Scientist, he well knew the phrase "God is love," found on the front wall of every house of the faith's founder, Mary Baker Eddy. Later coming to regret the work's popularity, Indiana preferred to be "remote," moving to an island off the Maine coast in the late 1970s.
Yet Indiana's work kept showing up in popular culture. In an episode of the "Mary Tyler Moore Show" in the 1970s, the character Lou Grant comments on a print of an Indiana painting, "Five," secured for him by Mary's friend Rhoda. "I bet she went through four others before choosing this."
In 2008, Indiana designed a familiar-looking steel sculpture, "HOPE," for Barack Obama's presidential campaign.
Indiana died in Maine in 2018 at the age of 89. Reflecting on his creativity over the course of his long career, he hearkened back to his childhood in the state whose name he adopted: "I never had the exposure to the techniques that children have today, but I always had crayons and pencils and I still have work going right back to when I was five or six years old."•
__________
Indy Beacons celebrates the history of Indianapolis in the year leading up to its May 2021 bicentennial by telling the stories of famous city residents. It appears the second and fourth issues of every month. Gunderman is chancellor's professor at Indiana University.
Please enable JavaScript to view this content.