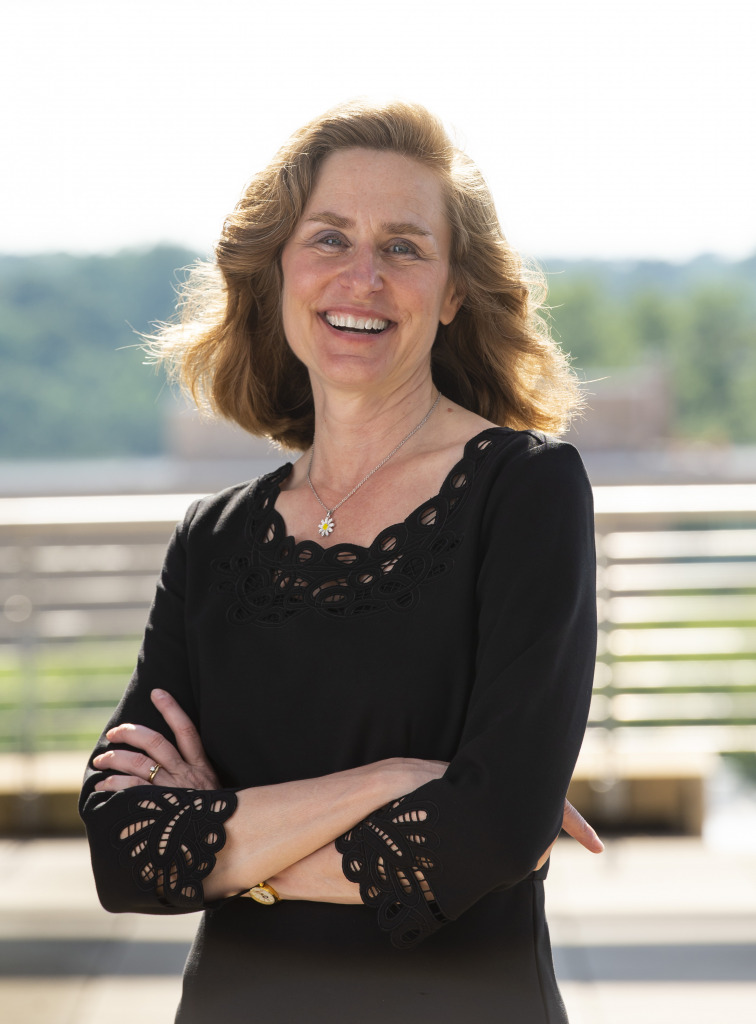 Alumni and other stakeholders across the Indiana University system had largely positive reactions to the announcement that Pamela Whitten, the leader of Kennesaw State University, will be the university's next president.
Whitten will not only bring diversity to the role—as the first female president of the state's largest university system—but has a track record of commitment to diversity and inclusion that will serve the school and the state well, observers said.
Dr. Don Brown, who donated $30 million to IU School of Medicine in 2016 to establish an immunotherapy center, said Whitten's hire "is a powerful symbol."
"The more people we see—women, people of color, people of diverse backgrounds in positions of authority—I think the more it advances society for all of us," he said.
"Kids in those groups then see somebody, you know, and they begin to think, 'Well, maybe that could be me someday,'" said Brown, who himself is a father to six daughters.
Marshawn Wolley, founder and CEO of Black Onyx Management Inc., a local management consultancy focused on diversity, equity and inclusion, said IU has been behind other schools that have had more diverse leaders. In fact, Vincennes University is the only other Indiana public college who has not had a female president. And half of the Big Ten schools have had or do have female presidents.
"So it's nice to see Indiana catching up," said Wolley, who has earned an undergraduate and multiple graduate degrees from IU.
"The expansion of the leadership pool is key and is an important advancement in the way we think about people and the way we identify new leadership in the 21st century," he added. "This is a situation you are proud of as an IU alum—that the university has made this momentous decision. This certainly heralds some progress."
Todd Richardson, CEO of Edge Mentoring and an alumnus, cheered IU's decision to hire a woman. But he also pointed out the quality of the choice.
"I am confident that the trustees and those making the final decision to hire Ms. Whitten hired the best candidate for the job regardless of the gender, but it is always helpful when leaders represent the constituencies, said Richardson, who earned an undergraduate degree in 1997 and a law degree in 2000 from IU. "The importance of having diverse leadership cannot be overstated for an academic institution like Indiana University."
Richardson said Whitten has the right stuff to lead IU.
"She's a very high energy and collaborative leader and that is just what is needed at a large, complicated institution as Indiana University," he said. "Whenever you have an organization that spans thousands of employees across multiple locations with such varied interests and needs, the importance of having someone at the helm who is a proven leader is of the utmost importance."
Observers say Whitten has shown that leadership as she navigated issues that preceded her at Kennesaw State. The previous president resigned amid criticism that he had failed to appropriately handle protests related to the National Anthem. In her three years at the school, Whitten increased diversity among students, faculty and administrators and created a task force to study inclusion issues at the         school. In January, she announced the creation of the Radow Institute for Social Equity to "address the challenges of social justice, equity and economic inequality while developing sustainable solutions that help address pressing social challenges and produce real change."
Wolley said that's important because it's not enough just to have a diverse leader.
"Now the challenge is to make sure that they are inclusive and strive for equity and belonging in everything they do," he said. "I'm looking forward as an alumnus to learn the new direction she will take the university. I think this is definitely a positive development."
Michael Arnolt, an IU alumnus who donated $6 million in 2018 to establish an investigative journalism center, said the university had made clear that diversity was a goal in its hiring making. "From that perspective, mission accomplished," he said.
But Arnolt was even more complimentary of the "diversity of what she's done," describing the array of degrees Whitten has earned and the health and administrative positions she has held in states across the South and Midwest.
He lauded Whitten's "student-centric" approach, noting that as president of Kennesaw State, she taught an MBA class.
"I think because of that experience, she … can understand, adapt to and incorporate the culture of being a Hoosier," Arnolt said.
"Considering all of her qualifications, I think we can get past that she has a master's from the University of Kentucky," Arnolt joked, referring to the rivalry between the two schools.
Ryan Kitchell served on the IU search committee that interviewed and recommended Whitten and said her leadership and commitment to students is what stood out during interviews.
"She's an innovative leader, a collaborator and a passionate advocate for students," Kitchell said. "She will bring a high level of energy and focus to the role and I'm confident she'll be a terrific president."
But while there are a number of people enthusiastic about Whitten's hiring, don't count IU law professor Steve Sanders among them.
Sanders, who earned an undergraduate degree from IU and has worked at the school for more than two decades, would have preferred to see an internal hire. He also questions Whitten's experience and her motives for taking the Indiana job.
"There's a time to go outside the university for president and time to stay inside, and I thought this time was mistake for Indiana University to go outside," Sanders said. "The last president was very ambitious and successful and the university had significant growth in programs. With the way the school has moved into new areas, there was a real sense of excellence here.
"In my mind, the time would have been right to be faithful to the direction President McRobbie has set and stay the course," Sanders added. "That's different from saying we needed a seat warmer. My fear here is that a new president comes in and they are completely new to the institution, they don't know our history, our traditions, our people, our values and they want to put their stamp on the school."
Sanders is concerned that Whitten doesn't have the experience to lead IU, may have difficulty—at least initially—gaining the confidence of faculty members and may only be coming to IU to bolster her resume before she moves on to her next job.
"She, like many university presidents these days, has a history of hopping from one institution to another," Sanders said. "We should be under no allusion that she will come here with the idea of spending the rest of her career."
Sanders said Whitten's background may cause some friction with current IU faculty.
"The reality is that Kennesaw State is ranked between 298 and 398 by U.S. News and World Report, and it's reasonable to think [Whitten] may have a difficult time being accepted—at first—by the faculty of a school that is ranked in the top 100 in the same ranking," Sanders said.
Although Whitten is coming from Kennesaw State, she previously worked in administration at the University of Georgia and at Michigan State University and was a professor at Purdue University early in her career.
Sanders acknowledged that experience but said, "Universities have cultures. IU is a flagship university with many top-flight programs. Not only is IU's culture very likely different from Kennesaw State, but its mission is different, its student body is different, its relationship to its home state is different as is its global positioning."
But Richard said Whitten's experience working at and attending "some of the top educational institutions in the nation is a real plus for Indiana University," he said. "I think this is a very good hire. Between her arrival and the hiring of new basketball coach Mike Woodson, [assistant basketball coach] Dane Fife and [assistant athletic director in charge of basketball] and Thad Matta, it's been a really good April."
Richardson thinks IU will take a progressive stance with respect to educational advancements under Whitten.
"I am really pleased to see she has expertise in telehealth," Richardson said. "This shows she has a willingness to try new things, and certainly that can be leveraged at Indiana. She's clearly in tune with the changing landscape of medical services delivery. This shows she is forward thinking and progressive in her approach to real world problems."
Please enable JavaScript to view this content.