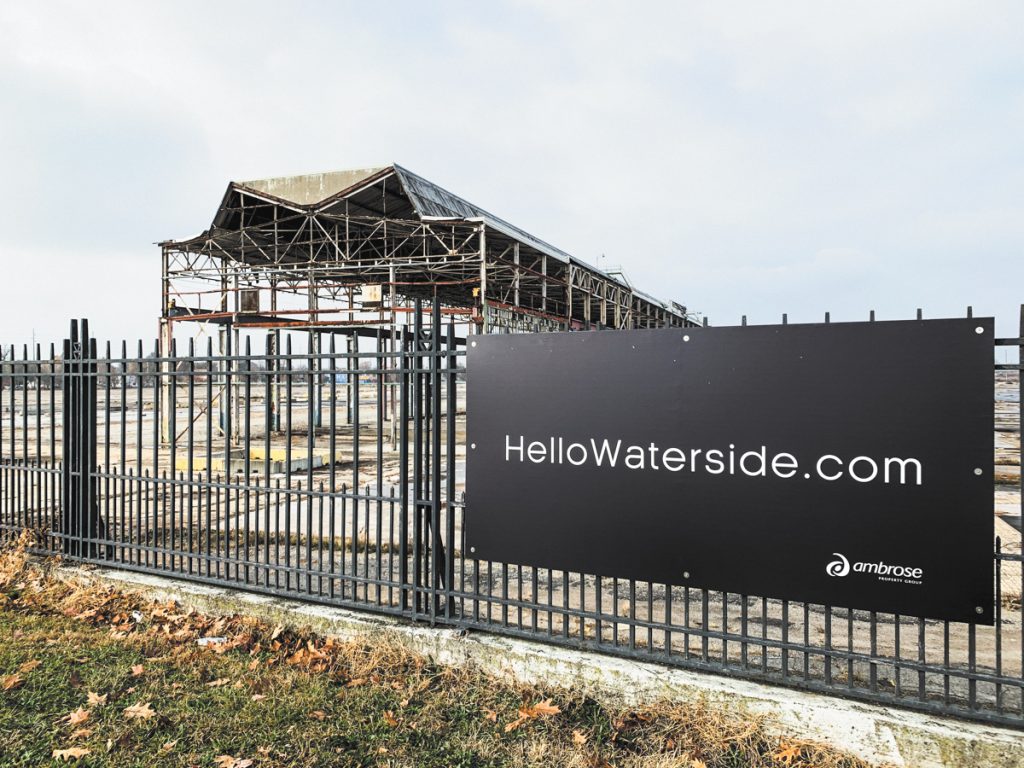 Nearly 18 months after winning a bid to develop the massive GM stamping plant site on the western edge of downtown, Ambrose Property Group decided to back out of the project and put the land—and its plans for it—on the market.
Ambrose had detailed plans in 2018 for a $1.4 billion, mixed-use development called Waterside—and said construction would start in 2019. The project was to include 1,350 residential units, 620 hotel rooms, 2.75 million square feet of office space and 100,000 square feet of retail space.
But on Sept. 27, Ambrose said it planned to reposition its business to focus on e-commerce and industrial development and away from mixed-use and office projects, including Waterside.
At the time, Mayor Joe Hogsett's chief of staff, Thomas Cook, called the decision "disappointing." But he said the move "does not dampen our optimism and commitment to this site and the surrounding neighborhoods. We intend to use all available tools to ensure that the future of this parcel will live up to the years of planning that has occurred and the ongoing White River
Vision Plan."
One week later, the administration took steps to buy the land through eminent domain.
The move set off a legal battle between the city and Ambrose, which claimed the city's move scuttled possible deals with developers interested in buying the property.
The Hogsett administration offered to buy the land (which was reduced to 91 acres after Ambrose sold a parcel to the Indianapolis Zoo) for $3 million—the same amount Ambrose paid when it acquired the land in 2017 from RACER Trust, the group charged with finding new uses for former GM properties.
Ambrose says it has spent millions on site preparation and that it has appraisals valuing the property at $65 million to $100 million. Ambrose has also said the city forfeited its right to use eminent domain to take the property as part of a 2018 project agreement.
Under that agreement, the city agreed to pay $26.8 million toward the first phase of the development—which at the time was expected to cost $92.5 million.
Ambrose later asked the city for additional incentives, as it increased its planned investment in the site to nearly $300 million. The parties negotiated but were unable to come to terms on additional incentives. Weeks later, Ambrose announced it was withdrawing from the project.•
Please enable JavaScript to view this content.