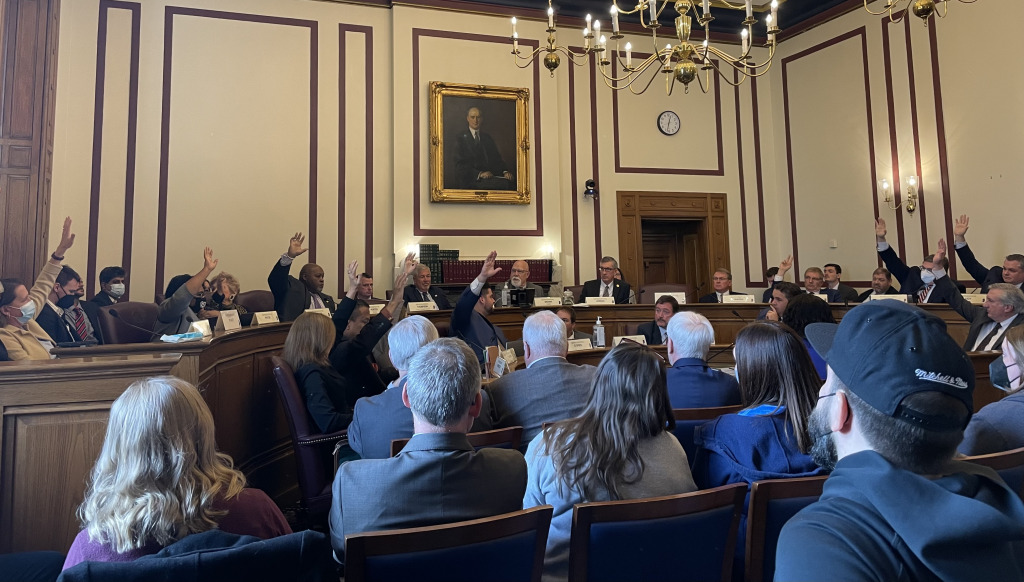 IndyGo's plan for a dedicated-lane Blue Line bus route has survived another day in the Indiana Legislature.
The House Ways and Means Committee on Monday tabled an amendment that would have conditioned the removal of some public transportation funding requirements on compliance with new lane minimums—which would've involved redesign and land acquisition over several miles of the proposed 24-mile route and thrown the plan's financial feasibility into question.
Republican Rep. Bob Behning's amendment would have allowed revenue-matching requirements for public transportation projects to expire upon substantial completion—as long as IndyGo maintained two lanes, both ways along certain parts of Washington Street. The Blue Line's design and federal funding for the line require a dedicated bus lane that would be created by whittling down Washington Street's four lanes. 
Behning told reporters that the measure was an attempt to "promote public transit" by preserving a four-lane arterial road for drivers and adding the bus lane for public transit users.
Advocates, meanwhile, objected to the measure's inclusion as a last-minute amendment on an education bill, Senate Bill 290.
"We had over 150 meetings on this plan. We voted resoundingly to fund this plan and to give IndyGo the authority to advance it," said Democratic Rep. Carey Hamilton. "And for us to come back in the final hour here, on an education bill before Ways and Means, is just not how it's supposed to work."
A technical amendment eliminated the lane requirement for a chunk of road on Indianapolis' east side, in Irvington. But committee members and witnesses went back and forth over another three lines, attempting to clarify language that would have big consequences depending on the interpretation.
One understanding applied the lane requirement to a three-mile section on the west side, near the Indianapolis International Airport, while the other included the entire 24-mile route.
"That [difference] is significant," said IndyGo CEO Inez Evans, who said a whole-route interpretation was not part of her discussions with Behning. "That is significant property acquisition and can be cost-prohibitive to this project, and have the repercussions of actually stopping this project."
The smaller section alone, she said, which would require four lanes open along Washington Street between South High School Road and Holt Road, plus a bidirectional space for buses, would affect eight businesses and add $12 million to the project. The current plan for the Blue Line, she said, involved no eminent domain condemnations.
House Ways and Means Committee Chairman Tim Brown, a Republican, said the Legislative Services Agency had clarified that the lane requirement would apply only to the smaller section, and would be noted as part of the technical correction.
But Democratic Rep. Ed DeLaney motioned to table the entire amendment, which Brown said at first was out of order. Brown took a voice vote, then called division and asked for a show of hands. More than a dozen legislators, including members of both parties, voted to table the amendment.
The lane requirements could still come back on the floor of the House.
Please enable JavaScript to view this content.