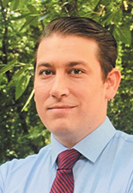 Age: 30
Hometown: Indianapolis
Residence: Indianapolis
Family: two dogs and a cat
Education: bachelor's in history and computer science from Indiana University and law degree from the Indiana University Robert H. McKinney School of Law
Political experience: precinct committee chairman
Career: deputy prosecutor for the Marion County Prosecutor's Office
Why he's running: Experiences working as a deputy prosecutor and for political campaigns have influenced my decision to run for office. I know we must bridge the paralyzing political divide in order to build our economy and improve communities.
Top priority: Money in politics. Campaigning is an industry and it should not be.
What he's streaming: no answer
Q&A
What do you think needs to be done to improve access to and the affordability of health care?
We can finance universal health care the same way we finance Medicare: payroll taxes. Single-payer universal health care will be the end of co-pays and deductibles. On balance, we can have a system where taxpayers save money. The existing system will remain. People trust and depend on the insurance they already have. We simply must compete and make a public option that is better, that people will want to have.
What should be done to address the massive amount of student debt in this country and make college more affordable?
Student loan debt is one of the most critical issues facing our younger generation. It is an economic albatross, with financial institutions profiting immensely off high interest rates on loans that students were strongly encouraged to take at an age where the consequences may not have been fully understood. We need to ensure that interest rates are low. We need to allow educational debt to be dischargeable under bankruptcy law. And we need to provide public financing for community colleges such as Ivy Tech.
What is your position on trade and tariffs?
I do not support the Trump tariffs. Tariffs harm us, as well. They must be used strategically and not as a blunt instrument. No trade deal is ideal. The U.S. International Trade Commission predicts that the U.S.-Mexico-Canada Agreement will be slightly positive overall. I will support every effort to keep jobs in the United States. We have the most knowledgeable and qualified and hard-working workforce in the world, and we can successfully compete for these jobs.
What should be done to address climate change?
Carbon tax is an effective solution because it provides a financial incentive for corporations to reduce carbon output. It quantifies the issue in the way a corporate balance sheet can contemplate. The two most critical things we can do to stop climate change are to develop new energy technologies and reduce energy consumption. Developing new energy technologies is both a climate issue and an economic issue. These new technologies promise to be most cost-effective, and if we don't develop them, another country, such as China, will.
Please enable JavaScript to view this content.