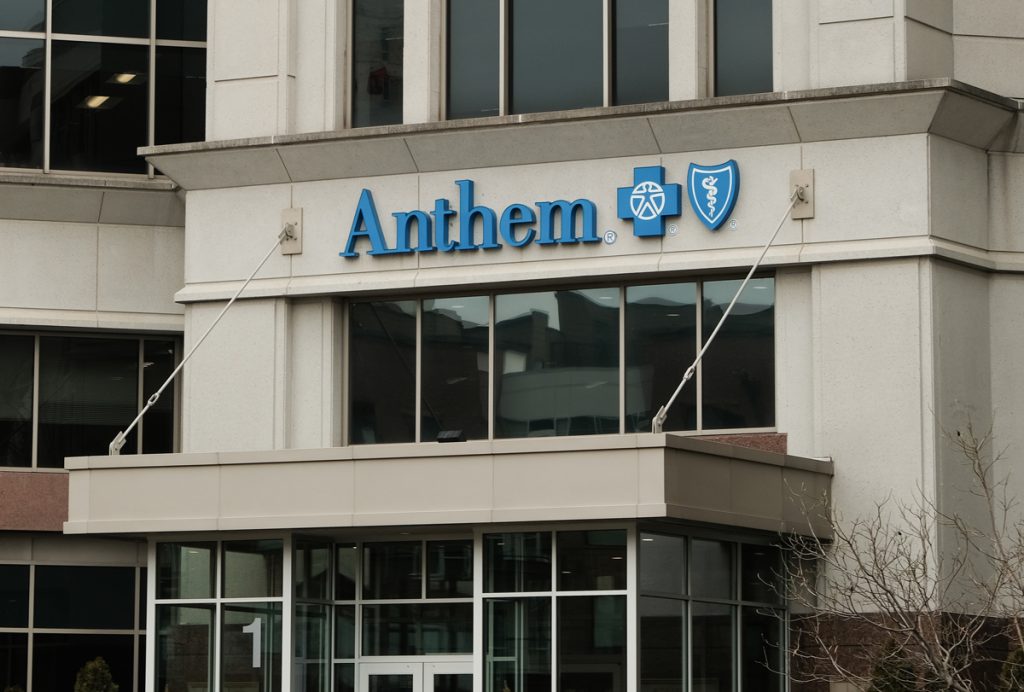 A new lawsuit alleges that Indianapolis-based Anthem Inc., one of the nation's largest providers of Medicare Advantage plans for seniors, defrauded the U.S. government of millions of dollars over four years by falsely certifying the accuracy of incorrect diagnosis data from doctors and other health providers.
The U.S. Justice Department filed a civil fraud action against Anthem Friday in the U.S. District Court for the Southern District of New York.
The complaint accuses Anthem of causing the Centers for Medicare and Medicaid Services to overpay it based on inaccurate and inflated information.
Medicare Advantage plans are health insurance policies for senior citizens, administered by private insurance companies under contract with Medicare. Under the program, the government pays private insurers a monthly amount to provide health care benefits for seniors.
The Medicare Advantage plans are hugely popular for their wide raft of benefits, with monthly premiums that are often lower than those of traditional Medicare.
Anthem is a huge player in this specialized sector of health insurance, with 1.1 million enrollees, behind only UnitedHealth Group, Humana, CVS (formerly Aetna) and Kaiser Health Foundation. Anthem saw its Medicare Advantage membership climb more than 25% in 2018, and several analysts have said Medicare Advantage plans are a key part of Anthem's future growth.
In a statement, Anthem called the Justice Department suit baseless, and said the government is attempting to hold insurers to standards on risk-adjustment practices without providing clear guidance. It called the complaint the "latest in a series of investigations" on Medicare Advantage plans and said it would "vigorously defend" its practices in court.
"The government is trying to hold Anthem and other Medicare Advantage plans to payment standards that CMS does not apply to original Medicare, and those inconsistent standards violate the law," Anthem's statement said.
It added: "Where regulations have not been clear, Anthem has been transparent with CMS about its business practices and good faith efforts to comply with program rules. We think the agency should update regulations if it would like to change how it reimburses plans for services delivered."
In recent years, Medicare Advantage plans have come under fire. A national audit by the Centers for Medicare and Medicaid Services found that the government in 2013 improperly paid $14.1 billion to Medicare Advantage contractors that could not produce medical records to support diagnoses.
Some insurers overcharged the government by exaggerating how sick patients were, allowing them to collect a higher rate for those patients each month, the audit found. Overall, about 10% of Medicare Advantage payments were improperly made, CMS said.
Medicare Advantage now covers about one-third of all Medicare beneficiaries, or 22 million seniors, about double the number from a decade ago. And with 10,000 Americans turning 65 every day, insurers are racing to cover them with the Medicare Advantage plans.
The complaint says Anthem operated dozens of Medicare Advantage plans, including the Empire MediBlue plan in New York. The government did not say how much it was seeking to recover, or whether Anthem's Medicare Advantage plans in other states behaved similarly and were also at risk of civil fraud.
Under the plans, Anthem provide health coverage for Medicare beneficiaries.  In return, it received payments from CMS based on the patients' medical conditions and demographic factors.
As part of payment system, Anthem submitted diagnosis data from each member's health care providers. CMS uses that diagnosis data, in conjunction with demographic factors, to calculate a "risk score" for each beneficiary and amount of the payment.
According to the complaint, Anthem supplemented the diagnosis codes it received from health care providers by implementing a "retrospective chart review" program using a vendor called Medi-Connect. Anthem paid Medi-Connect to collect medical records from health care providers corresponding to services and then review those records to identify all diagnosis codes supported by the medical records.
Anthem then submitted to CMS any diagnosis codes identified by Medi-Connect that the insurer had not already submitted to CMS, based on what providers initially reported.
When Anthem asked health care providers to provide records to Medi-Connect, Anthem characterized its chart review program as an "oversight activity" that would "help ensure that the [diagnosis] codes have been reported accurately."
In fact, however, Anthem did not use the information it received from Medi-Connect to check the accuracy of diagnosis codes it had submitted to CMS, the government said in its complaint. When Medi-Connect's review did not validate diagnosis codes that Anthem previously submitted to CMS, Anthem did not make any effort to verify or delete those codes, the complaint said.
Anthem did not do so because deleting invalid diagnosis codes would have substantially reduced the additional revenue the chart review program generated for Anthem, which frequently exceeded $100 million per year, the government said.
"Instead, Anthem treated its chart review program solely as a tool for revenue enhancement and viewed it as Anthem's 'cash cow,'" the complaint said. Anthem also falsely told CMS that it would "research and correct" risk adjustment data discrepancies, the complaint said.
"The integrity of Medicare's payment system is critical to our health care," said Geoffrey S. Berman, the U.S. attorney for the Southern District of New York. "This Office is dedicated to vigorously using all of the legal tools available, including the False Claims Act, to ensure the integrity of Medicare payments.  The case against Anthem today is an illustration of that commitment."
Please enable JavaScript to view this content.