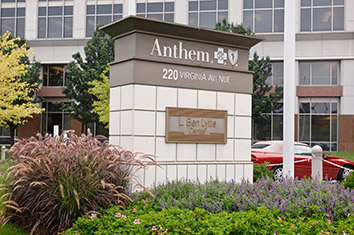 Anthem Inc. is suing one of its former executives, saying he must repay more than $4 million in stock grants and options after leaving to take a job with a competitor.
The Indianapolis-based health insurer filed suit in U.S. District Court in Indianapolis this month against J. Brian Ternan, who worked for four years as senior vice president and general manager of Anthem's Commercial Business division, with responsibility for some of the company's largest institutional customers.
Ternan left Anthem in August 2019 to take a position as president and CEO of Health Net LLC of California, a subsidiary of Centene Corp., which Anthem calls a direct competitor.
By taking an executive position with a competitor, Ternan violated Anthem's executive agreement plan, and must return $4.18 million in exercised stock options and vested, unexercised options, Anthem said in its complaint.
Anthem is claiming breach of contract, and is asking for a preliminary injunction requiring Ternan to deposit the money into a trust fund until a committee resolves the dispute under binding arbitration, as the company says is stipulated under the agreement.
But Ternan, in a separate lawsuit filed in December in federal court in California, says when he announced his departure from Anthem and his plans to join Centene, Anthem "voiced no objection" to his move.
"Nor did Anthem indicate in any way that it believed Ternan's Centene employment would violate any non-competitive provision or restrictive covenant, with the (executive agreement) plan or otherwise."
After he left, Anthem placed an administrative hold on Ternan's E-Trade account, holding approximately $3.2 million in Anthem stock.
Ternan denies he owes Anthem any money, stating that the $4.1 million demanded is not an employee benefit or pension plan subject to federal law covering retirement plans. Therefore, Anthem's executive agreement plan's restrictive covenant not to compete is not enforceable, he said in his filing.
Ternan lives in Thousand Oaks, California. He said his job with Centene is "a different role" than he had with Anthem, and that Centene's California market is 76% government business. Anthem's commercial business represents 78% of its business in California, he said.
Anthem said it agreed it would not seek court action to prevent Ternan from working for a competitor. But it said is reserved the right to recoup any money already paid to Ternan if he breached his restrictive covenants.
"Because Ternan's employment as the CEO of Centene (subsidiary) is a violation of the plan, Ternan is obligated to return certain consideration previously paid to him by Anthem," the insurer said.
Please enable JavaScript to view this content.