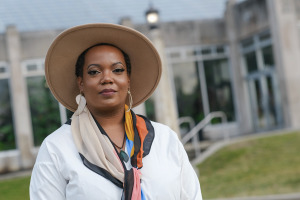 The calendar of spoken-word artist, poet and educator Manon Voice is packed with projects, but no one's energy is limitless.
Following a 2022 in which she taught a course devoted to hip-hop at Butler University, co-directed an OnyxFest play inspired by Indianapolis poet Mari Evans, interpreted the work of Indianapolis poet Etheridge Knight for Storytelling Arts of Indiana, and wrote and performed a rap song to help Black sorority Sigma Gamma Rho celebrate its centennial at Clowes Hall, Voice acknowledges a measure of "wear and tear on the soul and on the mind."
That type of grind is why the Indy Arts Council offers its Creative Renewal Arts Fellowship every other year to 40 artists and arts administrators. Voice is part of the current class of fellows receiving $10,000 each for research, instruction, travel and other experiences that translate into recharged creativity.
This year, Voice plans to visit Black- and Indigenous-led farms on the East and West coasts to study permaculture, which is food-growing practices designed for sustainability and self-sufficiency.
"I need something that will keep me inspired, something that will sustain my own vision and my own vitality," Voice said. "Even as an artist doing what you love, you still can get burned out. That's something we don't always talk about. 'Oh, you're an artist getting to do what you love.' And you think, 'Yeah, but there's all this other stuff that comes with it.'"
Supported by Lilly Endowment Inc., the Creative Renewal Arts Fellowship program was established in 1999.
"Recharged: The Art of Creative Renewal," a 20th-anniversary documentary that aired on WFYI-TV Channel 20 in 2019, itemized challenges faced by artists and arts administrators: "long hours, modest pay, competition and creative burnout."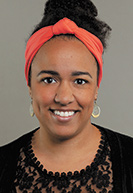 The pandemic amplified these concerns, said Nikki Kirk, Indy Arts Council's director of community investment.
A record number of artists and arts administrators applied for the 2022-2023 fellowship. While previous editions typically generated 175 applicants, a panel of national arts professionals reviewed 235 submissions this year.
"Artists need this opportunity to just step away, so as they come back into the Indianapolis arts community, they're that much more revived to be able to be inspired and continue to inspire the communities they work with," said Kirk, who joined the Indy Arts Council this year after a stint with not-for-profit Americans for the Arts in New York City. "It's a chance for them to get a break, be selfish and live within their own wildest desires to do what they need to do … to focus on themselves."
Living with the land
Voice said she put aside her day-to-day work of collaborating with organizations to craft a creative renewal proposal centered on herself.
"I was thinking, 'What do I want to do, personally?'" Voice said. "'How can I step outside of that realm of speaking for others and performing for others?' And, 'What's a deep desire in me that wants to be manifested, or explored and discovered?'"
Voice, an Indianapolis native who graduated from Arsenal Tech High School in 2002, said she has an elderly relative who talks about harsh conditions associated with being a sharecropper in Mississippi. The stories of tenant farming spurred Voice's interest in Black- and Indigenous-led permaculture.
"I've wondered, how can I, as an individual, and also people who are descendants of Africans who have been enslaved in this country, reclaim agricultural practices and reclaim our relationship to land?" Voice said. "Reclaiming our right to food sovereignty is a way of healing."
Possible destinations during Voice's fellowship include the Earthseed retreat and education center in Sebastopol, California, and Soul Fire Farm in Petersburgh, New York.
Voice plans to write about her journeys.
"I'm looking forward to harnessing my reflections in a book of poetry," she said. "I'm also looking forward to facilitating some workshops and bringing this knowledge back and sharing it with others here in the city."
Array of creativity
Nontraditional artistic disciplines are represented in the new class of fellows, including hair artist and designer Dani Oglesby, stand-up comedian Gwen Sunkel and break dancer Carmarry "Pep-C" Hall.
Kirk said the Indy Arts Council altered application requirements for this round of fellows, the first group selected since the emergence of the coronavirus.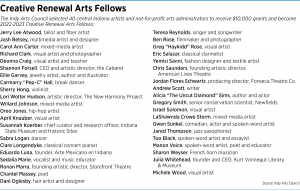 Instead of requiring 10 years of working in the arts, the fellowship now requires five years. A three-year residency requirement in the counties of Marion, Boone, Hamilton, Hancock, Hendricks, Johnson or Shelby was trimmed to two years.
The grant amount of $10,000 has been consistent since the initial awards in 1999.
"You want it to be a number that feels like a true investment," Kirk said. "We can't go too crazy, but $10,000 is a good chunk of change to be able to travel, to build or to do whatever folks can dream up."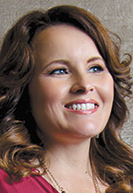 Shannon Forsell, CEO and artistic director of the Cabaret venue, is a creative renewal fellow for the second time. Unknowingly, Forsell's first fellowship sparked a new career path and the revival of an Indianapolis arts organization.
The singer used her 2007-2008 fellowship to attend a convention in New York City where 50 leading cabaret performers sang, danced and told stories to nightclub audiences.
When financial woes later gripped the Indianapolis-based American Cabaret Theatre, known for presenting musical revues with a resident cast at the Athenaeum, Forsell suggested a revamped focus on solo acts.
"I remember sitting in the Algonquin Oak Room [in Manhattan] and saying to my husband, 'We need one of these kinds of places in Indianapolis,'" Forsell said. "And he said, 'Yeah, that would be really great.' And then life went on. I did the fellowship, and then a year later, they're saying, 'Do you have some thoughts on how we could restructure American Cabaret Theatre?' I said, 'You know what, I have an idea.'"
Today, the Cabaret hosts performances by visiting Broadway stars in a 200-capacity room at 924 N. Pennsylvania St.
Hip-hop history
Before Voice made her mark as a spoken-word artist, she emerged in the Indianapolis arts community as a rapper who released an EP in 2010.
In December, she wrapped up teaching a music appreciation class at Butler titled "Hip-Hop: History, Evolution and Culture."
The study of hip-hop, an art form that will reach its 50th birthday in 2023, is a rarity at Butler.
"I never would have imagined that Butler University would call and extend the opportunity to come and bring this sort of knowledge there," Voice said. "But it's been really exciting."
Voice said she teaches the four elements of hip-hop—DJ-ing, MC-ing, break dancing and graffiti—that were solidified after DJ Kool Herc threw a back-to-school party in New York City's Bronx borough on Aug. 11, 1973.
"I wanted students to walk away with an understanding of hip-hop as a cultural phenomenon," Voice said. "Not just as a musical genre, which is also true. But in the broadest sense, it's a cultural phenomenon. It is a folk art. It is a multicultural exchange between Black and brown youth in the 1970s living in one of the most depressed areas in the United States."
Practitioners in all four elements have been selected for creative renewal fellowships.
Voice and Oreo Jones are MCs in the current class, and past rappers include Diop Adisa (2020-2021) and T.J. Reynolds (2009-2010). Lobyn Hamilton, a DJ who creates visual artwork from broken vinyl records, was a 2015-2016 fellow. Graffiti artist Samuel Vazquez was a 2017-2018 fellow, and Pep-C is a break dancer in the current class.
One of Voice's spoken-word pieces, "A Full Creative Life for All," became an instant classic when she delivered its message of Indianapolis as a "lasting canvas" for creatives during the Indy Arts Council's "Start with Art" fundraising event in 2019.
Voice said she approaches commissioned pieces such as "A Full Creative Life for All" as if she were a sculptor.
"I amass a lot of information," she said. "I interview people, I research, I read articles, I go places for inspiration, and I get statistics. Then I allow myself to sit with that information and allow it to be integrated within my own artistic consciousness."
After themes emerge, Voice said, she chisels the material until the final product has high artistic value while also being accessible to any listener.
The creative renewal fellowship, she said, will help her remain committed to her life's work.
"I have to ask myself, 'What do I need to sustain my spirit? What do I need to sustain my fire?'" Voice said. "I'm looking forward to the [fellowship] because I'm looking forward to sustaining my fire."•
Please enable JavaScript to view this content.