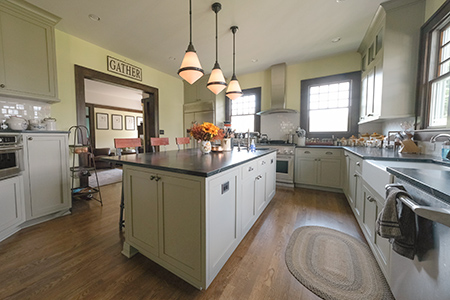 Former Navy nurse Bob Morrison developed a taste for arts-and-crafts-style homes while serving on the West Coast. That style of house, typically in the form of bungalows, was all over the place, flaunting low-pitched rooflines; deep, overhanging eaves; and interiors featuring rugged yet refined woodwork.
"When I was stationed at a Navy hospital in Oakland, sometimes on Sundays we would just go to open houses and look at them," Morrison recalled.
Happily for him, when he relocated to his home state of Indiana a few years ago, he found a just-as-authentic craftsman home waiting for him in Greenfield.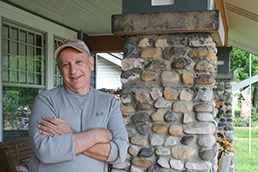 "I grew up about an hour north of here, and I have seven brothers and sisters still in the area," Morrison said. "Four or five years ago, I started thinking it might be time to move closer to where they are."
In 2014, he spotted his house online and toured it when he returned to Indiana for Thanksgiving. He bought it in January 2015 and took up residence that April. Though the two-story bungalow was built in 1912, it was in pristine condition—or at least as pristine as Morrison could hope for.
"It's hard to find them anymore that haven't been bastardized," he said. "It's unusual to find one that still has woodwork that's not been painted white, or floors that haven't been covered in linoleum."
About the only cosmetic change he made was repainting the walls and installing a gas insert in the dining room's river stone fireplace.
"When I bought the house, they said it was a working fireplace," Morrison said. "I put a log in there and set off every smoke detector in the house."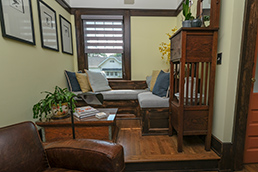 The home includes an expansive front porch overlooking Greenfield's Main Street. The entry hall, equipped with an arts and crafts chandelier that might be original to the house, opens onto a small seating area on the right that formerly served as the master bedroom (there are three downstairs bedrooms, plus two upstairs, including a massive master suite).
To the left is the front living room, separated from the entryway via a large pocket door that's likely survived, in good working order, since the home's construction. A set of pocket doors also separates the living room from the fireplace-equipped dining area. Next is a smallish study where Morrison keeps his expansive cookbook collection in a custom, built-in bookcase.
That tiny space used to be the home's kitchen—until Morrison hired Steve Gray Renovations to build an addition that carved out room for a much-enlarged food prep space (along with a utility room). The new kitchen features oak floors, which blend almost seamlessly with the originals in the rest of the house. There's also a large island with seating for four, stainless steel appliances, white subway tile backsplashes, and black soapstone countertops.
The fact that the new and old flooring mesh so nicely is no accident. A great deal of time and effort was spent making hand-milled baseboards and other trim pieces that perfectly matched the originals.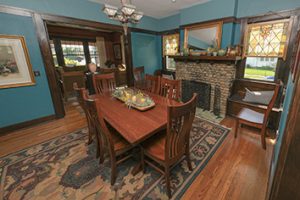 "They spent hours here one day, just trying to stain the new woodwork to make it look like the old woodwork," Morrison said. "The goal, I said from the start, is that it needs to look like it was always here."
The home's current incarnation features roughly 3,200 square feet of space—a good thing, given Morrison's large number of siblings and even larger number of nieces and nephews. Furnishing the place was no problem because Morrison has collected arts-and-crafts-style furniture for years.
There's not much left to do to the house, other than, someday, peel away the exterior aluminum siding so the original redwood can once more see the light of day. As for other exterior work, an old rear deck was replaced with a slate patio, and the home's numerous plantings have been carefully revived and tended to.
"Playing in the yard is my therapy," Morrison said.•
Please enable JavaScript to view this content.