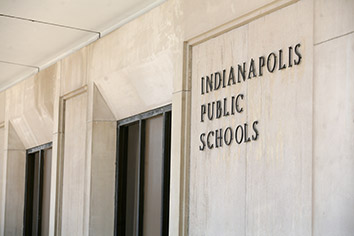 Tina Ahlgren has taught at four different schools since 2012. She may soon move to number five.
Ahlgren left T.C. Howe Community High School a decade ago, when the state took over the underperforming school and gave it to a charter operator.
She left Shortridge High School in 2015, when the school adopted the International Baccalaureate program, displacing teachers like her in Shortridge's law and public policy program.
And she left Arlington High School in 2018, right after it transitioned from a 7-12 school to a high school—and right before the district would convert Arlington again to a standalone middle school the very next year.
After years of enduring instability within Indianapolis Public Schools, Ahlgren decided to start over once more at the Center for Inquiry at School 2 with some peace of mind.
"I wanted some place that had been stable for a long time," said Ahlgren, who teaches middle school math there and serves as the bargaining chair for the Indianapolis Education Association. "Because I was really tired of moving so much."
Now, the district's Rebuilding Stronger plan brings change once more—not just for Ahlgren, but educators throughout the district. The blueprint, if the school board votes to adopt it on Nov. 17, would leave many teachers with uncertain futures; meanwhile, the district is hoping to prevent a wave of departures amid any turmoil by pledging extra cash compensation to a large number of teachers.
The massive reorganization is an effort to revitalize and streamline the district in part by closing six schools—two of which would be consolidated with existing schools—as IPS grapples with declining enrollment.
The plan would also expand academic programs to more schools, allowing specialized curriculum to reach more students of color and offer attractive educational options that compete with the city's growing charter school sector.
But these changes, if the school board adopts them later this month, could have a profound and long-lasting impact on the teaching workforce.
Some educators are contemplating leaving the district or retiring, exhausted from years of change made worse by the pandemic. Others plan on sticking around, hopeful that the plan will bring better educational opportunities to their students.
"What can you say? What can you do?" said Traneé Christian, an eighth grade English teacher at Harshman Middle School, which will adopt high-ability and dual-language programs if the school board adopts Rebuilding Stronger. "How can you plan and prepare for a bulk of uncertainty?"
The district, meanwhile, is counting on cash to entice employees to stay. It plans to offer a one-time $10,000 stipend to staff that would need to move schools under Rebuilding Stronger.
Other staff who wouldn't be directly impacted by the plan—those whose colleagues would leave but are not forced to move schools themselves, for instance—would receive $2,000.
And officials are hoping to ask taxpayers for $810 million in new revenue through two ballot measures next May. The district aims to use some of that revenue to ensure attractive compensation for teachers.
"We also know that we are in the context of a teacher shortage, and that's nuanced, so there are different ways we're experiencing that teacher shortage," IPS Superintendent Aleesia Johnson said in a previous interview with Chalkbeat Indiana. "If we want to execute on this ambitious plan, then we need to make sure that we are competitive."
If recent history is any indication, the potential significant changes in the district might not cause staff to leave in droves.
IPS had a teacher retention rate of 70.9% in the 2017-18 school year, which was the year before the district closed four high schools and reopened two of them as middle schools. When those changes took effect in 2018-19, the retention rate actually increased slightly to 71.3%, according to data from the state Department of Education.
After voters passed a referendum in 2018 to fund teacher raises, bumping up a starting salary that now sits at $50,400, the teacher retention rate jumped to 78.7% in 2019-20, and rose again to 83.9% in 2020-21, according to state data.
Still, extra money might not be enough to convince some teachers to stay—especially for veteran educators who've worked in a district that has lost about a quarter of its non-charter school student population since 2015-16. And Rebuilding Stronger would likely be bigger and more disruptive for teachers than the changes in the previous few years.
"I am really passionate about public education, and I know I can serve our students really well at whichever school I'm at," Ahlgren said. "But man, you know—is it any wonder why so many of my colleagues have left along the way?"
The plan's changes vary from building to building.
At School 51 in Martindale-Brightwood, staff worry about losing their principal if they merge with Francis Parker Montessori School 56 and adopt Montessori programming. They also worry about being displaced by incoming Montessori-trained teachers, and what these changes would do to the school culture they've worked so hard to build.
And at Harshman Middle School, an unknown number of seventh grade staff would need to leave if the school transforms into a feeder school for the Sidener Academy for High Ability Students and the dual-language Global Prep charter school.
And at Raymond Brandes School 65 on the south side, after getting used to a new principal who started in August, staff must now grapple with the fact that Rebuilding Stronger recommends closing their school altogether.
"We're angry, worried, we're anxious," said Kris Jarosinski, a kindergarten teacher at School 51 who has also shuffled from school to school as the district partners with more charter operators. "We all get along. We're all very supportive of each other. It's [a] really good staff. And we're all like, 'Well, what are we going to do?'"
And beyond the impact on their own careers, educators worry about the effects that staffing and programming changes will have on their students.
"We need to make sure that it is worked out in a way that it will cause the least amount of disruption to our families," Rosiland Jackson, a teacher at William Penn School 49 who is on the executive board of the Indianapolis Education Association, said at a story-telling event hosted by the union in October.
With the exception of staff at two innovation schools that could soon lose their agreements with the district, Rebuilding Stronger would not leave any employees without a job, IPS has stressed.
But some teachers are concerned about how their jobs could change even if they were to land at a new school.
Michelle LeMaster, a multi-classroom leader at School 51 who helps coach staff there, worried that the district may cut her pay if she were to lose her coaching position. Plus, staff may have to take Montessori training to stay at the school.
"There's just no incentive to do it," said LeMaster, who travels every day from Brownsburg to Indianapolis for work. "We've developed a rapport with our teachers where we could go into their classroom and say, 'You know, this is what we think will help you improve.' That will be gone."
Instead, LeMaster said, she may stop teaching and go into curriculum design or other educational careers with her administrator's license.
Some staff are also confused about how Rebuilding Stronger would impact their compensation, including retention bonuses.
The Indianapolis Education Association has asked for clarity on the amount in retention stipends that each staff member would get, noting that different schools gave different information on the amount and timing of retention bonuses.
Questions abound, too, about whether staff at a school adopting new programming would need to pay back the cost of their training if they later leave their school.
The district did not respond to a request for comment about these issues.
Ahlgren's career, meanwhile, may come full circle: She may end up back at T.C. Howe, which would reopen as an International Baccalaureate middle school if Rebuilding Stronger passes.
She tells fellow teachers to try to remember why they decided to teach in IPS in the first place.
"At the end of the day, the kids in IPS bring me so much joy, and I find so much value from sticking with it and continuing to serve them—in whatever school it is," she said. "Just dig back to that purpose when you're trying to figure out what your next move is."
Chalkbeat is a not-for-profit news site covering educational change in public schools.
Please enable JavaScript to view this content.