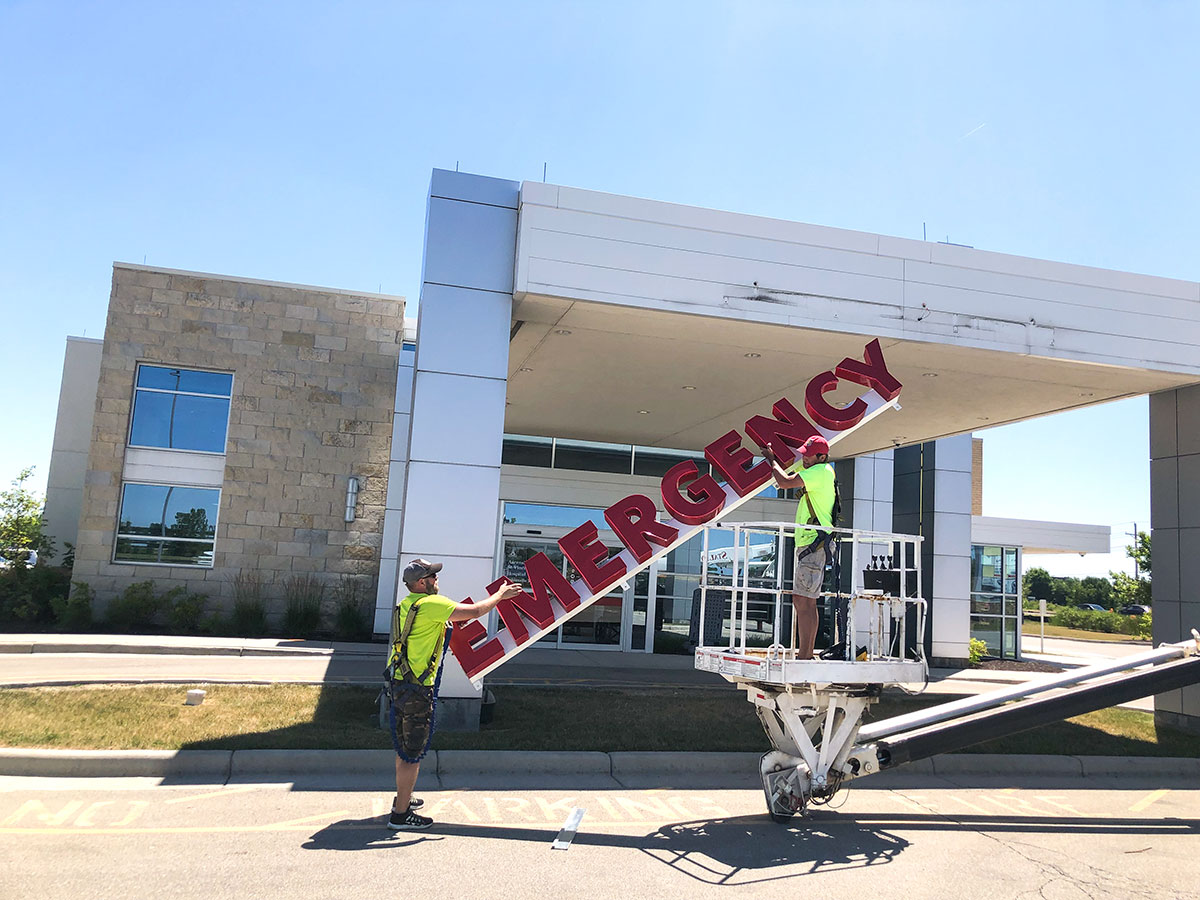 The end of the line for Ascension St. Vincent's neighborhood hospital in Noblesville—the first in its system—came not with a bang but with the whine of a hoist lift.
With no public notice, the Indianapolis-based hospital system sent a lift truck to the tiny hospital last week, where workers unbolted and removed the Ascension St. Vincent and Emergency signs. Inside, a receptionist told visitors the hospital would close at the end of the day.
It was an unceremonious end to at least one part of a grand experiment.
Just five years ago this summer, officials from Ascension St. Vincent opened the tiny hospital at 9460 E. 146th St., touting it as a new model of ease and comfort for patients.
"Health care is evolving. Patients want convenience," CEO Jonathan Nalli said. "We will stay ahead with hospitals like this."
The hospital, at 17,000 square feet—about the size of an Aldi grocery store—was designed for emergencies that weren't life-threatening, with seven exam rooms, eight overnight beds, a laboratory, a pharmacy, and an imaging suite equipped with an X-ray machine and CT scanner.
And unlike traditional, large hospitals that are often set back hundreds of feet from the street on enormous medical campuses, this was up against the road where patients could get in and out quickly. It was just a few blocks from an elementary school and within five miles of numerous subdivisions.
At an open house in July 2017, visitors helped themselves to cheese and cold cuts and took a look around the hospital, which was fully licensed by the Indiana Department of Health. A Catholic bishop said prayers and sprinkled water in a blessing.
Over the next few months, Ascension St. Vincent, along with a Texas-based partner, would build and run seven more micro-hospitals around central Indiana. It was part of a multimillion-dollar strategy to upend the traditional hospital model to attract more patients in a competitive market.
Today, the landscape looks much different. Only five of the eight hospitals ever opened; the remaining three were converted to other uses, including primary care clinics and an imaging center, according to an IBJ review of the buildings.
The partner, Tandem Hospital Partners LLC of Houston, which ran most of the operations and staffed the nursing stations, labs, pharmacies and business officers, went out of business just two years later.
That caused Ascension St. Vincent to scramble to take over the operations and offer jobs to the Tandem workers.
And over the last two years, Ascension St. Vincent has converted the remaining four "neighborhood hospitals" into freestanding emergency departments, with no inpatient beds. Two of those are in Indianapolis—one in the Castleton area and the other on the south side, on Emerson Avenue, near County Line Road. The other two are in Avon and Plainfield.
"During the pandemic, our neighborhood hospital locations in the Indianapolis area were transitioned to freestanding emergency departments," an Ascension St. Vincent spokeswoman told IBJ in an email. "We are continually assessing how these facilities can best serve the community into the future."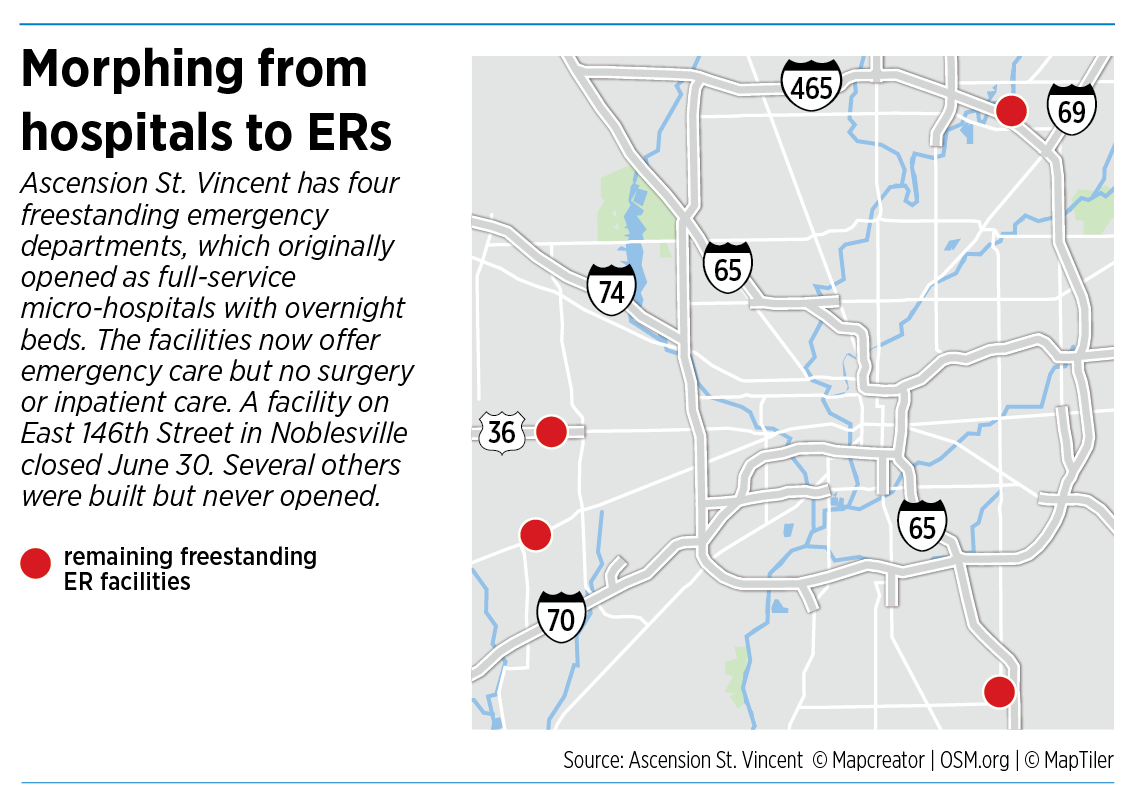 Not 'a winning strategy'
It remains unclear whether the small hospitals met Ascension St. Vincent's revenue projections. The health system declined to make Nalli or any other senior leader available for an interview to discuss the issue.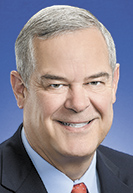 The closing of the pilot neighborhood hospital in Noblesville came the same week Ascension St. Vincent closed 11 immediate care centers, also with no notice. The centers are walk-in clinics for non-life-threatening injuries and illnesses.
Some outside experts say it appears, from all the moves, that Ascension St. Vincent moved too quickly with an untested model.
"I think now they've come to the realization that it wasn't a winning strategy for them," said Ed Abel, former director of health care practice at Indianapolis-based Blue & Co., an accounting and consulting firm. "And they needed to rethink the whole thing."
"They expanded aggressively, and sometimes you misjudge the market," said David Blish, director of health care consulting for Katz Sapper & Miller, an Indianapolis-based accounting and consulting firm.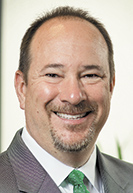 But even as it closes or converts small, neighborhood hospitals in central Indiana, Ascension St. Vincent's parent company is opening them elsewhere.
Last year, St. Louis-based Ascension, which operates in 19 states, opened three neighborhood hospitals in Wisconsin. Each is 32,000 square feet—about twice the size of the Indiana neighborhood hospitals, but still a fraction of the size of a traditional hospital, which can span hundreds of thousands of square feet.
And last month, Ascension held a "topping-out" for a neighborhood hospital in suburban Nashville, Tennessee, lifting the final beam in place, also on a 32,000-square-foot micro-hospital.
The hospital will have eight private inpatient medical beds and an emergency department with eight treatment rooms. Additionally, the facility will offer diagnostic imaging, laboratory services and outpatient services.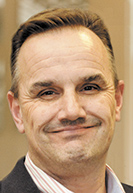 Some micro-hospital advocates say the model of small, full-service hospitals at the edge of neighborhoods is still a smart move.
Rod Booze, an architect and principal with E4H Architecture in Dallas, which has designed more than 30 micro-hospitals in Arizona, Colorado, Texas, Louisiana and Ohio, said demand is still strong. His firm is now working on a 20-bed hospital in the Dallas-Fort Worth area.
"It's really more of a small neighborhood hospital, and I wouldn't call it a micro-hospital," he said. "But it's all the same ideology and all the same technique from a retailing standpoint, and from a standpoint of trying to take health care closer to consumers. … It's still viable."
Never caught on here
Micro-hospitals burst onto the scene about a decade ago, the latest push by health systems to compete for patients. With the small, outlying hospitals, they could ring up more business on low-acute emergencies, such as stomach bugs or a fall down the steps, while referring more serious cases to their flagships.
For investors, the big promise was that the tiny hospitals, with skeleton crews, would hold costs down and generate hefty returns. Developers estimated each hospital would cost $10 million to build and equip, with a full-time staff of about two dozen, of which only six to eight were on duty at any time.
Even so, no other hospital system in central Indiana has built a tiny hospital or otherwise embraced the concept.
Executives at several hospital systems say they had been approached by developers interested in partnering with them to develop micro-hospitals. But they said they preferred to concentrate on their full-service hospitals, along with networks of urgent care and immediate care centers.
Ascension St. Vincent's experiment with micro-hospitals began largely out of public view. In 2016, a Texas real estate company filed applications with the Indiana Office of Homeland Security to build micro-hospitals in Indianapolis, Plainfield and Noblesville.
The company, Embree Group of suburban Austin, Texas, did not return calls to local media at the time, or say whether it was intending to partner with a local health system. According to applications submitted to the Indiana Office of Homeland Security, the company said it planned to construct buildings measuring about 19,000 square feet, with inpatient, diagnostic-imaging and emergency services.
Weeks went by before Ascension St. Vincent confirmed that it was the hospital partner in the project. It said the hospitals would help meet the demand for emergency services that weren't serious enough to require a trip to a traditional, acute-care hospital.
But patients would pay for the convenience. Ascension St. Vincent said it would charge hospital emergency room rates, which are typically much higher than those at urgent care centers.
The small hospitals, in Indiana and elsewhere, however, quickly hit a bump. The Centers for Medicare and Medicaid Services ruled in 2017 that micro-hospitals would be required to have at least two patients in overnight beds, on average, to qualify for hospital-level reimbursements, and the patients would have to have an average length of stay that included at least two midnights.
It's not clear whether Ascension St. Vincent's neighborhood hospitals were meeting this threshold, with a significant number of inpatients, or whether they functioned mostly as an emergency room. The hospitals did not offer surgery services, which are a primary reason patients would need an overnight stay.
Health care consultants around the country warned micro-hospital operators that they would have to be careful in meeting the new requirement or risk being decertified as a hospital for reimbursement purposes. Ascension St. Vincent would only say at the time that it would abide by the rules.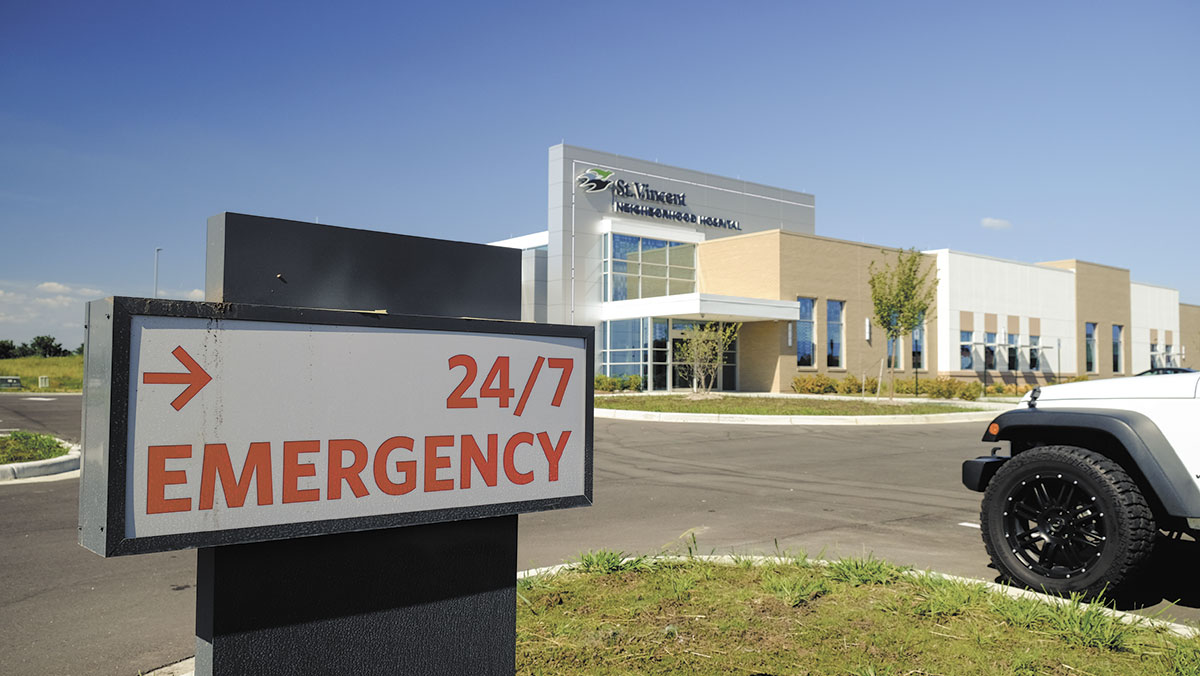 Still ramping up
Over the past five years, officials at Ascension St. Vincent have continued to talk up the value of their neighborhood hospitals, while adding other services. In 2019, the health care system said it was adding 24-hour urgent-care services at the hospitals for less serious ailments, such as ear infections, minor cuts and sports injuries. It already had more than a dozen urgent-care centers in central Indiana, but those were open 13 or fewer hours per day, not 24.
"This 'one-stop shop' approach was designed to help consumers avoid confusion when deciding whether to seek treatment in an emergency room or an urgent care facility," St. Vincent said at the time. "The St. Vincent Neighborhood Hospital locations will also offer patients a price advantage when a visit qualifies as urgent care versus emergency care."
But even as it closes or morphs its small hospitals, Ascension St. Vincent is ramping up on another front. In May, it announced it would build a small hospital near Purdue University with an emergency room and eight inpatient beds.
It said the hospital would bring inpatient and emergency care into the city of West Lafayette for the first time. The city is home to urgent care centers and medical clinics, but the nearest acute-care hospital, Indiana University Health Arnett, is about three miles away, in Lafayette.
"We are responding to the community's need to access high-quality care in a way that fits into everyday life," Nalli said in a statement at the time.
Ascension St. Vincent did not provide specifications on the hospital's size but called it a "neighborhood hospital"—the same label as its struggling experiment of micro-hospitals in central Indiana. Construction is scheduled to begin this summer.•
Please enable JavaScript to view this content.