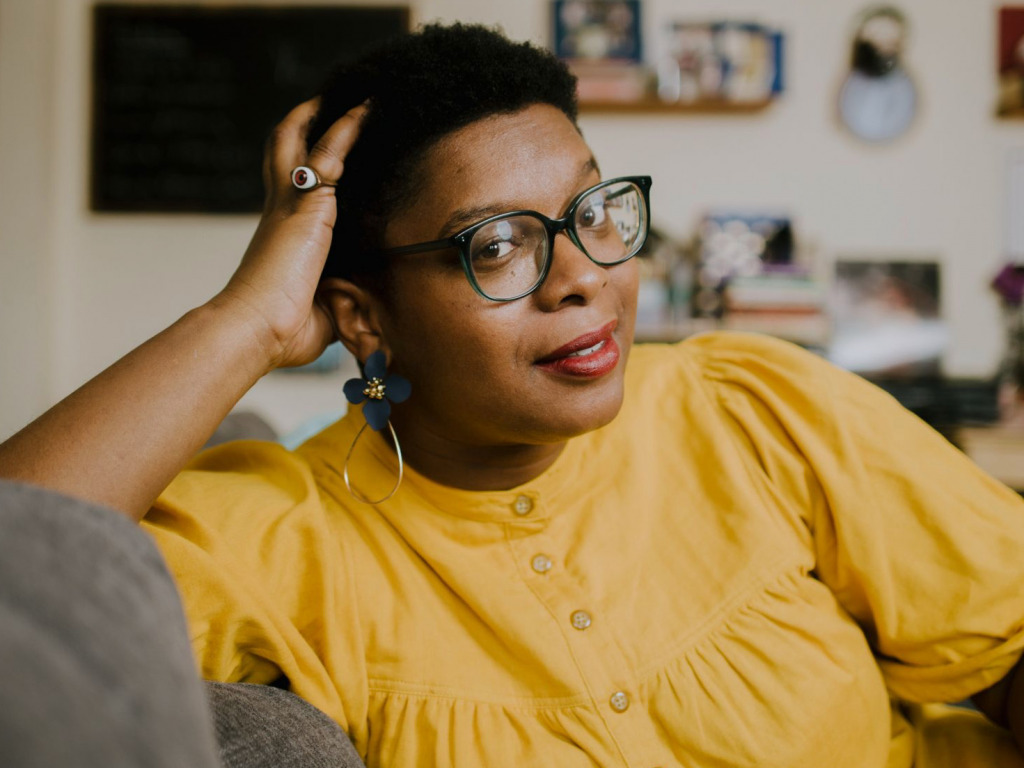 Indianapolis-based author Ashley C. Ford leads the class of 2022 Eugene and Marilyn Glick Indiana Authors Awards winners, with her New York Times Best Seller memoir "Somebody's Daughter" selected in the category of debut works.
The awards, administered every other year by Indiana Humanities, were announced Wednesday in eight categories.
Leah Johnson won in the young adult category for "You Should See Me in a Crown," a book that appeared on 2020 best-of lists published by Kirkus, Publishers Weekly, Amazon and Marie Claire.
Ross Gay became an Indiana Authors Awards winner in consecutive competitions. His "Be Holding: A Poem," a tribute to iconic basketball player Julius Erving, won in the poetry category. Gay collected the 2020 nonfiction award for "The Book of Delights."
Chosen from 40 shortlisted works published in 2020 and 2021, each winner receives $5,000, a limestone-and-steel trophy, and the opportunity to make a $500 donation to an Indiana library of their choice.
In addition to the biennial awards, Glick Philanthropies and Indiana Humanities named JL Kato as Indiana's 2022 Literary Champion for promoting the craft of poetry and picked James H. Madison as the 2022 Lifetime Achievement Award winner for decades of documenting Indiana history. Madison's 2020 book "The Ku Klux Klan in the Heartland" was shortlisted in the Indiana Authors Awards' nonfiction category.
The 2022 winners:
Debut works category: "Somebody's Daughter" (2021), by Ashley C. Ford, who grew up in Fort Wayne. Ford will teach the creative nonfiction workshop at Butler University in 2023.
Fiction category: "The Town of Whispering Dolls" (2020), by Susan Neville, an Indianapolis native who attended DePauw University and teaches at Butler. "The Town of Whispering Dolls" also won the 2020 Catherine Doctorow Innovative Fiction Prize awarded by the University of Alabama Press.
Nonfiction category: "Author in Chief: The Untold Story of Our Presidents and the Books They Wrote" (2020), by Craig Fehrman, a University of Southern Indiana alum who grew up in Dillsboro and lives in Bloomington.
Genre category: "Hollow Heart" (2021), by Paul Allor, an Indianapolis resident who grew up in Kokomo.
Poetry category: "Be Holding: A Poem" (2020), by Ross Gay, an Indiana University faculty member who also won the PEN/Jean Stein Book Award for this book.
Young adult category: "You Should See Me in a Crown" (2020), by Leah Johnson, a Ben Davis High School alum who lives in Indianapolis.
Middle grade category: "For All He Knew" (2020), by Helen Frost, an Indiana University alum who lives in Fort Wayne. The book also was honored as the 2021 Scott O'Dell Award for Historical Fiction winner.
Children's category: "Grace and Box" (2021), by Kim Howard, a Bloomington resident who grew up in LaPorte.
Correction: The Indiana Authors Awards category won by Ross Gay in 2020 has been corrected from an earlier version. "Sightseer in This Killing City," by Eugene Gloria, won in the poetry category in 2020. See all of our corrections here.
Please enable JavaScript to view this content.