In a city that would later call itself the racing capital of the world, the first appearance of the automobile in 1897 was a major event. The car was the creation of Milton Reeves (1864-1925), who built one of the first automobiles in America, developed both the variable-speed transmission and the muffler, and introduced the "easiest riding car in the world," his eight-wheel "Octoauto."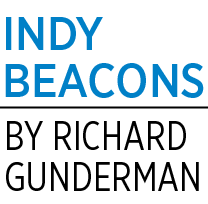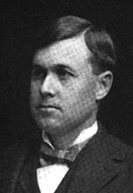 Reeves was raised in Knightstown, one of three brothers with a knack for mechanics. While working in his 20s in a sawmill in Columbus, he realized that workers could not control the speed of their saws, so he invented a variable-speed transmission. A decade later, the Reeves brothers purchased a pulley company that produced the transmissions.
Reeves also applied his variable-speed transmission to creating one of the first five automobiles in America, which he dubbed the "motocycle." A four-wheeler, it was powered by a two-stroke motor that, thanks to the transmission, could propel the vehicle at variable speeds. Reeves regarded it as a distinct improvement on competitor Henry Ford's "quadricycle."
When first Reeves tested the motocycle, he was pleased with its performance but disappointed it produced so much noise, leading him to create the first double muffler, patented in 1897. To draw attention to the vehicle, he brought it to Indianapolis, and it was said to have attained a top speed of 30 mph. However, the engine proved unreliable, and sales were poor.
The life of an automotive inventor was not easy. "So far as the devices which I placed on the machine were concerned," Reeves wrote, "they have done their work as well as I expected, but so many other things have annoyed me at times. … Among these I might mention, vibration, odor, and vapor from exhaust of engine, vapor from cooling water, and others too numerous to mention."
In the follow years, Reeves made many modifications to his design. He created higher-power engines ranging up to 20 horsepower, experimented with air cooling, and enhanced the lubrication technology. Other Hoosier auto companies adopted Reeves' engines, including Auburn.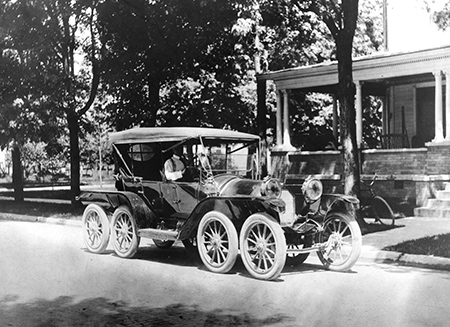 Reeves also recognized the need for mass transit, inventing larger vehicles that could accommodate greater numbers of passengers. In 1898, he introduced one that could hold up to 20 passengers on its five leather seats, but its wide axles did not match the ruts in the poor roads of the era, and it, too, sold poorly.
Frustrated by the rough ride associated with such bumpy roads, Reeves in the early 1910s created the Sexto-Octo Co. One of its products, the Octoauto, had eight wheels, and its successor, the Sextoauto, had six. Unfortunately, these cars also sold poorly, and the Reeves company ended up selling its engine business in 1914.
While Milton Reeves focused much of his energy on the automobile, his older brother Marshall concentrated on agricultural products. Marshall developed and produced new forms of plows, threshers, stackers and tractors, and the Reeves name became well-known among farmers. Marshall obtained more than 50 patents.
The Reeves brothers were men of deep faith. They founded and served as pastors in their church, included sermons in some of their catalogs, and were said to have donated over a half-million dollars to church missions. They also enriched many local lives by providing jobs to about 1,000 employees in Columbus.
In 1900, Reeves was honored by his fellow engineers with the Franklin Institute's Longstreth Award for his development of the variable-speed countershaft. When he died at the age of 60, he held over 100 U.S. patents. With nearly 300 million registered cars in the United States, nearly every American owes Reeves a debt of thanks for the relative quiet in which his invention, the muffler, enables them to operate.•
__________
Indy Beacons celebrates the history of Indianapolis in the year leading up to its May 2021 bicentennial by telling the stories of famous city residents. It appears the second and fourth issues of every month. Gunderman is chancellor's professor at Indiana University.
Please enable JavaScript to view this content.