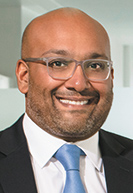 Aasif Bade still has big plans for 10-year-old local development firm Ambrose Property Group, despite a massive change to the company's direction in 2019.
His aspirations for the firm have hinged for the past three years on the redevelopment of the former GM stamping plant site just west of downtown, through a $1.4 billion project known as Waterside.
But Bade, 37, stopped that mixed-use development in its tracks in September, after his executive team unsuccessfully lobbied the city of Indianapolis to provide additional incentives for the project, thrusting the firm into a legal dispute with the city.
That was just the latest twist for the company.
Bade's longtime business partner Pat Chittenden departed Ambrose in May to create his own firm, Westfield-based Patch. And Chittenden took with him two senior Ambrose executives, Vice President of Finance Keith Hoener and Vice President of Development Andrew Greenwood.
Bade has brought in a new team and made a series of promotions as he's looked to pivot the company's focus from a mishmash of developments to more projects in the e-commerce and industrial sectors—in hopes of capitalizing on continued growth and market demand.
The changes include adding Duke Realty Corp. alum Jason Sturman as chief investment officer and Holladay Properties' Derek Naber as development manager. He also promoted Grant Goldman, who has been at Ambrose since 2016, to vice president of development.
Bade has also teed up several industrial projects across the United States, the first being an expansive $78 million logistics center near Mount Comfort in Hancock County.
Before discussions with the city over Waterside faltered—and the matter escalated to a now-pending lawsuit—Bade planned to restructure the company into two divisions. One would have been focused on that development and the other tied to Ambrose's industrial projects.
Now, Bade said, the company is all-in on industrial.•
Please enable JavaScript to view this content.