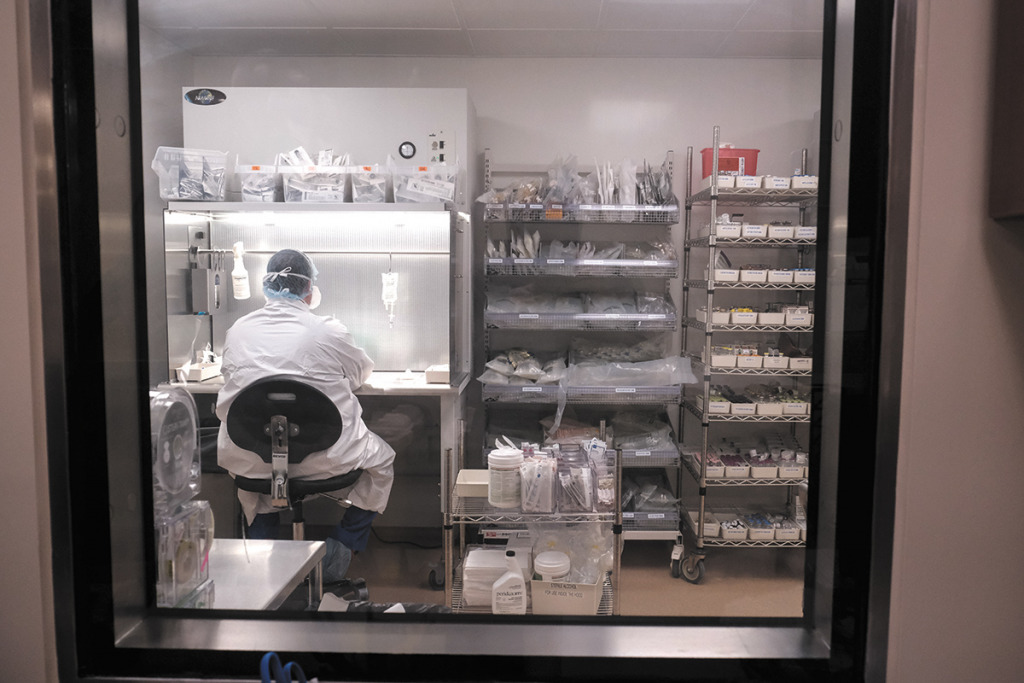 There's a new war on drugs in Indiana, but not involving cops and street gangs.
This is a battle over the hefty prices hospitals charge for specialty drugs to treat patients with cancer, vision loss, low white-blood-cell count and other serious diseases.
Across the country, hospitals routinely mark up prices on drugs an average of 250%—and some more than 500%, according to a recent study by Sanford Bernstein drug analyst Ronny Gal.
But starting April 1, Anthem Blue Cross Blue Shield Indiana, the state's largest health insurer, will require hospitals and clinics here to buy many of those drugs from CVS Specialty, a unit of pharmacy giant CVS Health—or lower their prices to match CVS' prices.
Anthem said Indiana patients and their insurers could save tens of millions of dollars if hospitals were forced to charge lower prices for the specialty medicines, such as chemotherapy drugs, that are normally administered in an outpatient setting through infusion or injection.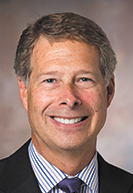 "We think that the markup is not really in the best interest of affordability of care," said Dr. David Lee, regional vice president of provider solutions for Indianapolis-based Anthem.
Although specialty drugs are used by only 2% of the population, their share of spending jumped from 44.7% in 2018 to 47.7% in 2019, representing nearly half of all spending on prescription drugs, according to Express Scripts, a pharmacy benefits management company. Much of the jump was due to new therapies with few or no competing drugs to drive down prices.
Anthem said it has already rolled out similar requirements to hospitals in California, New York and Kentucky, and is considering other states as well.
Anthem isn't alone. The nation's largest health insurer, UnitedHealthcare, last year also began requiring hospitals to buy specialty drugs from a list of pre-approved outside pharmacies, rather than buy the drugs on their own and bill the insurance companies later, usually with large markups.
UnitedHealthcare, based in suburban Minneapolis, said some hospitals across the nation are charging more than four times the price paid by the federal government for Medicare and Medicaid patients for specialty drugs.
The Centers for Medicare & Medicaid Services typically reimburse hospitals just 6% over the "average sale price," or factory sticker price, charged by drugmakers.
"Our expanded medication sourcing requirements help make these specialty drugs more affordable for our customers and members, while maintaining quality of care, drug safety and effectiveness," UnitedHealthcare said in a statement.
But in Indiana, the move by health insurers is running into a big pushback. A broad coalition of hospitals, doctors, pharmacists and patient advocates say it's not practical to buy complicated drugs, often made to order for patients, from outside pharmacies.
'Unmanageable'
The practice of requiring hospitals to buy drugs from an outside pharmacy, which delivers them ahead of time, has been around in some form for at least a decade and is known by its nickname, "white bagging."
It's a derivation of "brown bagging," the old practice of requiring patients to have drugs shipped to their houses and carry them to the hospital for use, much like people bringing their own lunch to work or school. Today, the practice of brown-bagging drugs is rarely used.
But white bagging is gaining steam. Insurers are increasingly pushing to make it common, in an effort to hold down costs.
"In the past, hospitals may have been able to manage the sporadic use of these policies, but when they're implemented on a large scale, it just becomes unmanageable," said Brian Tabor, president of the Indiana Hospital Association.
Hospitals, doctors and pharmacists say white bagging is difficult and disruptive to their operations—and often impractical.
At cancer centers, for example, patients are evaluated on the same day as their scheduled infusion. During the evaluation, the oncologist might need to change the treatment plans—and the types and doses of the chemotherapy drugs—on the spot, rather than using drugs pre-ordered from an outside pharmacy.
"At a minimum, this means causing inconvenience and patient dissatisfaction because of a rescheduled appointment and possibly wasting expensive drugs," the coalition wrote in a March 15 letter to the Insurance Institute of Indiana, the lobbying arm of the state's health insurers. The coalition is asking the insurance industry to suspend the practice until all parties can discuss the ramifications in depth.
The letter was signed by leaders of the Indiana Hospital Association, the Indiana Pharmacists Association, the Indiana State Medical Association, the Indiana Oncology Society, the Indiana Organization for Nursing Leaders and several other professional groups.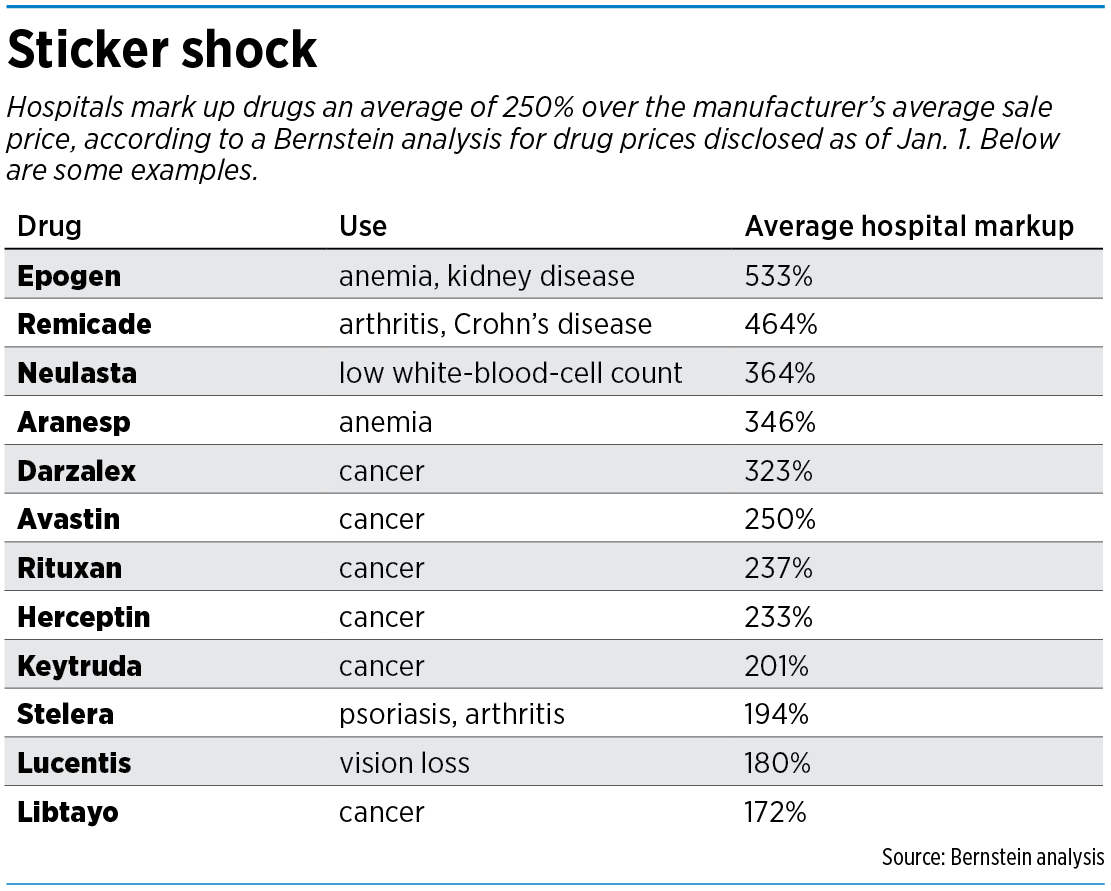 It seems unlikely that insurers will call a timeout to discuss the issue. Anthem, UnitedHealthcare and others say they are moving forward with their plans.
The Insurance Institute did not return calls and emails from IBJ to discuss the issue. Nor did the Indiana Board of Pharmacy or Indiana Department of Insurance.
The tug-of-war between health care providers and insurers over the issue is nationwide. Last month, the American Hospital Association wrote a letter to the Centers for Medicare & Medicaid Services, expressing "deep concerns" over insurance-plan policies for specialty drugs.
"These new restrictions will create significant barriers to access to necessary diagnostic and specialty pharmacy services for tens of millions of health plan enrollees," the hospital association said.
Some states, such as Texas, have banned white bagging due, according to King & Spalding, an Atlanta law firm that represents many hospitals. Other states, like California, have laws that require health plans to demonstrate that their medical decisions are "unhindered by fiscal and administrative management, the firm said.
Made to order
Regardless, hospitals and doctors are bracing for a significant shift in how they acquire specialty drugs—either that or prepare to slash prices to meet the insurers' demands. While the battle rages, doctors and patients will have to deal with the issue face to face.
Oncologists say they might be forced to delay therapy if drugs can't be made to order on the same day. Many hospitals stock common medications in-house, or at their cancer centers, and the doses can be adjusted because they're mixed on site.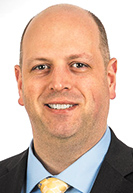 "When patients come in, their labs are evaluated to see, 'Are they tolerating the chemotherapy?' and sometimes there's imaging to see—'Is the cancer responding to this chemotherapy?'" said Dr. Mark Henderson, a radiology oncologist at Columbus Regional Health and president of the Indiana Oncology Society. "As a result, we might need to adjust the dose that needs to be delivered, or see that an entirely different medication needs to be delivered."
But if the cancer center is forced to get drugs from an outside pharmacy, Henderson said, that would require the doctor to send the patient home until the correct medication could be ordered.
Some hospitals say ordering medicines from an outside pharmacy could throw a wrench into how a hospital manages the difficult job of handling and storing specialty drugs, many of which require refrigeration and other special procedures.
They also fear that bringing in drugs from the outside would add a degree of confusion into a system that runs on precision and consistency, and where officials try to eliminate the possibility of a dangerous mix-up.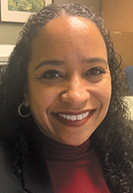 "We want nurses to have consistent labeling and consistent packaging," said Rhonda Yates, administrative director of pharmacy services at Franciscan Health Indianapolis. "We want them to receive the dose ready to administer."
Sam Lewis, pharmacy procurement manager at Eskenazi Health, said specialty drugs usually arrive in bulk from a wholesaler, then are stored and mixed to order. The whole process takes place under a strictly monitored supply chain, he said.
But if small orders arrive from outside pharmacies, they could get mixed up or lost, he said.
"So if it gets mixed in with the normal mail, and maybe sits around for a while, that's a problem," Lewis said. "If it needs to be refrigerated but it's in a warm area, where it shouldn't be, that's another problem. … And there's always that potential for something to be missed."
Indiana University Health, the state's largest hospital system, said it discourages white- and brown-bag practices "due to potential patient safety concerns, coordinated-care disruption, and operational challenges that may affect delivery of high-quality care."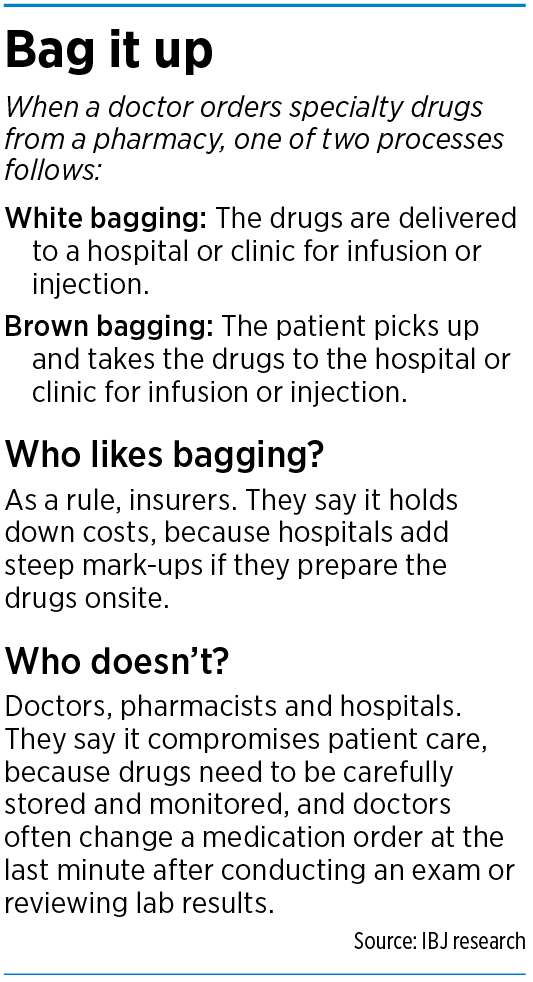 'There are markups'
Many hospitals in central Indiana, including IU Health and Community Health Network, declined to discuss drug prices, or to say how much they mark up commonly used drugs for cancer, kidney disease, psoriasis or other diseases.
The Indiana Hospital Association, for its part, didn't deny its members often charge several times what they pay for the drugs. "There are markups, there's no question," Tabor said.But he said the high prices are needed to cover what he called the high costs of storage, handling and mixing drugs, then infusing them in patients under tight supervision.
The traditional model of "buy and bill"—where the hospitals buy the drugs and bill the insurance companies for reimbursement—covers all those high-precision skilled tasks, he said.
"There's no way that you could provide the kind of access to services that we have for these critically ill patients with the low base rates," Tabor said.
But some insurers, like Anthem, say they are already paying doctors and hospitals for those services.
"In addition to getting that markup on the drug, the hospitals also get paid separately for the administration of that drug," said Anthem's Lee. "So it's not like there's a lot of work in the administration of the drug that they don't also get reimbursed for."•
Please enable JavaScript to view this content.