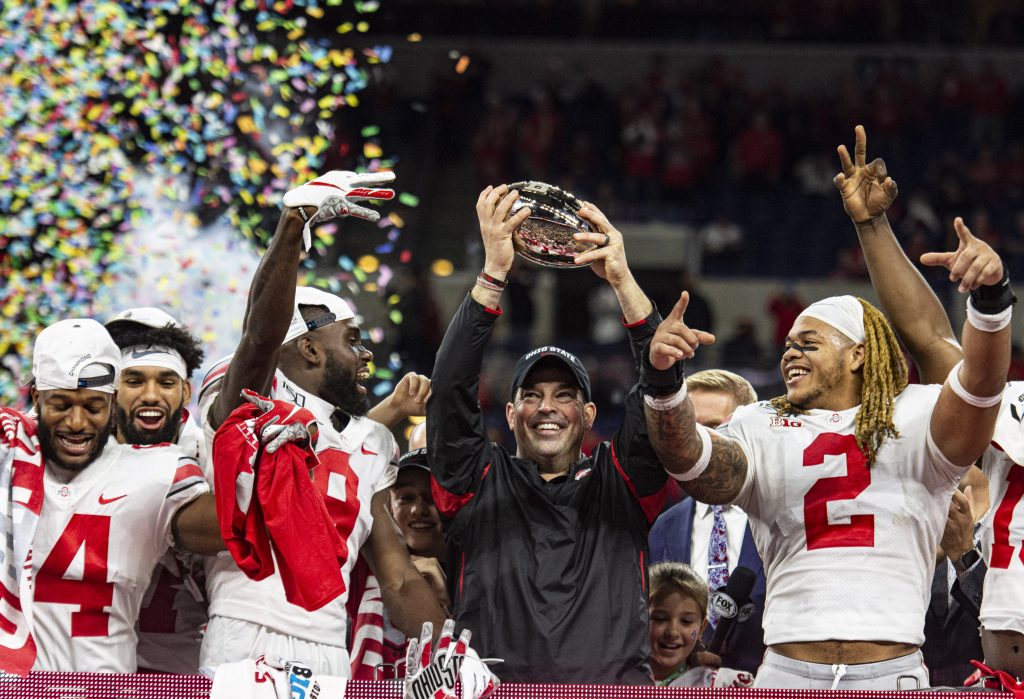 The Big Ten Conference football championship game at Lucas Oil Stadium on Saturday drew its second-highest crowd since the event began in 2011.
A gathering of 66,649 saw No. 2 Ohio State University beat No. 10 Wisconsin, 34-21, to win its third-straight Big Ten title. The game was declared a sellout by the conference, although it technically fell short of the stadium's 67,000-seat capacity for the event.
The crowd appeared to be dominated by Ohio State fans.
Publicly available tickets on online exchanges were sold out earlier in the week, leaving slim pickings between standing-room-only tickets and high-dollar suites. Suite prices at Lucas Oil Stadium for the game generally start at $3,400 for eight people.
The Big Ten said it considered the game to be a sellout because the number of tickets issued for the game exceeded 65,972—the number of permanent seat in the stands and hard seat in the suites. Game organizers said they did not consider standing-room-only and 600-level corner infill seats as part of seating capacity.
The game was expected to generate about $19.5 million in economic impact, measured by hotel stays, restaurant tabs, ticket sales, transportation fares and other revenue. The exact amount has not yet been determined by Visit Indy.
The contest was only the second deemed to be a sellout by the Big Ten in the title game's history. The other came in 2015 when 66,985 fans attended the Michigan State-Iowa game that featured two teams ranked in the top five.
This year's game also narrowly outdrew last year's between Ohio State and Northwestern, which drew 66,375. It's the fourth time more than 66,000 people have attended the game.
The worst-attended title game was in 2012, when Nebraska and Wisconsin played in front of 41,260 people.
With its victory, Ohio State (13-0) secured a berth in the College Football Playoff. It will play No. 3 Clemson (13-0) in the Fiesta Bowl on Dec. 28. Wisconsin (10-3) will play No. 6 Oregon (11-2) in the Rose Bowl on New Year's Day.
Indianapolis will host the Big Ten Football Championship through at least 2021.
Please enable JavaScript to view this content.