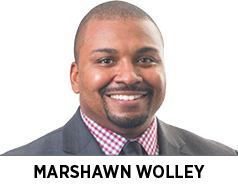 I am proud of the peaceful protests that occurred this past weekend. It was a multiracial and multigenerational convening that affirmed black lives matter.
Unfortunately, opportunists and agitators took advantage of the cover of night and a consensus that we had reached the point for a public redress of grievance to smash windows, damage property and loot. That isn't protesting.
But the other reality is that we are just one more police-action shooting away from opportunists again exploiting a real problem to create additional problems for the business community and our city.
This didn't have to happen this way.
Black leaders in this community have been frustrated by efforts to avail themselves of the political process and government to get the most basic needs.
While black people died in the streets, black leaders leveraging great discipline politely met with city leaders to seek a partner in our progress.
And while there has been some progress, we shouldn't have to fight this hard.
Three years ago, following the Aaron Bailey murder, there was talk of reform. We got half of what was promised, but it took too long. And more significantly, we weren't even asked at the time what was really needed.
So, we engaged by being an accountability partner for what was promised and developed our own plans, some that aligned with city objectives and some that were our own—a black agenda.
Black leaders also partnered with the City-County Council to listen to the community. Outcomes included implicit bias training and creation of a searchable police complaint database.
We have a leadership program that gets our black young professionals engaged in civic boards all across the community.
We launched the African American Legacy Fund of Indianapolis—pooling our resources to tackle challenges unique to black Indianapolis. We are in the midst of a COVID-19 public awareness campaign aimed at the black community.
Again, we sat down and developed a data-based plan that in some instances had the potential to improve all of Indianapolis. We also committed to do some things ourselves, as part of our black agenda.
Folks talk about personal and communal accountability—I'd like to see another similarly situated city where black leadership was as engaged, proactive and willing to seek a partner for progress.
So, here we are.
The Indianapolis Metropolitan Police Department now is proposing a use-of-force board. Not only should it have been implemented three years ago, it doesn't include an appropriate level of citizen oversight.
A promised community review of the Citizens Police Complaint Board has not occurred. The Office of Diversity and Inclusion produced a report on how to improve IMPD that seems to be just sitting on a shelf. We are only now getting body cameras after two field studies.
We have rates of black males dying that should shock the conscience. There had been an Indianapolis Commission on African American Males since the Goldsmith administration—but not during the current administration.
Black people should not have to fight this hard.
The black community is looking for partners for our progress. By now, we have clearly learned that, given the overwhelming economic and physical challenges that too many in the community must face on a daily basis, we cannot merely count on black resilience.
It is too hard being black in this city, and black people are tired.
I'm tired, but we press on—this is our hometown.
Even now, our black leaders are at work. Black teenagers came downtown this week to clean up some of the mess they didn't create.
Black civic leaders are responding to inquiries from potential partners for progress, even as we wrestle with the toll of everything that has been happening in our community.
We are only the next police-action shooting from a possible repeat of what has occurred—if there isn't significant change.
Black leaders have been doing their part—we are still looking for a partner for our progress.•
__________
Wolley is a lecturer, columnist, and diversity and inclusion consultant.
Please enable JavaScript to view this content.