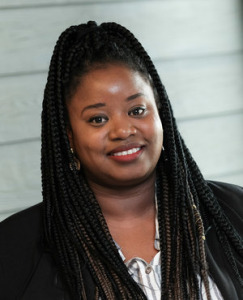 Kelli Jones, the groundbreaking co-founder of Black Hatch Fund—a venture capital fund and accelerator that supports Black tech entrepreneurs—has joined Allos Ventures, one of the biggest and best-known venture capital firms in Indiana.
Indianapolis-based Allos announced Wednesday that it has hired Jones, 38, as program manager. Jones will help Allos identify and evaluate investment opportunities and support Allos portfolio companies with activities such as investor and mentor introductions.
Allos co-founder and Managing Director Don Aquilano told IBJ that Jones is the first minority to join the firm's full-time staff. Allos, founded in 2010, has seven employees.
In recent years, there have been increasing complaints from minority entrepreneurs and business owners that capital firms are controlled mostly by white people who invest primarily in other white business operators.
Jones is one of the few—if not only—Black woman to work as a full-time staffer for an Indiana venture capital firm.
Jones and Allos came together through "mutual outreach," Jones said.
"We have known Kelli for some time and have admired and supported her work in both tech ecosystem and diversity programming," Aquilano told IBJ. "Her experience and network will only enhance our Allos platform and further benefit our portfolio."
Jones, an Indianapolis native who graduated from Indiana University Robert H. McKinney School of Law and Tennessee State University, has worked in the tech industry for more than a decade.
Before moving back to Indianapolis in 2017, Jones lived in Los Angeles, working as director of sales and marketing for two venture-backed media companies, HipHopDX and Blavity. She spent the majority of her career in New York, running an event and experiential marketing agency, working for brands like Google, Hewlett-Packard, Microsoft, Lipton/Brisk, Red Bull, Samsung and Akai.
Jones said she was attracted to Allos because her goals align with the firm's.
"When I moved back to Indy in 2017 and started working with minority entrepreneurs and businesses, Don [Aquilano] was one of the first people to show up at one of my events," Jones told IBJ. "That's one of the things that I thought about during our recent discussions."
Allos, which focuses on Midwest tech companies, this year closed on its latest venture fund—Allos III—at $52 million.
Allos experienced several milestones throughout 2019. Following three consecutive years of being named the most active venture investor in Indiana by CB Insights, Allos was named the Indiana Investor of the Year at the TechPoint Mira Awards. Last summer, Allos moved into a new, bigger headquarters in Broad Ripple.
Jones has been involved in several entrepreneurial efforts in Indianapolis.
In late 2016, she co-founded Be Nimble, a not-for-profit that supports diverse start-up founders through accelerators, workshops and pitch competitions.
In early 2019, as part of Be Nimble, she co-founded the Black Hatch Fund, a venture fund and pre-accelerator program to help minority founders "hatch" tech-enabled businesses.
From April 2019 to April 2020, Jones was the program manager for Techstars, where she supported early stage start-ups in the Heritage Group Hardtech Accelerator. Before that, she was director of people, culture and brand for the Indianapolis-based tech firm Givelify.
Jones said her role with Be Nimble will continue. Jones said that she will also stay involved in Black Hatch. She said Black Hatch's "direction is changing," but added she couldn't discuss those changes at this time.
Please enable JavaScript to view this content.