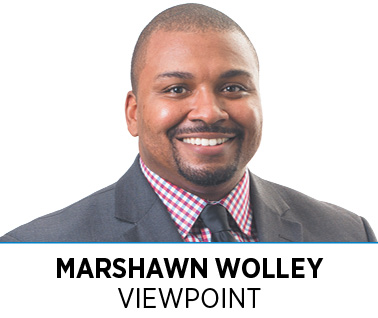 Indianapolis should be happy that black leaders are working to develop a black agenda.
The black population in Marion County is more than 238,000 people—more than Evansville's entire population of 117,000 and just under the 267,000 people in Fort Wayne.
By population, black Indianapolis would be the third-largest city in the state. But if we were an actual city, it would be a policy desert—a place where policy has failed or has been indifferent to the realities of black residents.
Fort Wayne had a total of 45 homicides in 2018, while black Indianapolis had 117 murders.
Our economic base as black Indianapolis is in decline.
In 2007, there were 1,353 black-owned firms with paid employees, and by 2012 that number increased to 1,584. But in 2016, there were only 1,025 black-owned firms in the entire Indianapolis-Carmel-
Anderson MSA.
In a recent Federal Reserve analysis, black unemployment was nearly three times the white unemployment rate in Marion County. Black median income has been on a consistent decline while the poverty rate is more than twice that of white households.
We're losing our homes.
According to U.S. Census data, black homeownership rates in Indianapolis from 2000 to 2010 dropped from 44.1% to 39.1%, and had plummeted to 33.3% by 2017.
We're losing ground
in education.
Even before the dismal results of the new I-Learn test, 70% or more of black students who tested in third and eighth grades failed one or both parts of the 2017-2018 ISTEP Plus exam in every township district in Marion County. The test results for black 10th-grade test takers were worse.
And if you look at the percentage of people over 25 with a bachelor's degree, the racial gap is widening.
Most food deserts in the city are in black neighborhoods, according to data from SAVI Community Information System at IUPUI's Polis Center.
Entities like the African American Coalition of Indianapolis have significantly increased their activism and engagement with elected officials. Black pastors coalitions have raised specific concerns. Black elected officials have also sounded alarms.
Black leaders have even launched a fund at CICF to address challenges within the community.
But when both candidates for mayor were asked at a press conference following the recent mayoral debate if they would have an agenda that would specifically address some of the challenges facing the black community—the Democrat said no and the Republican said yes.
The inconvenient truth is that, for much of the 20th century, there were formal and informal race-based policies meant to control or diminish black Indianapolis. These policies affected where we could live, who could have certain public contracts, and even the education of black children.
This column isn't about blaming either candidate but rather about a shared responsibility. Government isn't the solution to all the problems of black Indianapolis—history teaches that. And the black community is certainly doing for itself.
Considering all the negative data above, it shouldn't be a surprise that Indianapolis ranks 220 out of 274 in terms of racial inclusion. Or that a child born in the bottom 20% of the income distribution here has only a 4.8% chance of making it to the top 20% distribution.
What does this mean? That policies that rely on a "rising tide lifting all boats" don't work and haven't for some time.
Implementing blanket policies and hoping things get better is folly, mostly because it's getting harder to find boats in black Indianapolis—it's a policy desert.•
__________
Wolley is a lecturer, columnist, and diversity and inclusion consultant.
Please enable JavaScript to view this content.