The Indiana Black Legislative Caucus is urging Gov. Eric Holcomb to issue an executive order banning law enforcement from using chokehold restraints and to establish a statewide criminal justice coalition.
In a press conference Friday morning outside the Indiana Statehouse, black legislative leaders outlined their suggestions for immediate action that Holcomb or local elected officials could take in the wake of ongoing protests of police brutality and racial injustice in Indianapolis and other cities across the state and country.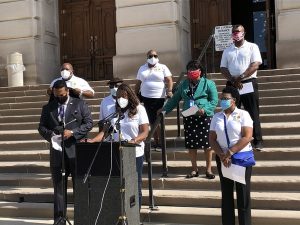 The protests were sparked by the police-involved death of George Floyd in Minneapolis last month. An officer pinned Floyd to the ground with his knee for more than eight minutes, cutting off his ability to breathe.
IBLC Chair Rep. Robin Shackleford, D-Indianapolis, said the requested executive order should prohibit police from using chokehold restraints or any other type of restraint that cuts off the ability for someone being apprehended or in custody to breathe. They said the order should outline consequences officers would face if they violated the order.
If Holcomb isn't willing to take the step on a statewide basis, Shackleford said the IBLC would like mayors, city councils and local police chiefs to do so.
The caucus is also urging all police departments to immediately implement the use of body cameras for all officers and establish a penalty officers will face if their cameras are not on at all times.
Shackleford said the caucus would like Holcomb to create a statewide criminal justice commission made up of civilians from cities with significant black populations. The commission would be tasked with recommending reforms that could become legislation in the 2021 General Assembly.
The caucus also believes local communities should establish independent civilian review boards. Indianapolis is in the process of creating such a board.
"We expect answers and diligent consideration of our recommendations by the current administration," Shackleford said.
The IBLC plans to create a more comprehensive legislative plan after gathering public input during two virtual town halls later this month. The first one is scheduled for June 11.
The caucus already anticipates drafting legislation on statewide police use of body and dashboard cameras, public reporting of lethal force involving law enforcement, anti-racial profiling, enhanced penalties for officer-involved shootings and a statewide public database for citizen complaints against police.
Shackleford said she believes the requests from the IBLC might be taken more seriously now because of advocacy and daily protests.
"Everyone has been sick and tired for many years, but now they're really sick and tired," Shackleford said. "I think now is the time where people are saying we are fed up enough… and I'm hoping our leaders will listen."
Shackleford said she has not talked to Holcomb about the requests yet, but she plans to request a meeting before the end of the month to go over the proposals and what the caucus learns from the town halls.
"We will definitely meet with him about these recommendations," Shackleford said.
A spokeswoman for Holcomb did not immediately respond to IBJ's request for comment.
Please enable JavaScript to view this content.