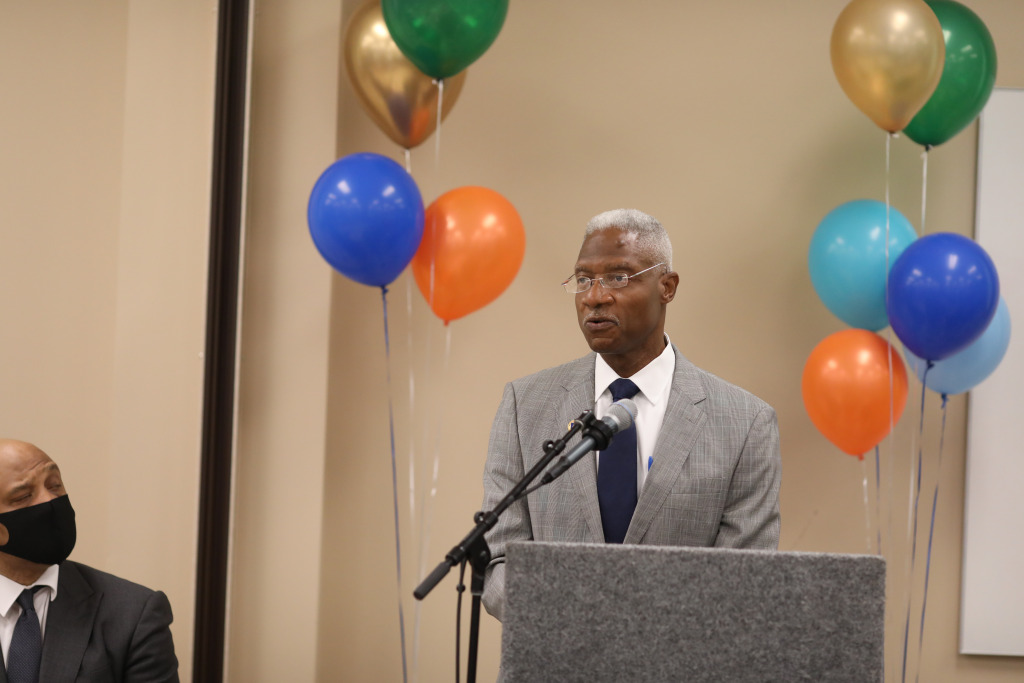 An Indianapolis not-for-profit that prepares minority youth for college and careers on Monday entered the public phase of its $33 million expansion campaign by announcing a $2 million donation from Indiana University Health.
The Center for Leadership Development's campaign aims to raise funding for a series of new satellite locations and a 20,000-square-foot building expansion to support a planned 63% increase in program capacity.
"This is the Circle City, so I think it's incumbent upon us to widen the circle of academic excellence," said center President Dennis Bland, who noted that young Black men in particular don't always fare well in Indianapolis' school system.
"We have a group of young people who are succeeding," Bland added, "… and we will continue to uplift them, but if we can be candid, then we would have to admit that there are far too many young people who have the potential but who are not where they should be."
The gift from IU Health is the center's second-largest ever, board chair Tom King said, behind a 2019 Lilly Endowment grant of $11.6 million.
"Our focus is to make Indiana one of the healthiest states, and we aim to do this not by treating just people's illnesses, but also working to address the social, economic and environmental conditions that contribute to poor health, and CLD does the same," said IU Health President and CEO Dennis Murphy.
The center began the quiet phase of its capital campaign in 2016, said Jeffrey Harrison, board member and Citizens Energy Group president. Organization leaders wanted to top 60% of the $33 million fundraising goal before going public. IU Health's donation takes the center to $22.7 million, or upwards of 68%.
The goal is raise the remaining funds by 2022, Harrison said. The Lilly Endowment will equally match up to $1 million for capital contributions and 2-to-1 up to $2 million for an endowment donation until the end of September, according to promotional materials.
The funding sources are reminiscent of those involved during the center's beginnings 44 years ago.
"CLD started when the IU [Kelley] School of Business approached Lilly Endowment and asked them for a gift to help recruit minority students" to the school," King said. "… Today, virtually every college and university in the state of Indiana offers a scholarship to CLD students."
The center plans to use the money to expand its footprint at its near-northwest-side location and at a series of new locations across the middle swathe of Indianapolis. Bland hopes to increase program participation from 4,000 to 6,500 annually and hire more staff to support students.
Here's how the center plans to use the money raised in the $33 million Rise Campaign:
$4.5 million: capacity building and program expansion, including increased hiring and establishment of one in-school and four satellite locations;
$13.5 million: five years of annual operating costs, including establishment of on-campus support for center students attending college;
$500,000: marketing and campaign awareness, including student enrollment and outreach;
$8.5 million: double building size to 40,000 square feet, update technology, maintenance;
$6 million: endowment.
Please enable JavaScript to view this content.