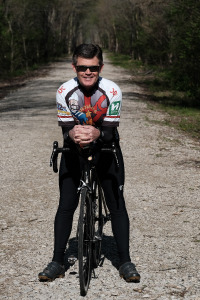 Jeff Smallwood is a trailblazer—literally.
But he's no loner.
The Avon resident has had lots of help in his decades-long quest to blaze a paved path from downtown Indianapolis to Montezuma, along the Wabash River 62 miles west.
The toil has been long and at times frustrating, admits Smallwood, an avid cyclist who spent 36 years as a researcher at Eli Lilly and Co.
Smallwood, who completed 14 100-mile, one-day bicycle rides last year, is in this for the long haul. And last month he got some good news.
Gov. Eric Holcomb announced that the all-volunteer B&O Trail Association was awarded a $4.5 million grant from the Next Level's Trails Program. Smallwood, who is the association's president, calls the grant "a game changer."
The B&O Trail Association was formed in 1993 with the mission of developing a trail along the old B&O rail line.
After years of legal battles over land ownership and use, construction on the B&O Trail began in 2009 at Raceway Road on the Hendricks-Marion county line. Just over six miles of the trail has been constructed in four phases, with the last one in 2016.
The most recent grant will allow the trail to be extended another six miles, tying into the Speedway portion of the B&O Trail and extending west to County Road 50W in Hendricks County.
How did you get involved in the B&O Trail Association?
I grew up in rural southern Indiana, near the Jackson-Washington State Forest, where my parents often took me. I grew up loving the outdoors and nature. When I first started working at Lilly, one of the guys there was an avid cyclist and told me about work to turn abandoned rail corridors into trails. I thought it was a great idea. If you convert it to a trail, thousands of people can benefit for years to come. In 1994, there was an article in the local paper—a lady, Diana Virgil, was trying to get a group together to convert the abandoned B&O corridor. So I volunteered to help out.
When did you become president?
2020. I was the president of a sister organization, Hendricks County Trail Devleopment Association, for several years prior to that.
Why is this an important project?
There's a health and a peace-of-mind benefit to it. We've seen that during the pandemic. It's also a transportation benefit. You can walk or ride your bike without being in traffic. It opens up travel to area restaurants and shops.
What will the economic impact of this project be?
There's a lot of data that shows projects like this stimulate development. It makes it very attractive for people looking for places to live and work, so it stimulates the real estate market. And it stimulates tourism. The longer the trail, the more people it will attract from out of state. A good bit of that impact expands off the trail, with people buying gas, eating at area restaurants and staying at hotels.
You said this $4.5 million grant is a "game changer for the B&O Trail." How so?
It's taken us 20 years to do 6.2 miles of paved trail. With this grant, we will have doubled the length of our trail seemingly overnight. This will connect us to downtown Indy, which completely changes the way the trail can be used. And by having this large infusion of support, it makes it more attractive when we go out and try to do our fundraising. People like to give to projects that are successful.•
Please enable JavaScript to view this content.