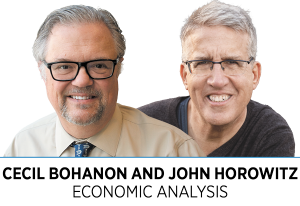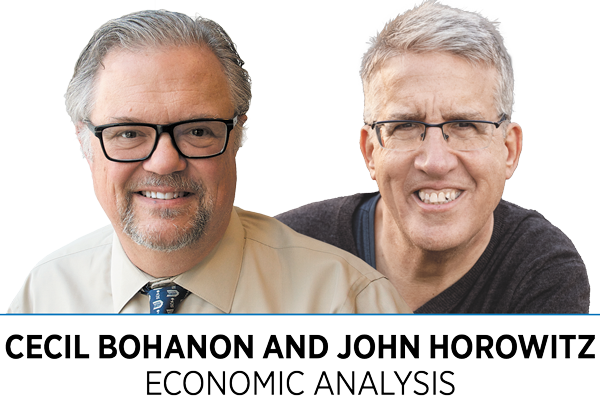 During the dark days of the Civil War and while probably experiencing depression, Abraham Lincoln declared a day of Thanksgiving for the bounties and blessings Providence provided.
Many countries and cultures have harvest festivals and thanksgiving feasts to express thanks. Philosophers, religious leaders and scientists throughout the ages have discussed how gratitude is important for individual well-being and acts as a social glue in our relationships with others. Research shows that gratitude improves mental health and improves relationships.
So, despite our current economic problems, in the spirit of the season, let us offer some economic and other reasons to be grateful.
Inflation appears to have peaked. We certainly hope so. The most popular measure of inflation, the consumer price index, clocked in at 9.1% in June on a year-to-year basis. It has declined in each of the following four months and stood at 7.7% in October on a year-to-year basis. The Federal Reserve's policy of increasing interest rates appears to be taking hold. This is corroborated in the interest rate spread between five-year Treasury constant-maturity securities and five-year Treasury inflation-indexed securities. The difference implies what market participants expect inflation to be in the next five years. On March 25, it stood at 3.59%. On Nov. 18, it was at 2.28%. This is especially encouraging as the Fed has committed to a 2% inflation rate.
The unemployment rate is still low. While the latest report showed a slight uptick in the rate to 3.7%, this is still well below historical averages. In October, the U.S. economy added 261,000 jobs. Anyone willing and able to work can likely find some kind of employment in today's economy. And that is always good news.
World food prices are down from their earlier peaks. The UN basic food price index soared to 159.7 in March, just after the outbreak of the Russian-Ukrainian war. It has declined to 135.9 in October. This is good news for poor families around the world.
On the environmental front, U.S. greenhouse gas emissions declined 15% from 2007 to 2019 while real GDP in the USA rose 23%. At least in the developed world, economic growth is possible with fewer carbon emissions. On the political front, independent of your political affiliation or ideology, there is at least one outcome you like from the recent election. And finally, if you missed the crypto boom, you also missed out on the crypto bust! Happy Thanksgiving!•
__________
Bohanon and Horowitz are professors of economics at Ball State University. Send comments to ibjedit@ibj.com.
Please enable JavaScript to view this content.