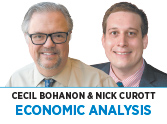 Last week, the Price Gouging Prevention Act of 2022 was introduced in Congress. The proposed legislation would give the Federal Trade Commission the authority to prosecute firms that charge "an unconscionably excessive price" during "an exceptional market shock."
The bill is touted as a way of combating greedy corporations that cause inflation. But a federal price gouging law would not lower inflation because it does nothing to address its cause. Inflation has been rising because the federal government has engaged in massive deficit spending and the central bank has created oodles of new money. As a result, total spending in the economy has increased rapidly, driving up the prices of goods and services.
The prices of some things have increased relative to others due to huge shifts in supply and demand in the pre- and post-COVID era. For example, many rail that record oil company profits, fueled by corporate greed, are the cause of rising prices at the pump. But if Exxon-Mobil's record $23 billion in profits in 2021 are a result of its rapacious greed, were its record losses of $22.4 billion in 2020 a result of its bounteous benevolence? Pray tell what led to such a radical change of heart in such a short time frame?
The bill does not define what an "exceptional market shock" means. Its language mentions specific causes such as natural disasters, strikes and civil disorders but ultimately punts to "any other cause" of "an atypical disruption." Sounds like a catch-all to us. In a similar vein, "an unconscionably excessive price" is described as an "excessive price compared to the average price at which the good or service was sold … during the 120-day period preceding [the] shock."
In other words, excessive is whatever an FTC lawyer can convince a sympathetic judge is excessive. And, by the way, the FTC gets $1 billion in additional appropriations over the next 10 years to embark on these witch hunts, uh, investigations. Interestingly, the law does not apply to firms that have less than $100 million in revenue per year. It also specifically targets as inherently suspect any firm that has more than $1 billion in annual revenue.
We can't help but conclude this is simply setting up an arbitrary and ill-defined bureaucracy designed to vilify, extort and harass big firms. It is a demagogue's dream designed to promote populist grandstanding—but hardly to promote sound economic policy.•
__________
Bohanon and Curott are professors of economics at Ball State University. Send comments to ibjedit@ibj.com.
Please enable JavaScript to view this content.