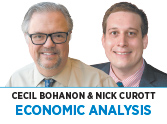 A monopsony is a market characterized by a single or dominant buyer. Its counterpart, the more familiar monopoly, is a market with a single or dominant seller. Both economists and those with little or no formal economic training intuitively recognize that if a buyer or seller has a dominant market position, they will inevitably take advantage of it to advance their own economic well-being.
Although government is often seen as a remedy to monopolistic or monopsonistic market concentrations, government policy often exploits, and at times advances, such concentration. The current baby-formula crisis is a fascinating example.
Few public policies are as broadly popular as the proposition that infants should have access to baby formula. To this end, the federal Women, Infants and Children program receives bipartisan backing. About half the baby formula sold in the United States is purchased with WIC buyer subsidies. An eligible mom buys a can of baby formula at Walmart for $20, and taxpayers pick up the tab—well and good. But it's more complicated.
The subsidy is administered at the state level but funded at a federal level. Way back in the 1980s, states figured out they had significant monopsony power. Indeed, as their WIC program accounted for about half of baby formula sales, they began using their dominant position to get better pricing from baby formula producers. What emerged is a system where each state awards one producer exclusive rights to sell to WIC recipients in their state. In exchange, the state WIC program gets hefty rebates from the favored producer. In 2016, rebates amounted to $1.7 billion out of $5.6 billion spent by WIC recipients. The rebates make WIC appropriations go further.
Why do the baby formula producers participate? That's an easy answer. By cornering half the market via the exclusive WIC contract, the producer gets more or less guaranteed retail shelf space that ultimately gives them an increased share of the other half. A 2011 U.S. Agriculture Department study indicated that a firm winning a statewide WIC contract typically ended up with an 84% statewide market share. Well and good. Everyone is happy. But note, the baby formula market is more concentrated.
Fast forward to 2022. Sanitation problems at a huge baby formula production facility in Sturgis, Michigan. An extended factory shutdown. Couple this with high tariffs and panic buying, and what do we get? Empty shelves. Is WIC a bad program? No! It's just that there are no solutions—only trade-offs.•
__________
Bohanon and Curott are professors of economics at Ball State University. Send comments to ibjedit@ibj.com.
Please enable JavaScript to view this content.