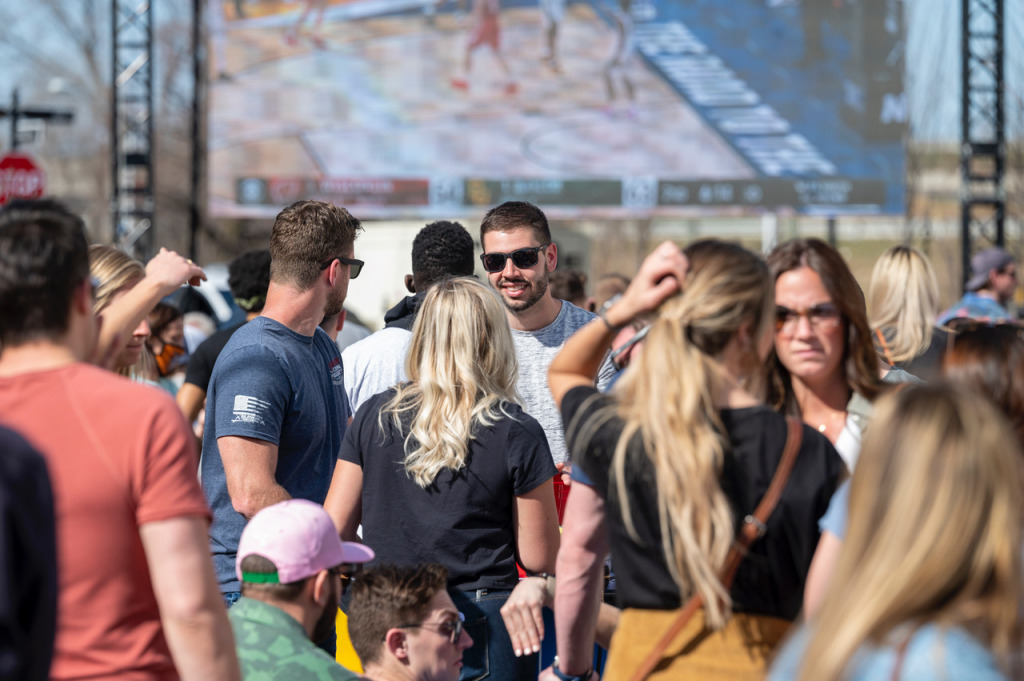 The Bottleworks District, a popular new live-work-play development downtown, has been cited for violating health orders on COVID-19 safety after thousands of people crowded into the district Saturday to watch NCAA men's basketball games on huge television screens.
The free event, hyped as the BWBBallBash, featured beer trailers, 20-foot LED screens and performance artists. Photographs of the event showed mobs of people, often shoulder to shoulder, without face masks.
The Marion County Public Health Department said it was alerted to the matter Saturday from a complaint and sent enforcement officials to investigate. It issued a notice of violation to Bottleworks District for violating rules on social distancing, not enforcing mask wearing, and exceeding capacity.
Curt Brantingham, a health department spokesman, said Tuesday morning he did not have a count on how many people attended the bash or the venue's capacity.
He said the health department returned Sunday to ensure the violation was not repeated, and found reduced crowd size and better safety measures. He said the Bottleworks District complied with requested changes after the notice of violation was issued.
"No further enforcement is being pursued in this matter," he said.
The health department conducted seven spot checks at businesses around the county, Brantingham said. It issued only one notice of violation, to the Bottleworks District.
The Bottleworks District declined to comment, through an outside spokeswoman.
The health department said it would continue to monitor businesses to see if they are enforcing mask wearing and social distancing.
"We have not seen a significant uptick in complaints thus far, but will continue to have additional staff deployed in and around the downtown area over the coming days and weeks," Brantingham said.
Please enable JavaScript to view this content.