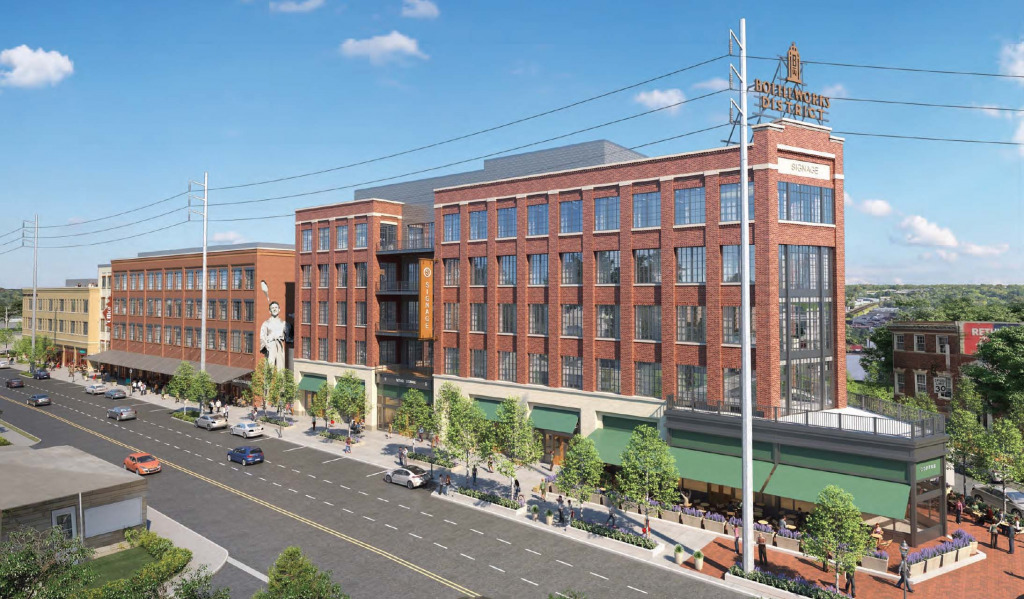 The developer of the massive Bottleworks District along downtown's Mass Ave plans to break ground next summer on the nearly $100 million second phase of the project, with a larger focus on office space than originally planned.
The second phase, which was delayed due to the pandemic, will feature about 250,000 square feet of new leasable space—most of it for office users. Initial plans for the phase called for about 60 apartment units, but those were converted to office space due to increased demand, according to Wisconsin-based developer Hendricks Commercial Properties.
"We've been pleasantly surprised with the amount of office interest we've had—it's kind of been counterintuitive from the narrative that's out there more globally about what the workplace looks like post-pandemic," said Gavin Thomas, vice president of development for Hendricks.
"I think a lot of these companies are looking at where they want to be long-term, and we're fortunate that a lot of them are looking at Bottleworks," Thomas said.
Hendricks also began to question whether the 60 apartment units were financially feasible.
The second phase will include a five-story, 120,000-square-foot building at the northeast corner of College and Massachusetts avenues. Another 90,000-square foot, multi-facade building is planned for the southeast corner of Ninth Street and College Avenue. The buildings are expected to feature retailers at street level.
Hendricks also plans to double the size of the Bottleworks parking garage, from 274 spaces to about 550. It's expected to be tucked behind phase two and parts of the first phase—thus out of view from outside the development.
No office leases have yet been finalized for either of the new buildings, but discussions are ongoing for each available space. Thomas said the first lease could be signed as early as Thanksgiving, with more expected to follow in December.
The smaller office building will have floor plates ranging from 1,800 square feet for the shorter portion of the structure to as much as 13,200 square feet on the upper end. The northernmost portion of the property will be about four stories, with five-story middle and southern sections. Floor plates on the bigger building at College and Massachusetts will be about 21,000 square feet.
Retail spaces on the structures will range from about 1,500 square feet to 5,400 square feet, with 10 openings on the infill property and seven on the corner building.
Hendricks on Wednesday will seek approval for its planned changes to Bottleworks phase two from the Indianapolis Historic Preservation Commission, largely focused on minor cosmetic changes and a height increase of about six inches to the infill building.
"We don't want to anything for granted, but … it's almost like 'Where's Waldo?' with what's changed on this," Thomas said. "It was more of a structural change where they had to put the steel in differently. So that's that was driving that change more than anything else—just the practical buildout of office versus residential."
Thomas said the second phase alone is likely to take about three years to build, with construction commencing in mid-2022 at a tentative cost of nearly $100 million. The entirety of Bottleworks was originally expected to cost about $300 million—a figure he said Hendricks is already nearing with its investments in the first two phases.
"It's going to bed pushing $100 million investment on [phase two], so we're very close to $300 [million] already, meaning it will likely be more than that once we completely build up the site," he said. "But full build-out will take another seven to 10 years."
The second phase will begin with the corner building, with work set for the infill buildings along College Avenue about one year later. The staggered approach allows for easier construction amid what Thomas described as "challenges with the site" pertaining to construction logistics.
Hendricks plans to begin building the residential component of Bottleworks with about 200 apartment units at about the same time that work continues on the latter part of phase two. The apartment buildings would be located north of phase two and west of the existing Garage Food Hall, south of 10th Street.
Eppstein Uhen Architects and Ratio are the architectural firms on the project.
Please enable JavaScript to view this content.