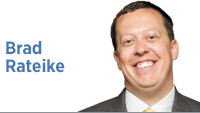 Somewhere on my list of favorite country lyrics is, "The internet is forever," from a similarly titled Brad Paisley song. It's not as memorable as George Strait singing, "All my exes live in Texas," but, "The internet is forever" makes the list because of its simplicity and applicability to everyday life.
I'll refrain from weighing in on the social media content of elected officials or those in the "entertainment" business who earn a living trying to do or say something to grab attention. Most of us have lives and careers in which demonstrating some social media discipline is encouraged behavior—of course, many of us have differing opinions on what "discipline" means.
Once a post is out there, it's out there. I've seen "deleted" Tweets and Facebook posts appear in vetting reports for job applicants and in stories on cable news. These posts, despite being "deleted," have been archived somewhere "in the cloud" or some other data warehouse where a skilled researcher finds them. Some of us who missed the introduction of social media in college are breathing a sigh of relief. For the millennials who served as the social media guinea pigs, I hope you haven't learned the hard way.
The seemingly heightened scrutiny of all behavior and opinion by click-driven media outlets and curious people with nothing better to do has resulted in several stories of people judged in the court of public opinion for a statement or activity previously shared on social media.
By becoming pseudo-celebrities, accidental or otherwise, these people are scrutinized and potentially attacked because of something less than flattering they might have done or said in their past. If you think the Senate confirmation process is rough now for presidential nominees, just wait until most of them have grown up with Facebook and Twitter accounts.
It's no longer just a matter of "measure twice, cut once" when considering a post. You should consider yourself "married" to that statement "forever" (which is ironically more permanent than some marriages). Instead, you must ask yourself, "Will this statement 'age' well?"
Like it or not, people are judging us all the time. I tell my clients in many situations that we should first be concerned about controlling what we actually can control and doing that well. I tell them it's the best way to assert any potential influence over that which you cannot control. It also minimizes your vulnerabilities if your social media and outward behavior reflect an awareness and strategy that considers how others might view you. That's decent life advice outside of work, but with social media, the added level of permanence makes it worth repeating.
There are generally no referees when it comes to social media (within reason). That's why many people feel largely unencumbered by good judgement. Knowing that, it probably won't do any good to suggest that those lacking self-awareness should probably avoid sharing on social media. It also probably won't do any good to caution those who offer their commentary as "the conscience of our times" that their posts are largely met with eye rolls and under-the-breath muttering. The same goes for individuals who believe every activity they do or have ever done is the coolest/funniest/most clever.
There are many categories of ill-advised social media usage that drive us crazy, but I'm quite certain the practitioners don't care what I think. I'll simply remind them that, regardless of their indifference, the lyric remains the same—"The Internet is forever."
So what do you want to post about next?•
__________
Rateike is founder and owner of BAR Communications and served as director of cabinet communications for President Donald Trump. Send comments to ibjedit@ibj.com.

Click here for more Forefront columns.
Please enable JavaScript to view this content.