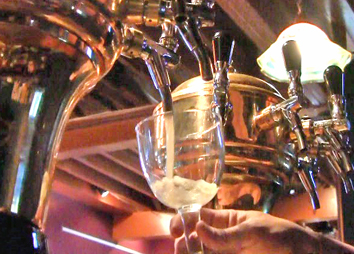 Broad Ripple restaurant Brugge Brasserie—known for cones of "frites" (or fries) as well as crepes, mussels and Belgian ales—has closed permanently after serving take-out during the pandemic, an owner said on the eatery's Facebook page Thursday.
Co-owner Ted Miller initially posted on Facebook that the restaurant at 1011 E. Westfield Blvd. would close as of Friday—"this location at least. We plan to open a new Brugge somewhere, sometime."
But he added later, "Everything is gone folks."
"Thank you all and we're very sorry to everyone who wanted one last Brugge meal or beer and didn't get it," he said.
Miller and his wife, Shannon Stone, launched the restaurant in 2005 with their former Broad Ripple High School classmates Eli Schloss and Abraham Benrubi as co-owners.
Miller and Stone were the restaurant's managing partners. Benrubi is an in-demand Hollywood character actor best known for his roles as nurse Jerry Markovic on the TV show "ER" and Larry Kubiac on "Parker Lewis Can't Lose."
"For now, Shannon and I are going to step back and reflect on what we've learned and gained," Miller wrote. "Then we are going to start imagining what this looks like going forward."
The decision to shutter Brugge comes about three years after Miller and Stone closed a restaurant and a nearby craft brewery in the Mass Ave neighborhood.
Miller said then that The Owners Wife, 608 N. Park Ave., and Outliers Brewing Co., 534 E. North St., were no longer financially worth the long hours the couple was putting in.
During the city and state's stay-at-home order, Brugge had been serving take-out beer and wine as well as frites, crepes and "mussel dinner kits," consisting of uncooked mussels, salads, baguettes and broth.
Please enable JavaScript to view this content.