A host of big-name restaurants has closed downtown over the past year amid financial struggles and disappointing sales, but retail brokers say they are confident the Mile Square will continue to attract splashy new dining options.
Red the Steakhouse, Palomino, Hard Rock Cafe and Shula's Steakhouse are among at least 10 downtown restaurants to shutter since October 2018, and experts say more will likely close in the months ahead.
But the closures don't necessarily paint a grim picture for the downtown dining scene—which has grown sharply since downtown's renaissance began with the opening of Circle Centre in 1995 and now boasts hundreds of eateries.
"I think in the next few months, we're going to see a few more closures," said Bill French, a retail broker for Chicago-based Cushman & Wakefield's Indianapolis office.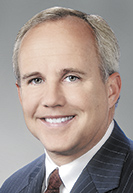 "But I also think we're going to see a whole lot more in new announcements coming after the first of the year. To that extent, I think we will see some pretty strong growth in the market's restaurant industry."
According to Downtown Indy, downtown is home to nearly 300 restaurants.
Some of the newer ones have opened along the perimeter of Circle Centre, as mall manager Simon Property Group repurposed space Nordstrom vacated in 2011. Eateries filling Nordstrom space include Nada, Yard House and Burger Study.
At least six new restaurants are expected to open downtown through mid-2020, including two that did so last month—The District Tap, 141 S. Meridian St., and Pier 48, 130 S. Pennsylvania St. The District Tap moved to space vacated in January by Broken English Taco Pub, while Pier 48 is part of the new dual-branded Hyatt hotel complex across from Bankers Life Fieldhouse.
Other restaurants are taking over highly visible spaces. The Boiling, which last month left its space at 7 N. Meridian St. to make way for the building's conversion into a hotel, is moving around the corner to 14 E. Washington St., where steakhouse CharBlue operated until its closing this summer.
The former Nook Paleo restaurant space at 15 E. Maryland St. will get a new tenant in November, when Italian restaurant Pomodoro debuts.
The fluctuation in the restaurant scene isn't unusual and puts the city in a "very good position" moving forward, French said.
"We've seen so many new restaurants come into the market over the past few years. Weaker, stale operations—the ones that aren't doing well financially—we're starting to see those go by the wayside," he said. "This creates really good-quality inventory for fresh, new concepts to come into the downtown."
Losing their edge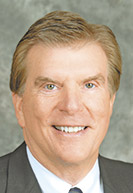 Steve Delaney, a retail broker with the Indianapolis office of Los Angeles-based firm CBRE, said many restaurant companies that fail to change with the times eventually find themselves in financial trouble.
Indeed, the parent companies of Palomino, Scotty's Brewhouse and Red the Steakhouse all are in bankruptcy, and the parent of Granite City is preparing to file.
"A lot of these national companies are hot for several years when they first open downtown, and that leads to growth," he said. "But when they start nearing the end of their life cycle, they fail to innovate and keep themselves in business."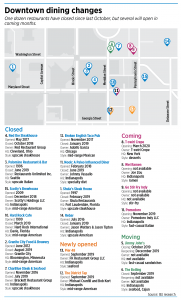 He said downtown and Keystone at the Crossing remain the top restaurant markets in the city.
Johnny Vassallo, a minority owner in the Pomodoro, said the reason for a restaurant closure in downtown Indianapolis, or anywhere for that matter, is black and white.
"If you have a lot of business, your restaurant stays open," Vassallo said. "If you don't have a lot of business, you don't—you can't pay your bills. There's no magic to it."
He knows that reality firsthand. He also was a partner in Nook and its steakhouse predecessor.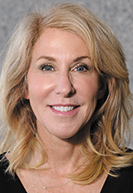 Many downtown restaurants are geared more toward tourists than local diners, Delaney said.
"In order to compete down there, you need to be a high-volume restaurant—usually that means being a national," he said. "I think, with a few exceptions, visitors recognize national names more readily than locals."
Sherry Seiwert, president of Downtown Indy, said being close to major facilities like Circle Centre, Bankers Life Fieldhouse and the Indiana Convention Center goes a long way for restaurants.
She said many have benefited from Indianapolis' growing convention industry.
In 2018, Visit Indy booked nearly 897,000 future room nights for conventions, trade shows, meetings and events, while the city brought in 28 million visitors. Both figures are big boosts from 2010, when 22 million people visited Indianapolis and the group booked 650,000 future room nights.
"As long as we can continue growing our density and the number of conventions that we can bring into town, I think that certainly will continue to strengthen the restaurant scene in and around downtown," Seiwert said.
She added that downtown restaurants also tend to have their own local followings that help bridge the gap between big events.
Bruce Bodner, who owns the Morrison Opera Place building at 49 S. Meridian St., where Hard Rock operated until its lease expired in March, said that restaurant concept—which is largely geared to out-of-towners—certainly benefited from convention and event weekends but otherwise didn't seem to draw enough business.
Hard Rock has indicated it might reopen downtown in a different location.
Bodner said he's had several conversations with potential tenants but doesn't plan to sign a new lease for the space until he determines what will happen with the Morrison Opera Place building.
Bodner said this fall that he hopes to build a $60 million addition atop the building for residential units and a hotel. He's seeking financial assistance from the city for the project.
Looking for tenants
CBRE's Delaney, who is marketing the 10,000-square-foot Red the Steakhouse space at 14 W. Maryland St., said he's talking to national, regional and local brands that want to lease that space, many of which aren't currently in the market.
He declined to reveal names but said many are "highly recognized national" players.
Simon Property Group is looking for at least two restaurant tenants to take over the vacant Palomino and Granite City spaces.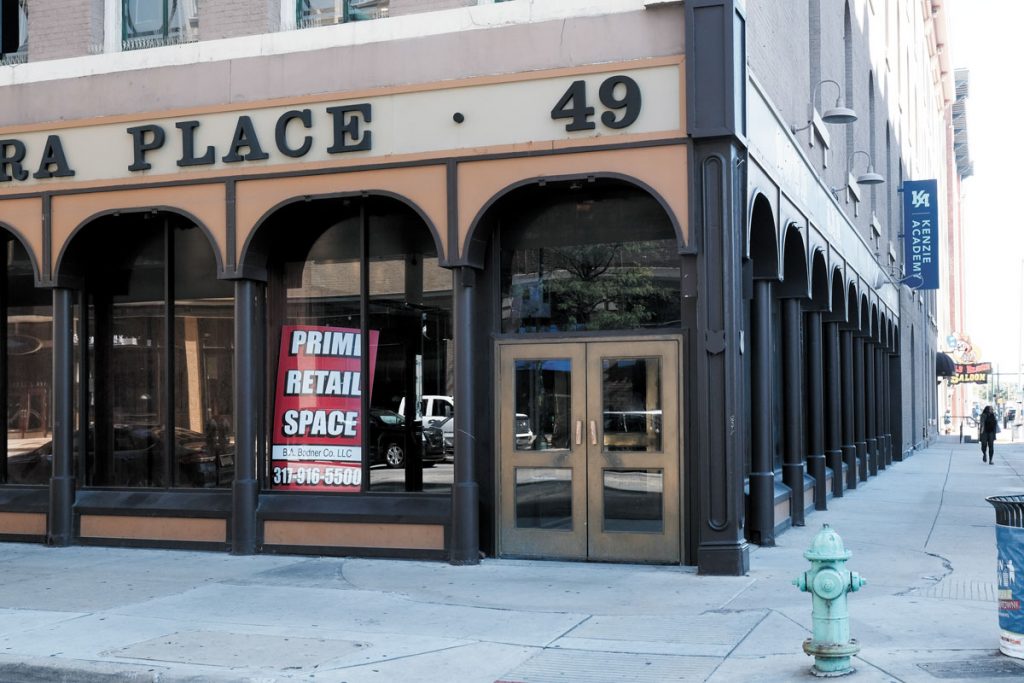 Mike Nevins, chief operating officer of Simon Malls, said in an email to IBJ that the company is confident it will find tenants for the spaces in the coming months.
Nevins noted that the two former occupants were financially insecure, rather than being victims of any problems with the downtown market itself.
"Circle Centre always remains a high priority for restaurants looking to enter or relocate within the market," Nevins said. "We are working on numerous brands and unique concepts to maximize our property's position and … reach a broader audience."
He said the old Granite City location "is practically a turnkey space" that benefits from its location at Illinois and Washington streets, along with the recently redesigned exterior mall entrance at the corner.
Simon also plans to market new restaurant and retail space as part of a redevelopment of the first-floor space department store Carson's vacated last year.
Nevins said Simon is working on several scenarios for the three-story Carson's space, including breaking it up into restaurant, retail, entertainment and office areas.
"This will be an extremely large redevelopment," he said. "It may take some time to get all the puzzle pieces to fit, but the overall impact on [Circle Centre] and the city will be far greater for it."
Delaney and French said the price per square foot for restaurant space downtown varies wildly—from the mid $20s to the low $30s. It can even reach the upper $30s, putting it on par with Keystone at the Crossing. Delaney's Red space is being marketed for $25 per square foot.
While those rates might price out many locally owned restaurants, they still can draw downtown diners by locating in nearby Mass Ave or Fountain Square, Delaney said.
"They won't necessarily be competing for the same pool" of restaurants, but, "to an extent, they're looking for the same clientele."•
Please enable JavaScript to view this content.