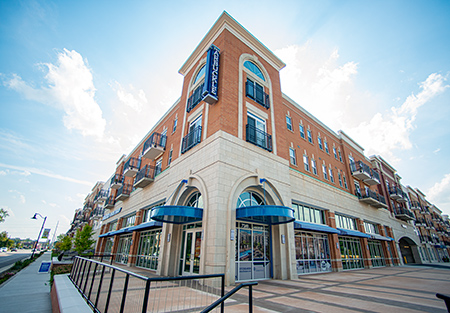 Brownsburg has spent $34 million in town funds the last three years to create a new downtown a few blocks north of its old one, and city officials say the effort is paying off.
"This is where downtown Brownsburg is now; we're redeveloping it and giving it its identity back, and now we're seeing the growth coming off of it," said Town Council President Brian Jessen.
Through a series of developer partnerships that included $53 million in private funding, more than $90 million worth of new buildings and infrastructure improvements have been added along or near North Green Street, the town's main north-south drag. The town's investment has been mostly in the form of tax-increment-financing bonds. TIF bonds are paid off using additional property tax revenue generated by the projects.
Jessen said the development activity stems from the town's 2012 comprehensive plan, which focused on creating a new hub for Brownsburg and building out more of a live, work, play atmosphere.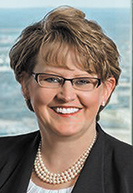 "I think we've saved the town going forward, in the sense that … there is now a central hub to Brownsburg," he said.
Deb Kunce, managing principal of the Indianapolis consulting firm Core Planning Strategies, said Brownsburg isn't the only central Indiana suburban community attempting to make its downtown a more appealing place to live and work. The strategy is motivated in part by millennials' and empty-nesters' desire to live in downtowns and other walkable areas.
In Noblesville, for instance, locally based Rebar Development is partnering with the city on a $24 million project that includes construction of the city's first downtown apartment building in more than a century.
And in Plainfield, Rebar will spend $21 million constructing a mixed-use building along U.S. 40, the first project to move forward under a downtown redevelopment plan.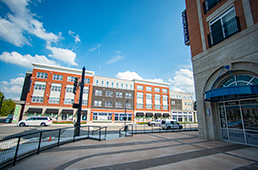 But Kunce said Brownsburg is taking a different approach from most in essentially building a new downtown from scratch.
"Brownsburg understands where their growth is" and is developing where it knows residents will want to gather, she said.
The new downtown, which sits about a quarter-mile north of town hall, creates a stronger identity for residents, said Jessen, noting much of the area's historic center—at Main and Green streets—has been lost to sprawl and the demolition of aging buildings.
The development includes four major projects, the largest of which is The Arbuckle, a $39 million development that includes 210 upscale apartments and town houses, 7,600 square feet of retail, and a 400-space parking garage.
The town paid $15 million toward the project, which was developed by Indianapolis-based Flaherty & Collins.
Rents at The Arbuckle range from $975 a month for a 717-square-foot studio unit to $2,698 for a two-bedroom, 2-1/2-bath town house with 2,370 square feet.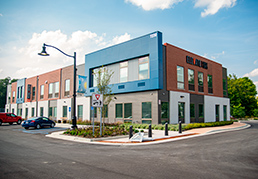 That's less than apartments run in downtown Indianapolis but higher than other Hendricks County properties, said George Tikijian, managing director for Chicago-based Cushman & Wakefield's Indianapolis office.
The other three projects were also developed by Indianapolis companies: Scannell Properties' $31.8 million Union Green, which includes 173 apartments and 11,100 square feet of retail; Paragon Realty's $7.7 million Green Street Depot, a two story, 35,000-square-foot office and retail building; and Envoy's $3.5 million Elevate Office Suites, a co-working space.
The Arbuckle was slow to fill after opening in October 2018, but about two-thirds of the apartments and half the first-floor retail are now spoken for, said Deron Kintner, who led the project for Flaherty & Collins.
Kintner attributed the early struggles to road rebuilding along Green Street that closed the street for about a year. The $6.2 million project, about half of which was paid for with federal funds, finally wrapped up in June.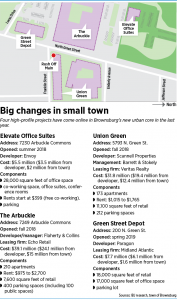 The corridor still has a way to go to develop a bustling urban feel, though developers are making headway. Union Green in March premiered its first restaurant tenant, Rush off Main, a Chicago-style eatery with an existing location in Zionsville.
Green Street Depot has tenants signed for retail space, including a Noble Roman's Craft Pizza & Pub and as-yet-unnamed Thai restaurant.
Brownsburg has about 27,000 residents, and most work outside the town. It is the second-largest municipality in Hendricks County, behind Plainfield, with 35,000 residents.
Assistant Town Manager Brian Hartsell said the town's population has been on the upswing—in part because of the strength of the Brownsburg school system.
But he said the new downtown developments also seem to have led central Indiana residents to think about the town in a new way; many of those leasing downtown apartments are new residents.
"I think this is one of those things that really needed to be done to rattle some cages around here," Jessen said. "And I think we did that."
Kintner said Brownsburg's efforts to shake its bedroom-community reputation are getting a major boost from the new downtown corridor.
"I would say they're on the front edge," he said. "They're really creating a more … social experience, and not only will that help them build population, but it's a big selling point for potential employers, too."
Hartsell said the town is considering extending a bicycle trail near Interstate 74, to connect with the new downtown.
The town and developers are also looking to attract more tenants—particularly locally owned businesses—to the retail spaces along Green Street.
In addition, efforts are underway to bring new users to Elevate, the office incubator adjacent to The Arbuckle.
"What you see towns like Brownsburg doing is creating the amenities to go along with the housing; you have to have something to walk to, after all," Tikijian said.
Town Manager Jeff Eder said the town is "open to new ideas and concepts," as well as new businesses.
Even so, Brownsburg doesn't expect to bankroll projects in the future to the extent it has recently.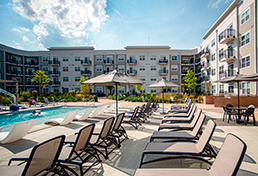 "There'll be more development with less town funding," Eder said. "I think we're already seeing some of those things come together with what fits our town vision. I imagine it's going to expand beyond downtown, too."
But all the change won't undermine Brownsburg's identity, said Town Councilman Travis Tschaenn.
"We're just trying to be our community; we're learning and watching what other communities have been successful at and what they've fumbled at," he said.
"We're not trying to be Carmel-esque or Zionsville-light. We're trying to be Brownsburg."•
Please enable JavaScript to view this content.