Nearly a quarter-century after Bruster's Ice Cream first came to Indiana, a second location is in the works and scheduled to open on the far east side of Fishers later this fall.
Tiffany Schlueter, a Fishers resident since 2004, is planning to open the state's second Bruster's Ice Cream franchise in an 1,800-square-foot space at 12350 Olio Road by early November.
The Bridgewater, Pennsylvania-based company first opened a franchise store in Bloomington in 1998, but the brand's Indiana footprint stopped there. Though the company has been slow to grow in the Midwest, Bruster's recently opened two stores in Ohio and secured a third in Illinois. In addition to Schlueter's Fishers location, a third store is slated to open in Evansville by the end of next year—and that may not be the end.
"We're committed to the one store in Fishers, but we have plans to expand. When we first talked to Bruster's, they said Indy could easily handle six," Schlueter said. "We're kind of getting ready to pump-up the Midwest with Bruster's."
Schlueter, a stay-at-home mother of three, said she first began to seriously consider starting her own business when her husband was laid off last fall.
By that time, Bruster's had distinguished itself by reporting a 17% increase in sales in 2020, despite the pandemic. Schlueter credits not just the ice cream, but the stores' walk-up-only format with providing families a safe way to get out of the house.
Those figures—plus Schlueter's familiarity with having grown up eating Bruster's in Pittsburgh—were enough to convince the family to take the leap.
"At that point, we thought we should get serious about starting our own business," Schlueter said. "We wanted it to be a very family friendly, community-involved business, but we weren't quite sure when or what we were going to do."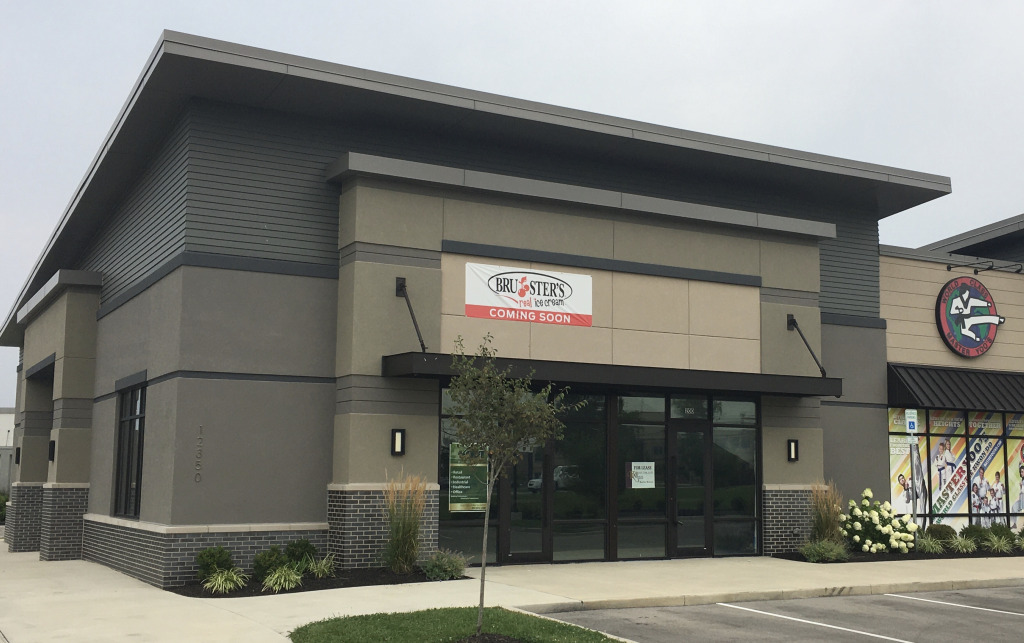 She figured by locating near Fall Creek's elementary, intermediate, junior and high schools she could tap into the steady flow of families attending the area's school and sports activities.
"We are always up and down Olio for their activities, school stuff and sports," Schlueter said. "Of course, after every sports game or practice, the question is, 'Can we get ice cream?'"
And it's not just about the customers. Schlueter said she expects to hire between 25 and 30 employees at peak operations, and she's hoping to find workers who go to nearby schools.
Though Bruster's only has a six-mile buffer zone around its stores—meaning no other location can open within that ring—Schlueter said she's got the first right of refusal for areas north of Indianapolis. She's considering stores in Carmel, Noblesville and in Westfield near Grand Park, as well as areas on the west and south side of the city.
In addition to ice cream, Bruster's offers sorbets, dairy-free and no-sugar-added options, pints and quarts, cakes and pies. Even though the walk-up format means the only seating available is outside, Schlueter believes the fact that Bruster's ice cream is never served more than six days from the time it's made will bring customers back during the cold months.
"We make it in-house and add all of the ingredients to it as we're making it," Schlueter said. "The freshness of it and the fact that it's never deep frozen for transport just allows the flavors to be their best and the texture really is special."
Please enable JavaScript to view this content.