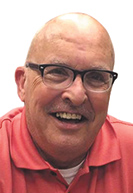 Beech Grove Mayor Dennis Buckley announced Wednesday that he will not seek a fourth term as mayor. Buckley, elected in 2011, said he will serve out his current term, which ends Jan. 1, 2024, and then retire from public service.
"It has been the honor of a lifetime to serve the people of Beech Grove," Buckley said in written remarks. "I am proud that our team has improved every facet of city government in Beech Grove, and that our work has transformed our community in a meaningful way."
Buckley, a Democrat, is a native of Beech Grove and a graduate of Beech Grove High School. He was a Beech Grove firefighter for 30 years and retired from the Beech Grove Fire Department as chief in 2009.
The mayor's office said Buckley will serve out his tenure with several accomplishments already under his belt, including balanced budgets every year; larger investments in public safety, trails and parks; and stronger infrastructure.
Beech Grove, with a population of more than 14,000, is one of three cities in Marion County besides Indianapolis to have a mayor. Lawrence and Southport are the others.
Correction: The original version of this story incorrectly said Speedway has a mayor.
Please enable JavaScript to view this content.