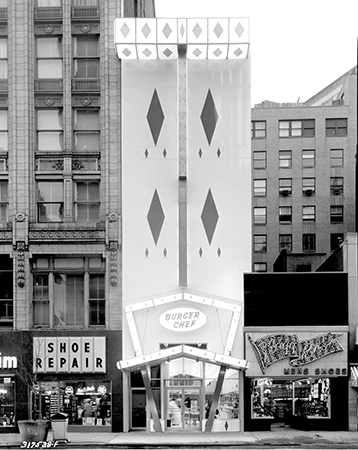 Does the term "incrediburgable" mean anything to you? How about the Works Bar, or a Fun Meal?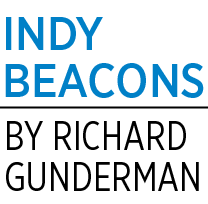 If so, you likely visited Burger Chef, a chain of hamburger restaurants founded in Indianapolis by Frank and Donald Thomas, who held a patent for the flame broiler. In the early 1970s, Burger Chef rivaled McDonald's, with more than 1,200 locations.
The company had its roots in the General Equipment Co., founded in the 1930s by the brothers' father to manufacture frozen custard and ice cream machines. Frank Thomas Sr. was born near Peru in 1876. A carpenter, he showed aptitude for engineering and invention, including food equipment and amusement park rides.
In the 1950s, Frank Thomas Jr., who succeeded his father, received a request from a Miami-based chain to mass-produce flame broilers, which led to an agreement for General Equipment to market the product in all states but Florida. Since the company was now producing much of the equipment needed to operate a restaurant, Thomas opened a hamburger stand on North Keystone Avenue to showcase it.
The stand did well, and the brothers opened more, including a demonstration store in Kokomo. Soon came requests for franchises, and they created Burger Chef. The first full-fledged Burger Chef opened near the Indiana State Fairgrounds.
The Thomas brothers based their model, including walk-up service, on McDonald's. Conversations with a local architect led to a modern design for franchise buildings, which included a diamond-shaped roof arch and kite-shaped street sign. Launched in 1958, there were 70 Burger Chefs in operation just two years later and 440 by 1966.
Hamburgers generally sold for 15 cents. A Triple Treat included a burger, fries and shake for less than 50 cents.
The company experimented with other approaches, including the Pied Piper, a traveling food stand with equipment installed in a Volkswagen van. Difficulties training employees led to its abandonment.
Burger Chef became one of the fastest-growing chains in the country, surpassed only by McDonald's. Print and television ads featured Burger Chef and his sidekick, Jeff, coining the term "incrediburgable" to describe the fare. General Equipment retooled the flame broiler so it could produce hundreds of burgers per hour.
Although the chain was growing rapidly, the Thomas brothers realized they lacked the resources of competitors like McDonald's and Burger King. In 1968, they sold the business, which included over 730 restaurants in 39 states, to General Foods for $25 million. General Foods expanded to over 1,200 stores and introduced the Works Bar and in 1973 the Fun Meal, fast food's first meal for children.
Growth stalled in the 1970s. By 1981, Burger Chef had cut back to 650 stores. General Foods sold the business for $43 million to Hardee's, which began converting the restaurants to its brand. Some locations kept operating as Burger Chefs for the full term of their franchise agreements, and the last closed in 1996.
The worst chapter in the Burger Chef story occurred in November 1978, when four young employees of an outlet in Speedway disappeared. It became apparent that a robbery had occurred, but only $600 was taken. Two days later, their bodies, still clad in their uniforms, were found in Johnson County. The perpetrators were never brought to trial, due to lack of evidence.
Today, the Thomas brothers and Burger Chef have almost faded from memory. Hardee's has brought back the "Big Chef" on a few occasions, but phrases such as, "You get more to like at Burger Chef," ring fewer bells these days. Even so, Burger Chef remains the largest restaurant chain ever founded in Indianapolis.•
__________
Indy Beacons celebrates the history of Indianapolis in the year leading up to its May 2021 bicentennial by telling the stories of famous city residents. It appears the second and fourth issues of every month. Gunderman is chancellor's professor at Indiana University.
Please enable JavaScript to view this content.