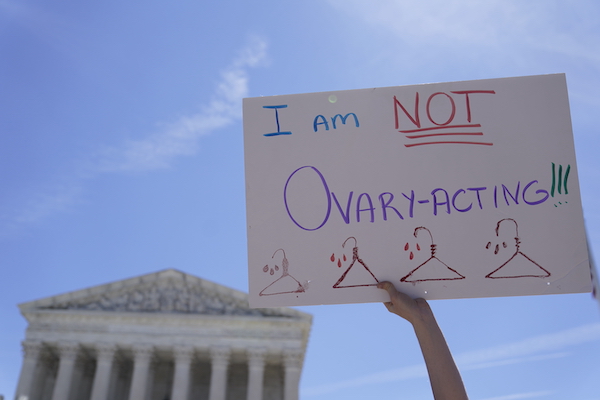 As Indiana lawmakers prepare to convene next week for a special session to consider legislation expected to severely restrict access to abortions, they're receiving petitions from state business leaders, health care organizations and even religious organizations warning them of the potential consequences.
The petitions typically warn of the harm that more restrictive abortion laws could do to the state's business climate, obstetric patients or religious freedoms.
Republican leaders in the Indiana Senate on Wednesday proposed legislation that would ban abortions from conception except in cases of rape, incest and to protect the life of the mother, ending weeks of speculation on how restrictive their proposal would be after the U.S. Supreme Court turned such decisions over to the states. Currently, abortion in Indiana is banned after 22 weeks of pregnancy, with some provisions for medical emergencies.
A letter signed by 80 Indiana business executives was delivered Friday to Gov. Eric Holcomb and the Republican leaders of both legislative chambers warning lawmakers of the business repercussions of restricting access to abortions.
Signatories include Emarsys CEO Joanna Millikin, Formstack CEO Chris Byers, High Alpha Partner Eric Tobias and entrepreneur Scott Jones.
"Actions to further restrict the reproductive rights of Hoosier women would create inequity in their access to healthcare, position Indiana as an unwelcome place to live and work, and make it harder for us to compete for talent already in short supply," the letter reads. "As representatives of some of the most impactful companies currently operating in Indiana, we fuel the state's economy. We strongly urge you to consider all that is at stake should you take this action."
Jenny Vance, an Indianapolis entrepreneur who handles sales for tech startups and helped organize the campaign, said she is considering whether to remain in Indiana if legislative leaders pass abortion restrictions.
"In today's environment, geography isn't a limit for many businesses, including mine," Vance said. "Why should I grow a business in a state that doesn't honor my rights and wants to make health care decisions for me and my fellow female citizens?"
Tracy Betz, a partner at Taft Law in Indianapolis, helped organize a separate campaign called Business Leaders for Protecting Hoosier Liberty that has garnered more than 2,000 signatures.
"We're not trying to take a political position on where the law should be," Betz said. "We're saying this is something that is a question of access to health care. The legislation shouldn't even be weighing in on this. This is a private decision that needs to be made with medical professionals, and the government has no place in that discussion."
On Thursday, the ACLU of Indiana unveiled a "Don't Ban Equality" letter supported by more than 200 Indiana businesses. Signatories include Emmis Communications Corp., popular brunch spot Milktooth and Zesco Food Service.
"Restricting access to comprehensive reproductive care, including abortion, threatens the health, independence and economic stability of our employees and customers," the letter reads. "Simply put, it goes against our values, and is bad for business."
Other business leaders have also entered the conversation. Jennifer Rumsey, who last week was named the next CEO of Cummins Inc., said she shares the concerns of business leaders who worry about attracting skilled workers to Indiana.
"Certainly, it's important to us to have communities that attract diverse talent and our workforce," Rumsey told IBJ. "Cummins has and will continue to assess important social issues and speak up where we think it's important."
She said Cummins offers to cover travel expenses for employees who need to travel out-of-state to seek abortion care.
"We want to give our employees the opportunity to do what they think is right for their own health care," she said.
The Indiana chapter of the American College of Obstetricians & Gynecologists, the Indiana State Medical Association and eight other organizations representing health care professionals sent a letter to the governor and legislators asking them to include language in the bill that "clearly defines induced abortion separate from other conditions which may be treated by terminating a pregnancy as well as preserves our ability to provide induced abortions in specific cases."
It also specifically recommends that induced abortion be permitted when a physician exercising good faith medical judgment determines that continuing the pregnancy would pose a non-trivial threat to the patient's life or health.
"We further strongly oppose criminal penalties for patients and health care providers," the letter reads. "By criminalizing health care, health care providers are left in an impossible position – risk criminal prosecution by providing safe, evidence-based care, or withhold that same care from patients in need. This creates a tension of medical ethics, forcing clinicians to choose between what is right for their patients and their own criminal prosecution."
Women4Change Indiana delivered a letter signed by 59 Indiana nonprofit organizations, including the ACLU of Indiana, Planned Parenthood Alliance Advocates and Fair Housing center of Central Indiana, asking state leaders to "stop interfering in women's reproductive lives."
Some religious groups have weighed in as well. Nearly 400 faith leaders from across Indiana signed a letter to the governor and legislature saying that abortion restrictions infringe on religious freedom and impair Hoosiers' bodily autonomy.
Its signatories include rabbis and leaders from the Christian Theological Seminary, Episcopal Church, Presbyterian Church (USA), Muslim Advocacy Network and United Church of Christ, among others.
Regarding religious freedom, the group wrote: "The premise that human life begins at conception or that an embryo should be accorded legal protection are not universally held tenets. Those who hold those beliefs have every right to do so, but Indiana should not privilege one particular Christian belief above other religious beliefs by codifying it into law."
Asked for comment on the petitions, a spokesperson for Senate President Pro Tem Rodric Bray, R-Martinsville, said, "Sen. Bray is in contact with the business community and wants Indiana to continue to be a great place to start and grow a business. He's listening to their concerns as he seeks to balance those interests with what's important to all Hoosiers."
IBJ did not immediately receive reaction from Holcomb's office or House Republican leaders about the petitions on Friday afternoon.
Please enable JavaScript to view this content.