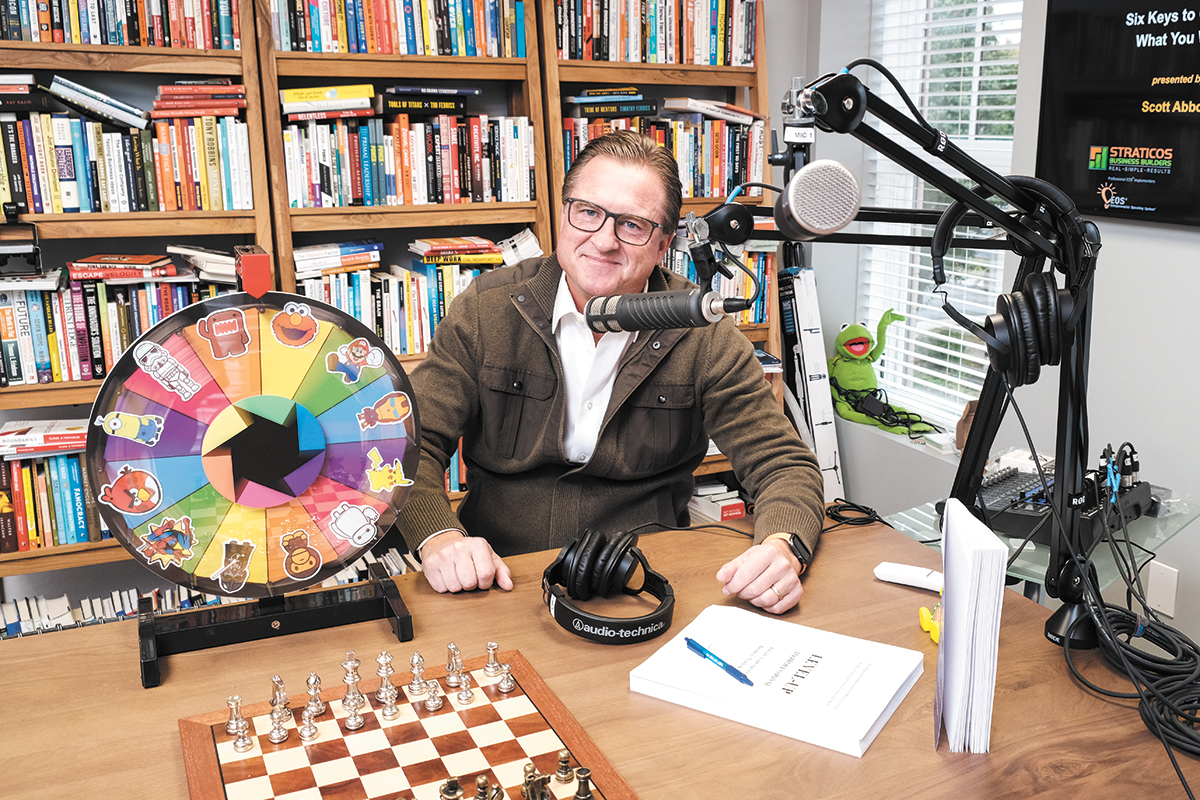 Carmel resident Scott Abbott always thinks big. And that strategy has paid off. Whether as a business operator, investor or author, Abbott has experienced his fair share of success.
He runs two local businesses and is the author of three books, including the award-winning "Level-Up to Professional: Elevate Your Success at Business, Work & Life." So, it's no surprise that, when the 54-year-old launched a podcast—Moments to Momentum—this fall, his goal was far beyond just being another local or regional listen.
Abbott, who owns and operates the corporate leadership firm Straticos and software company Talevation, recently added a video component to his podcast and said he's shooting to have a format similar to mainstream TV talk shows.
So far, his guest lineup has been an eclectic bunch, including Allos Ventures co-founder Don Aquilano and Aquilano's latest hire, Kelli Jones, the groundbreaking co-founder of Black Hatch Fund, a venture capital fund and accelerator that supports Black tech entrepreneurs; Terry Anker, founder of The Anker Consulting Group; Phil Powell, dean at the Kelley School of Business at IUPUI; and Charles C. Brandt Construction Co. President Lindsay Fernandez, as well as various artists, a holistic healer and Catholic priest.
Born in Fort Wayne, Abbott grew up overseas—including stints in Paris, London and Madrid—as his dad worked for International Harvester.
He graduated from DePaul University in Chicago with a communications degree before going to work at software development company Whittman-Hart in Chicago. He was transferred to Indianapolis in 1990 and has been here ever since.
Why did you start a podcast?
The talk show was inspired by the fact that we have really good conversations with business owners and other really smart people. I was just talking to these people by myself in the [Straticos] studio. And I thought I could leverage these conversations and share them to let other people benefit from them, and have some fun doing it.
How did you come up with the name Moments to Momentum?
I wrote a book called "Level-Up to Professional" almost eight years ago and just released a second edition. It was a book about career-centered life skills for all ages. I was going to call my third book "Moments to Momentum," playing off my blog, which was also about career skills and advice from professionals, having these little nuggets of goodness. I thought, let's do a talk show instead. It felt more intimate and sincere. I thought, let's turn this into a show that could be listened to anywhere in the world in a real, genuine format.
What's the scope of the podcast?
We have three sections: First we get to know the guests; then we play a game called five in 10, answering five questions in 10 minutes. We have a lot of fun with that. Third, I share a moment of impact from their life—a lovely, vulnerable, enlightening conversation. The podcast is blowing up a little bit. I'm getting a lot of very positive feedback.
Is the podcast a for-profit enterprise?
I don't make any money out of it. This is a purpose-driven project. This is a funky time, and I'm trying to bring a program where we can just get together without all the hoopla.
What is your goal for this podcast?
I'm going after Jimmy Fallon and James Corden. I'm considering putting up a promotional billboard on I-465. In time, we intend to have guests and listeners from around the world. I want this to be big.•
Please enable JavaScript to view this content.