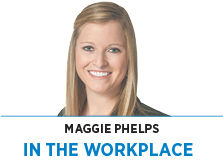 I'm not exactly a stranger to difficulty. I've had my fair share of challenges and, when I'm in those difficult times, generally, I push through them, fourth-quarter style. I hunker down, embrace the burn and push onward. And life has tended to reward me for it. My hard work has paid off time and time again. I've achieved.
I've also always been fiercely independent. In concept, I understand that asking for help from others is necessary and healthy, but in practice I rarely let myself go there. It's deep in me to rely on myself, to dig in and fight through the hard stuff. Simultaneously, I love to serve and happily sideline my needs to accommodate someone else's.
Independence as a young professional is an asset. Combine that with a hunger to achieve, and you've got a powerhouse worker. In terms of productivity and output, my first job out of college got my best working years. I was a workhorse and I loved it. I was constantly pushing myself, learning new things, connecting with new people, attending events and networking.
My independent drive helped me stand out from others in school, it served me as a leader on sports teams, and it helped me stay true to myself professionally.
Then I got married and "I" became "we." I love being married and, thankfully, I partnered with someone who loves me for my stubborn independence. We make our decisions together as a unit, and we spend as much time as possible with each other because we love it. I'm tethered to him in a beautiful and binding way.
Then, I became a mother and, overnight, subscribed to the idea that motherhood was martyrdom. (I thank Glennon Doyle and her new book, "Untamed," for making that clear to me). My tendency to accommodate others went into overdrive. I was taking care of everyone around me at home and at work, putting myself last. You'd better believe I didn't need help, and baby formula was for "quitters." My drive went into overdrive.
Fast-forward a year and a half. We're facing an unrelenting pandemic, social unrest, wildfires, hurricanes, election season, unprecedented work-from-home orders and social isolation. Not to mention daily dramas and challenges in our personal lives. 2020 has been a cavalcade for us all. The young woman in me sees all of this unfolding in front of her and what does she do? Push. Fight. Hunker down and grind through it. I do what I have always done.
It has always worked for me. Until now.
When things started piling on, as life decided to do recently, I didn't catch a breath. I mean, there is only one fourth quarter for a reason. You can't expect an athlete to sprint through an entire game. She needs breaks; she needs her teammates to take the ball here and there.
Thankfully, I have an amazing work team. They've recognized this tendency of mine to buckle down and drive forward. They're encouraging me to take breaks and throw them the ball. They tell me, "We know you could go get all of this done now, but we're in this for the long haul with you. Now go take care of yourself!"
And it's my default to resist them. I know they're right, but I genuinely don't want to slow down. I want to produce, accomplish and tackle my day. I want to look back on my day and see all that I've created and made possible. It's validation for me. And what I have noticed is that my own self-care didn't feel like important work to me.
I'm realizing in all of this my absolute resistance to accept this new version of myself and the stage of life I am in. I've been attempting to trek forward, piling on new weights and responsibilities along the way, one at a time, but never shedding the old ones. I managed it for a time, painstakingly.
I suppose I can't forever be the 20-something workhorse achiever who throws her weight in a single direction. The power now is in shifting directions. I'm reluctantly coming to terms with my limitations and accepting imperfection. Without accepting and embracing these realities, I know I'll continue to have a weed of discontentment in the back of my mind telling me I could be doing more, that I should be capable of more and that I am not working hard enough.
Searching outside of myself for self-care strategies is not my answer. Tacking on things I "should" be doing for myself adds more weight on my back. For me, it's a deeper wrestling of identity rather than an outward search for answers. It's time to do what any achiever dreads to do—slow things down, unplug, resist the urge to "do" … and once the cup is empty, begin to refill.
It's time to renew and recharge. Because, apparently, I'm not super-human after all. What a gut punch.•
__________
Phelps is chief innovation officer at Bloombase. She can be reached at maggie@thisisbloombase.com.
Please enable JavaScript to view this content.